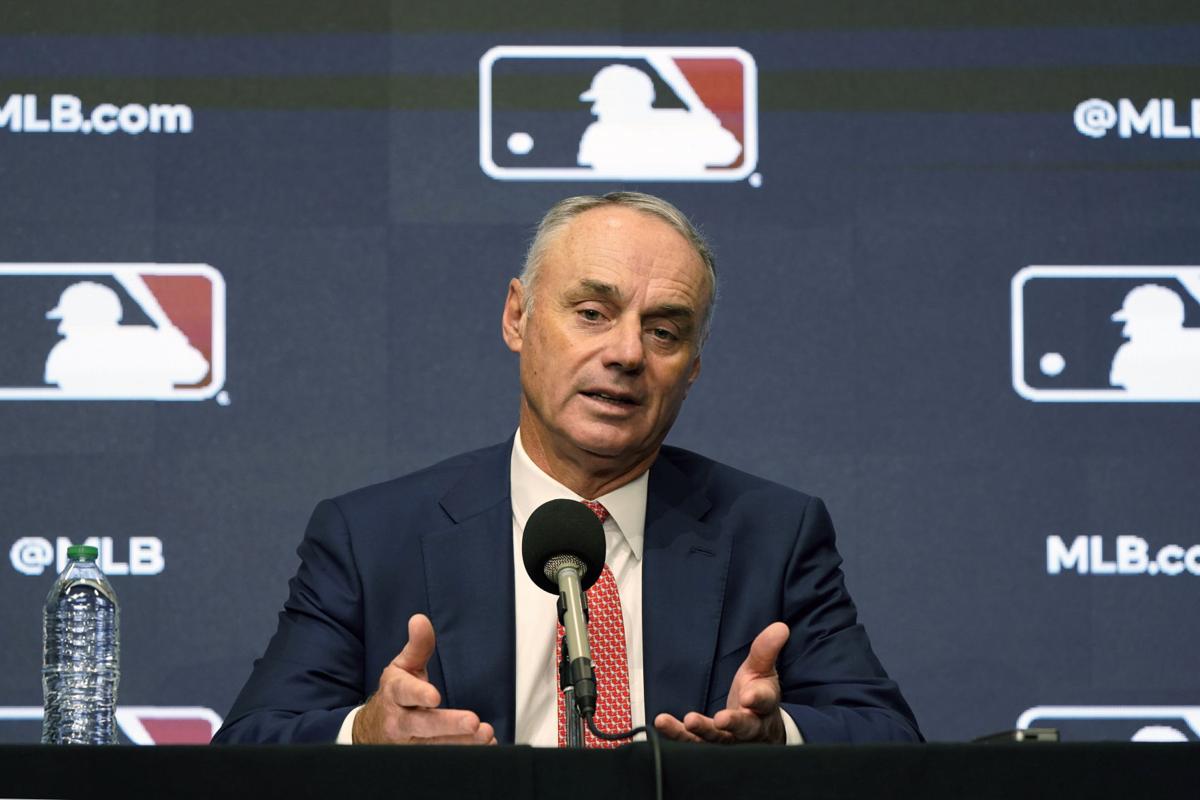 If all those wonderful human beings that give us America's former favorite pastime are interested in righting a major league wrong … OK, fun is fun but we know better because all they really care about is themselves … but maybe, just maybe … during deliberations to end the current lockout with a new collective bargaining agreement … they'll find it in their little, me-first hearts to help Gary Neibauer.
Old-time baseball fans here will remember Neibauer, a bee-bee throwing Richmond Braves pitcher who spent parts of five seasons (1969-73) in Atlanta and Philadelphia. He's among 600 – give or take – former major leaguers still alive who were left behind when the riches were handed out. After taxes, Neibauer gets $5,700 … A YEAR. What's more, he can't leave anything for heirs to divvy up. He goes – and the money stops.
"It's a travesty … downright unfair … but no one will do anything about it," said Doug Gladstone, who wrote a book on the subject 11 years ago when there were more than 800 ex-players effected.
So, what's going on, anyway? How did these unfortunate few come to get the short end of the MLB pension stick worth millions?
This is Volume 76 in the memory man's weekly take on the good and bad of yesteryear. Call it: "They Pretend We Don't Exist."
Easily confused, the man first heard of Neibauer's predicament from Gladstone, who tried to explain what happened and, frankly, our brain quickly turned to mush. Best we could determine, without the whole thing being reduced to simplest terms, was that old-time pitcher Satchel Page was involved… even if he had nothing to do with it personally. Understand?
Not really but, to put it another way – without all the intricate details … in response to a threatened strike by the players prior to the 1980 season, the owners made it easier for them to get low-cost insurance benefits as well as beaucoup de bucks in pension payoffs thereafter. Those who had the misfortune of ending their careers before that – and didn't have at least four years of service which was the requirement for a pension then – got nothing.
For 31 years, Neibauer and other former R-Braves such as Leo Foster (1971-73), Mike Beard (1971-73, 1975-76), Pat Rockett (1979) and Craig Skok (1978-80), who made it to The Show but failed the four-year prerequisite, were left out in the cold while the game grew and grew and ... Sorry about that, guys … but, every post-1980 player, with only 43 days of service, was thrown, laughing, into the pension pool that keeps getting bigger and bigger with every new CBA. In addition, they now only have to suit up for ONE GAME to be included in baseball's umbrella – read: cheap – insurance payments.
Finally, in late 2011, MLB was faced with a class-action lawsuit and relented – somewhat – by giving the pre-1980 survivors the monstrous sum of $645 for every 43 days of service, not to exceed $10,000. Not that anyone would qualify for the maximum because, if he did, he would have his four years of service and, therefore, get a pension. Oh, and unlike all other distributions since 1980, the money can't be passed on to a surviving spouse or other designated beneficiary.
Then members of the Major League Baseball Players Alumni Association's pension committee, Neibauer, Skok, Eddie Robinson, former Atlanta GM who died recently at age 101, and ex-Texas Rangers' pitcher David Clyde met with then-union boss Michael Weiner and Rob Manfred, representing the owners as chief counsel, in New York. Neibauer recalls Manfred, now MLB commissioner, moaning about the suit "costing him over a million dollars … and some players hitting .210 were making that much. Come on!!"
It was not a pleasant session. In the end, Weiner asked to speak with Manfred alone. When they returned, the pre-1980 players had some – if limited – benefits. To this day Neibauer thinks they would have gotten more down the road had Weiner not died. He has nothing but good things to say about Weiner, who died in 2013 of a brain tumor. He was 51 years old.
The question is: Why hasn't the players' union and/or alumni association, both armed with mega-war chests, come to the aid of their own?
"They won't even talk to us," Neibauer said the other day from his home in Aurora, Colo. "It's like we're a non-entity. They pretend we don't exist."
What makes the whole thing – read: mess – so contentious was the fact the MLBPA has the authority to do just about anything it wants when it comes to the pension plan. This is where Paige, the iconic righthander who was a legend in the old Negro Leagues before joining the World Series-champion Cleveland Indians in 1948, comes in.
He also played for the St. Louis Browns before appearing in his last MLB game, at a still-record 59 years of age, with Kansas City in 1965. Three years later Paige petitioned all 20 teams about hiring him. He needed 158 days on the active roster to qualify for his pension, which then mandated five years of service. Atlanta was the only team to respond and, while he didn't play for the Braves, it didn't matter.
In early 1969, thanks to the union, the minimum requirement was cut to four years and made retroactive for 10 years. What's more, Paige became eligible for his pension immediately. In 1971, he became the first player from the Negro Leagues to be inducted into baseball's Hall of Fame in Cooperstown, N.Y.
"The problem for all the pre-1980 players was that the proposal was not made retroactive," Gladstone said.
In other words, if the union could help Paige, why not do the same for them? It could have been so simple.
(By the way, Gladestone keeps trying to do something about it. He has become a pest – his word – taking on the union, the alumni association … and feeding anyone he thinks might help with information. You couldn't blame him if, after a while, he feels he's on a fool's mission.
"I've found that most reporters are gutless," he said. How so? "They're afraid to write anything that might get them cut off from a major source." Ouch!)
Moving right along. You would think Tony Clark, Weiner's successor and first ex-player to be in charge of the MLBPA, would be sympathetic towards the plight of Neibauer and friends. According to Gladstone, the players' welfare and benefits fund is worth more than $3.5 billion, yet Clark refuses to acknowledge the plight of the old players, some of whom have faced bankruptcy and/or have had banks foreclose on their homes. Or worse.
"And Clark receives a compensation package, including benefits, worth more than $2.2 million," Gladstone said.
(We telephoned Clark at the MLBPA offices in New York Dec. 16 and left a message, telling him what we needed, etc., hoping he could tell us why the union has been so reluctant to speak to the subject at hand. Surely there's a good reason … isn't there? We're still waiting for a return call. "Good luck with that," Neibauer said.)
Gladstone, who describes himself as "a journalist by training," also noted both Foster and Clark are Black, "… and what makes this situation especially repugnant is that the union's executive director received the Jackie Robinson Lifetime Achievement Award from the Negro Leagues Museum in 2016 … Let that sink in. The man who has the power to assist these men is a social justice advocate who isn't helping them … These men are being penalized for playing the game they loved at the wrong time."
It's all there in Gladstone's book – "A Bitter Cup of Coffee" (Word Association Publishers, $25.00) – which was first published in 2010 and updated in 2019. He talks to the players, most of whom have come on hard times. In some detail, he discusses how some have taken on the establishment with no success. The courts have made it clear neither MLB, the union or alumni association is legally responsible.
No, this is all about doing the right thing, ethically as well as morally. Meanwhile, attempts to engage such heavy hitters – and former players – such as Jim Bunning and Brooks Robinson on their behalf were met by stone walls or, at the very least, indifference. Bunning was a United States Representative (and Senator to be) when, in response to a letter from Neibauer, he wrote: "I don't feel I can be of any help." Yeah, right!
Anyway, at best, it would be a temporary rescue because we're talking about o-l-d ex-players, most of whom will be living in that great cornfield in the sky, auditioning for roles in Field of Dreams II, before too long. Neibauer is 77, with diabetes and two new hips.
Bottom line: Major League Baseball was a $10-billion-plus business in this past season … and couldn't care less that one pre-1980 catcher was "crippled from all the abuse I took as a player." Or that others were ailing as the result of trainers not being aware of the dangers of cortisone overuse.
Max Scherzer just signed a contract with the New York Mets for $43.3 million A YEAR … and he's not happy. If "Mad Max" is crying large tears, think about Neibauer, Skok, 74; Beard, 71; Foster, 70, and Rockett, 66. All are getting peanuts from the game while the elephants are eating cake and still wanting – make that demanding – more.
In a recent piece discussing the pros and cons of the lockout that could threaten the start of the 2022 season, Manfred accused Scherzer and associates of – among other things – rejecting an offer to increase the salaries of younger players. Sherzer said the union has "a pretty good war chest" to assist the lower-paid players in case the stoppage lasts a while. So why not take a very small percentage and help your older band of brothers, Max?
"I don't think the players know about our situation or don't give a [bleep]," Neibauer said. "I have a friend who recently retired after more than 40 years in baseball. He says [today's] players … don't give a [deleted] about anything but how much money they're going to get and when the next check is coming in. The attitude of these people is not good."
In fact, given the circumstances, it's hardly surprising he doesn't have anything good to say about anyone especially Clark, Manfred and Steve Rogers, a former MLB pitcher, who works as union liason with the players on pensions. At one time Neibauer defended the alumni association against criticism. "Eddie Robinson said they should have some non-vested guys so they put David [Clyde] and me on the [pension] board, and we stirred the pot pretty well," he said. "We had WORDS with everyone." Next thing they knew they were voted off the board.
Now, before we shed too many tears for Neibauer … he isn't hurting as much as Gladstone would have us believe. In fact, he has done all right for himself with no help from baseball. "I don't need this money. It's the principle of the thing," Neibauer said. "We've been hosed. They have the money … and they refuse to do a thing."
His wife Christine is a lawyer. Since throwing his last pitch (Sept. 30, 1973) he has done a variety of things – all outside of baseball. The Neibauers are on Medicare and have some retirement money as well. "We're good," he said.
No, Neibauer is more concerned about others caught in the same pre-1980 predicament who "are on the ragged edge. Some have filed for bankruptcy ... have health issues … and we were the group in the 60s that was the forefront of the players association that allowed [first MLBPA executive director] Marvin Miller to flex his muscles and get this organization where it is today. If it wouldn't have been for what we accomplished, these guys wouldn't be making $50 million a year today."
The most Neibauer made from 1969, when he made 29 appearances as a rookie for Atlanta, until he suffered one of the all-time freak injuries and was forced into premature retirement in was "the minimum, $12,000."
Taken by Cleveland in the first round of the 1966 draft, the native of Billings, Mont., who spent four years at the University of Nebraska, signed with Atlanta, which called his name in the secondary phase that same year.
In all, the 6-3, 200 pounder appeared in 75 games, 71 in relief (4-8, 4.78 ERA, 81 strikeouts in 148.2 innings) with the Braves and Phillies. Highlights included an inning of shutout relief against the Miracle Mets in Game 2 of the 1969 National League playoffs. Neibauer had his best professional season in Richmond, leading the 1971 R-Braves with 13-9. 3.24 (29 starts, 8 complete games, 3 shutouts and 149 K in 194.0 innings)
A righthander, he could throw HARD, had a big-time fastball and an even better slurve. So what happened? What brought such a promising career to a sudden end?
"I was traded to Philadelphia [1972], and … on the 5th of July against St. Louis … if I remember right … [Vic] Davalilo was up, second inning … I threw a fastball – that went halfway up the screen behind home plate – and blew out all the ligaments that hold the tendons in place in the middle finger of my right hand.
"No one had ever seen that type of injury to a baseball player … They kept me around the rest of the season … but I couldn't throw … In November, a renowned hand surgeon Dr. James Hunter … took a tendon out of my left foot, drilled a hole in the finger and put the tendon through the hole. It worked … but I didn't have the same grip … the same strength … I couldn't throw the way I had before."
Traded back to the Braves, he split 1973 between Richmond (7 games, 1-3, 2.13) and Atlanta (16 games, 2-1, 7.17) before deciding to move on with his life. He sold insurance "for a number of years" then worked in the retail mortgage business until retiring about 10 years ago.
In 2013, while on vacation with the family in Yellowstone National Park, Neibauer suffered a stroke, then, later on, developed a blood clot in his brain that put him in intensive care and rehab for six weeks. He's OK now, Neibauer said, sounding energetic and upbeat as always. "I still hunt and fish, and do all the things I used to do," he said. "I just do it at a slower pace."
Meanwhile, he fought the good fight against baseball's ruling class and has nothing to show for it except he has the satisfaction of knowing he tried – against all odds. He's stepped out of the ring and left the building. Gladstone is left to take on windmills by himself.
"Doug continues to do what he can … but we haven't found anyone to pick up the ball and run with it," Neibauer said. "I don't know if that has to be someone in government. I hope not. It's basically in limbo and treading water right now. With the lockout going on now, who knows what's going to happen?"