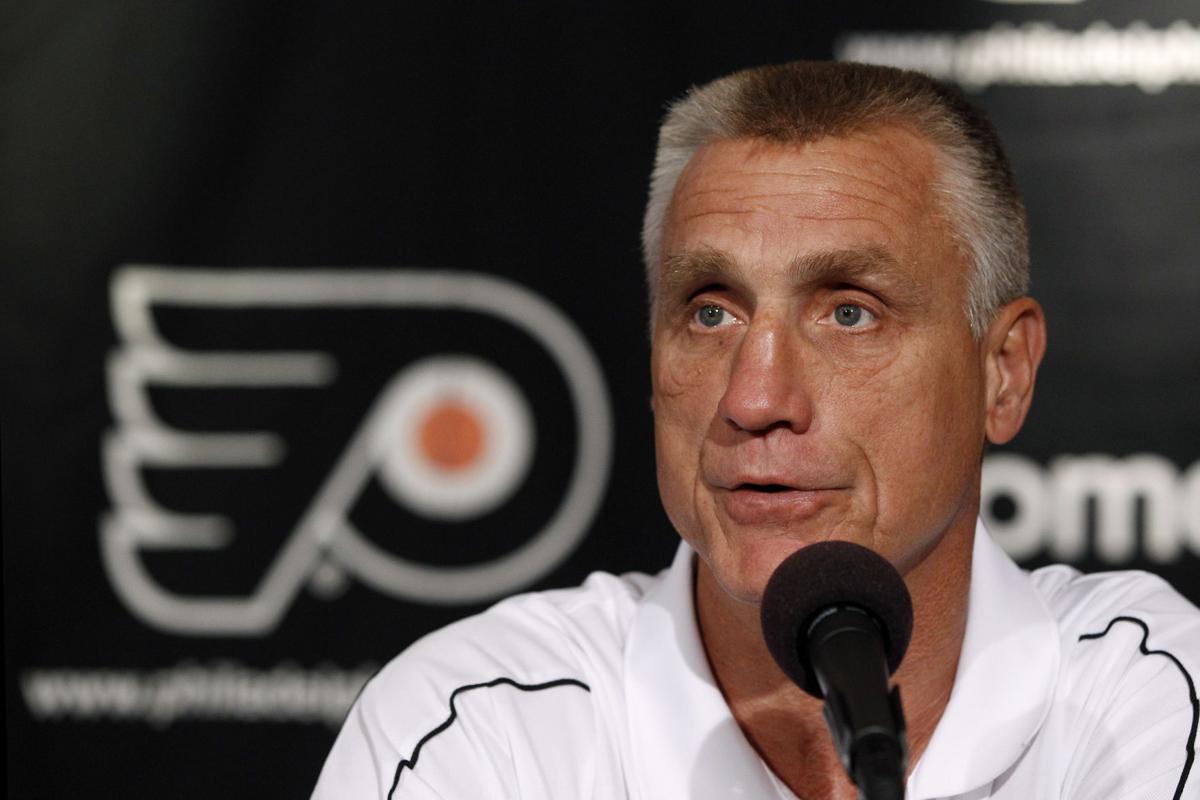 Get ready to duck. Here comes the memory man again. Volume 67: "Ahh, Yes … I Remember It Well (Sort Of)"
 … when Paul Holmgren, recently inducted into the United States Hockey Hall of Fame, played for the Richmond Robins then – little known – almost died on the operating table shortly after being summoned by the parent Philadelphia Flyers.
It was the 1975-76 season when Holmgren, a tough right winger, was assigned by the Broad St. Bullies to their AHL farm team here. He arrived after playing for the World Hockey League's Minnesota Fighting Saints. We'll let Robins' teammate Steve Coates take it from there:
"We had a brawl at the end of a game in Springfield … He got into it with the goalie, and the goalie's glove must have rubbed his eye. We went to Hershey, had a day off, and he was secreting fluid from the eye. He went to the Hershey medical center, and the doc said: 'Keep this patch on your eye, and don't practice – or anything – for three days.'
"Went to practice the next day. 'Where's Holmer?' … He got called up … tore the patch off – anybody would have done that – and went up [to join the Flyers]. He played one game then they went to Boston [where] they had to rush him to the hospital – and he died on the table. Yeah, he died, heart stopped, and they revived him.
"I think he had a cut cornea. (I have breakfast with him every two weeks … and we don't talk about it.)"
From St. Paul, Minn., Holmgren was the 108th player taken in the 1975 NHL draft but opted for the WHA. Edmonton, who had drafted him in 1974, sold his rights to the Fighting Saints. Holmgren left the team Feb. 28, 1976, three days before the franchise folded for financial reasons, and signed with Philadelphia.
Holmgren, who could score almost as well as he could fight, appeared in six games (4 goals, 23 PIM) with the Robins … and never returned. After what was described as "an allergic reaction to the anesthesia nearly cost him his life," he sat out the rest of the '75-76 campaign then played eight years for the Flyers. His 1,600 penalty minutes were a team record until broken by Rick Tocchet.
"He was the real deal," Coates said. "You always wanted him on your line."
Dealt to the NHL Minnesota North Stars midway through the 1983-84 season, Holmgren retired as a player in 1985 and rejoined the Philadelphia organization, where he became the only person in Flyers history to serve as assistant coach, coach, general manager, assistant GM and team president. He also had numerous other jobs such as director of player personnel, director of scouting .. and currently serves team ownership in an advisory capacity.
… when Coates was a feisty winger who didn't mind dropping the gloves … but an enforcer he wasn't – despite claims (not his) to the contrary.
A favorite wherever he played, Coates reported he is about to start his 42nd year talking about Flyers games after recovering from quadruple bypass surgery recently. Robins fans will recall Coates, all 5-9 of him, was all heart during his two seasons here (1974-76) and later a brief but lively stint in the NHL when he had two fights in five games with the Detroit Red Wings.
"It [heart attack] came out of nowhere, but I'm alive, so that's half the battle," he said.
From Toronto, Coates always liked to talk, which made him a natural for Flyers radio, then television and back to radio five years ago. He's one of those likable personalities who never met a stranger. "When you get to my age, you have a face for radio," is one of his favorite lines.
… when the late Lou Martin, then assistant general manager of the Richmond Virginians, told a very-pregnant lady seated in a box seat behind home plate on a very hot Sunday afternoon at Parker Field he had the rescue squad standing by … just in case.
Most people who knew him (even a little bit) remember Martin, who died last month at age 88, as a feisty, scrappy, damn-the-torpedoes, fun-loving so-and-so who seldom ceased to be the center of attention. They called him "Bugs" (among other things), and he never let lack of height keep him from going all out whether as a coach, administrator, umpire or chip-on-the-shoulder basketball official who never shied from controversy.
Oh, the stories friend and foe alike could tell about Martin, but separating fact from fiction never was easy – still isn't. One of the prevailing myths was an oft-repeated quote allegedly made by Martin while officiating a game at Benedictine where he went to school. The ball went out of bounds, and "Bugs," so the legend goes, said: "Our ball!"
"It would be a shame if that's all he was remembered for. The fact that Lou went to Benedictine a million years ago … that story just grew legs," said Dennis Ashcraft, 61, a former basketball official who worked games with Martin and knew him for 45 years. "There are now so many people who said they were in the gym that night they could be anywhere from 75 to 35 [years old]."
Martin was baseball coach at VCU in 1978 when Ashcraft was a student. (We should pause here to note someone who played for the Rams during that time was asked for a tale or two and said, "That's probably not a good idea.")
Ashcraft recalled Martin being tossed from the first game of a doubleheader at Parker Field. "He was sitting in the back of his truck, with the tailgate down. I went back there, and we were talking and laughing, kidding around, when all of a sudden he pulled a gun and began shooting in the air. 'Oh, my god, I've got to get out of here.' That's the stuff that was so funny about him."
Most people, however, knew Martin, the basketball official. "He was really good, he really was … and some people didn't like him because he worked all the big games," said Ashcraft, who books officials for the USA South Athletic Conference. "He was as successful at doing it as anybody."
By the way, the rescue squad was not needed. The very-pregnant lady, already overdue with her first child, did not give birth until four days later. "It was our first anniversary, and you took me to a baseball game!!" she recalled recently, more than 61 years after the fact.
… when Woody's son Wes was calling 'em as he saw 'em for Georgia Tech and now teams with Billy's boy Mark to give us a reason – finally – why we want the ACC Network.
Back in the day the late Woody Durham easily was the ACC's most recognized play-by-play man, the voice of North Carolina football and Dean … err, basketball. If you liked the Tar Heels, you loved Woody who was very good at what he did. If you were from Virginia and other league outposts north and south of Carolina blue, Durham was a human dartboard for the anti-Dean Smith crowd, in particular. Which was unfortunate because then you allowed rooting habits to cloud Durham's value/ability in his chosen profession in which he distinguished himself for 40 years in Chapel Hill.
The same could be said for Billy Packer, 81, in a more general sense. He went to – and played for – Wake Forest but no one cared about that because the Demon Deacons didn't dominate and, therefore, didn't attract the ongoing attention of the media. No, Packer – it says here television's best all-time college hoops analyst – took a critical beating not because he didn't know what he was talking about but simply because he could be too candid with his opinions. And, he didn't schmooze with reporters, many of whom considered him distant, even downright arrogant.
This was the world into which Wes Durham and Mark Packer were born many moons ago. Now they're closing fast on their 500th "Packer and Durham" morning show (7-10 a.m.) seen on the ACC Network (still unavailable to area Comcast subscribers) and heard locally (delayed) from noon-to-3 p.m. on ESPN Radio (106.1). They work from Packer's basement man cave (sort of) in Charlotte – and are a delight, really good to watch as well as hear.
Elon-alumnus Durham, 55, has rich, resonant pipes which, along with his expertise, has always made him an excellent play-by-play listen. He started out at Radford as 22-year-old voice of the Highlanders then went to Marshall and Vanderbilt before starting an 18-year run at Georgia Tech. He's been doing Atlanta Falcons radio since 2004 and also calls college football on TV for the ACC Network.
Packer, meanwhile, has built a following of his own with a seemingly non-stop talking presence on radio since getting a BA degree from Clemson where he was on the golf team. His "Off Campus" program is heard weekday afternoons on SiriusXM.
They met, Durham said, at the ACC football kickoff in Greensbro."We knew of each other but didn't know each other. I had left Georgia Tech to do college football for Fox and Raycom on television … and Mark asked if I would come on his show once or twice a week and talk ACC. No problem. Then one day Packer called and said they were starting an ACC network. They wanted him to do a morning show – and he would like to work with me."
In March of 2018, the firm of Packer and Durham began on satellite radio. "Little did we know the people consulting for the ACC television network liked us a lot," Durham said. "Mark converted his basement to a studio, and we've been doing 15 hours a week from there since 2019. He's remarkably talented and really fun to work with."
Frankly, we don't listen to much radio unless in the car. And, because our cable provider is Comcast, we still don't get the ACC Network – as promised – because Comcast and ESPN can't agree on a subscriber fee. Therefore, we weren't aware just how good Packer and Durham are together until last week's trip to Holden Beach, N.C., enabled us to watch them do their thing.
The P&D yapfest is pure delight because they give viewers more than just talk. The folks back in Bristol, Conn., where the show is produced by ESPN, provide video with segments that break up the quick exchanges.
Old timers, in particular, will enjoy old clips like seeing Lou Holtz, decked out in all bright red, pace the North Carolina State sideline. Or North Carolina's Bill Dooley wearing a letter jacket. Hey, there's Clemson's Danny Ford who, we're told, didn't like Georgia Tech's Bobby Ross – and vice versa. Or really vintage black-and-white of Frank Howard and "Peahead" Walker, the Clemson and Wake Forest coaches, respectively, whose heated football rivalry generated genuine personal dislike, too.
Each week, the co-hosts rank the 14 football-playing ACC schools and invite viewers/listeners to send their lists, too – which can be as humorous as they are controversial. (Of course it helps to know the "Swiss" offense and defense refers to Wake Forest and/or "the mystery team" is Louisville – I think.)
They ask good questions of their guests, too, not the mindless inquiries that have become commonplace. ("You just won the national championship: How does it feel?" GONG!!) Minor criticism: They also tend to belabor a point – like Miami missed 19 tackles in a Thursday night 30-28 loss to Virginia.
On a recent morning, M. Packer lived up to the family name with a withering blast on ESPN's Football Power Index (FPI) which, somehow, listed North Carolina State first and Clemson second to win the Atlantic Division yet, in a rundown of ACC championship favorites, put Dabo Swinney's Tigers No. 1.
Durham insisted it was all in fun … and the ESPN people who came up with the nonsense were probably laughing, too. A few days later they hadn't heard from Bristol – no slap on the wrist, nothing – and didn't expect to, said Durham. "We don't know who they are. That's the honest truth."
In truth, until now, we haven't missed the ACC Network … and don't know anyone who has. Richmond-area Comcast subscribers are not alone, joining such other big markets as Atlanta, Miami, Fla., and Pittsburgh. You would think local Hokies and Wahoos would be all over the cable system, demanding action. Just as you would expect people with particular affection for certain schools would think the co-hosts were prejudiced – against their teams, of course. It has always been thus, hasn't it?
"That's just part of the business," Durham said, noting he and Packer get some of that "but there's nothing vulgar, nothing malicious. They're just fans being fans." Like a Virginia Tech fan wrote Durham would be "out of his mind" if he didn't rank the Hokies "above seventh" in their weekly ranking of ACC teams. "So, naturally, I put them seventh," Durham said.
Meanwhile, no one has bothered to take a reading on the public's interest in "Packer and Durham" … as far as he knows. Durham said they had no idea how many tune in, and he didn't sound especially concerned about it. He knows they have a good audience by comments he gets walking through airports or on the field prior to kickoff, Durham said.
While they encourage interaction, and offer a telephone number in case anyone wants to contribute that way, few calls are taken during the three hours – sometimes none. Not that people aren't dialing in but if the producer back in Bristol doesn't think your question fits the flow of the show, you probably won't get on.
"We never envisioned it being a caller-driven show," Durham said. "There are plenty of places [for that]. If we can make it informative, somewhat entertaining and, hopefully at the end of the show, you've had a laugh, someone's answered a question … and you've learned something that helps you enjoy the games more and get to know the coaches the better."
Consider the boxes all checked, Wes. Carry on.
… when Richmonder Zachary "Zac" Jones was making his New York Rangers debut seven months ago and drawing raves for his potential from the tough Big Apple media.
Profiled in Volume 57, "He Came Along at the Right Time," Jones got ready for the Rangers' training camp, which opened Sept. 23, by skating for more than a month at the teams' development/rookie camp. Son of former Richmond Renegades' trainer/equipment manager Rob Jones, the defenseman with uncanny passing skills is the first player born and raised in Virginia to suit up in the National Hockey League.
He joined the Rangers for the last 10 games of 2020-21, played a regular shift, and now faces even more competition to make the 2021-22 opening-game roster. Under new management, the Broadway Blueshirts have added several veteran defensemen plus Nils Lundkvist, a youngster straight from Sweden's top pro league where he was an all-star. Also, the Rangers are toughening up, having been pushed around a season ago. Jones is a finesse player who relies on quickness, stickwork and guile.
Rated as the team's fourth-best rookie by NHL Network, Jones seemingly has been all but lost in an over-crowded corps on defense. In fact, the most he's been mentioned by the NY press has been in connection with a potential trade for the Buffalo Sabres' unhappy center – and former captain – Jack Eichel. After last Tuesday's exhibition with Boston, there was speculation it could be between Jones and Lundkvist who stays and who begins the season with the Rangers' AHL farm in Hartford, Conn.
So, with the regular season set to begin Oct. 13 in Washington, long-time New York Post hockey writer Larry Brooks was asked Monday about Jones' immediate future with the Rangers. "Jones has had an extremely successful camp, but … I think he'll start the season in Hartford. He could become part of a blockbuster trade but the Rangers are in no hurry to move him," Brooks responded in a chat room format.
"It is what it is," said Rob Jones. "I still think it's better for him to play 25 minutes a game at Hartford and be involved in everything – power play, penalty kill – than be sixth or seventh defenseman with the Rangers. He's only 20 years old."
Would Z. Jones welcome a trade? "I'll say this: he can play regularly for two-thirds of the teams in the NHL," R. Jones said.