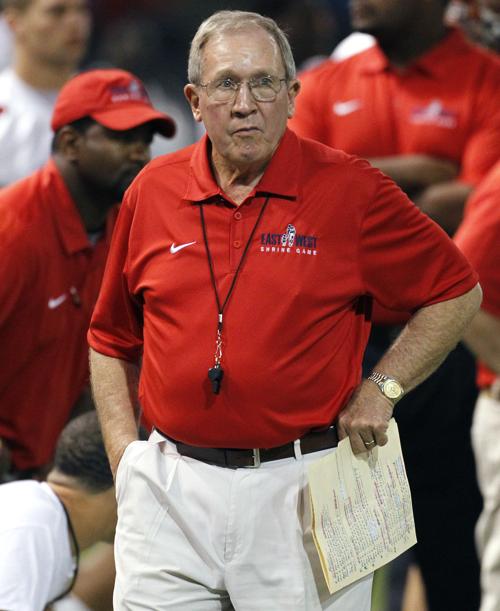 Here we go again … with equal parts of memories, short and long, including stuff from the cutting room floor. This is Volume 75: "Do Something, Even If It's Wrong."
In Volume 73, "It's Your Patriotic Duty," recounting 40-plus years of coaching – high school, college and NFL – by Bobby Ross, the memory man barely touched on a historic moment, promising to provide details at a later date. Consider this a promise kept.
In 1984, Ross took his 6-3 University of Maryland Terrapins to Florida to meet the 8-2 University of Miami and Jimmy Johnson, in his first season as Hurricanes' coach. At halftime, the home team led 31-0 and was living up to a well-deserved reputation as college football's bad boys.
"They ran through our [pregame] warmup, cussing us," Ross recalled. "One ran by me and said: 'You son of a ….' We were intimidated, I think."
For 30 minutes, it certainly seemed that way. His Terps managed a grand total of 57 yards. There was little they could do to stop All-American quarterback Bernie Kosar – or taunting by the No. 6-ranked Hurricanes. "They kept saying, 'Come on, Maryland, at least make it close,'" one of the Maryland players was quoted as saying afterward. "It was so great to shut them up."
What's a coach to do? If you're B. Ross, you get drastic. First, he told his players if they didn't do a lot better in the second half, well … "and I'm almost ashamed to say what I said ..." Put it this way: When the team got home that night, they would face a workout they would never forget. "I would have done it, too," Ross said.
More important, " I went back to my old military days: Do something, even if it's wrong." And he changed quarterbacks – from Stan Gelbaugh, "who had been hot," to Frank Reich.
(Quick back story: Reich was No. 1 to start the season then suffered a separated shoulder against Wake Forest in Game 4. A junior, Gelbaugh was the QB of record in a 25-24 loss at Penn State then ran off four straight victories.
By then Reich, a senior, was ready to play again. "Frank came to see me and wondered why he didn't get his position back?" Ross said. "I told him: 'You're one play away, so be ready.'")
It certainly was a halftime to remember for Ross: "It was crazy. Our starting tackle, Tony Edwards, got locked in the bathroom and couldn't get out … Gelbaugh wasn't playing poorly … but I put Frank in to start the second half … and he got it going. We scored two quick touchdowns. And I told [assistant coach] George Foussekis, 'We just might be able to win this game.'"
The Terps scored six touchdowns as Reich accounted for three of them. He completed 12 of 15 passes for 260 yards. "We had the first 300-pound tackle in the ACC, J.D. Maarleveld, a transfer from Notre Dame where they took his scholarship away from him, and we began knocking [Miami] off the line of scrimmage," Ross said.
How sweet it was, ending the Hurricanes' dream of back-to-back national championships with what was then the greatest comeback in the history of college football. The final was 42-40, but not before Ross had more than a few anxious moments.
"We got ahead 42-34, and all we have to do is keep the ball," he said. "Frank runs a bootleg, slips and falls. We line up for a punt … and our deep-snapper isn't on the field. He's sitting on the bench … his head is down. 'Coach, I can't do it!' The pressure got to him … and I said, 'Get your [butt] out there!'"
Bad idea. A bad snap resulted in a 14-yard loss on fourth down. Three snaps later Kosar threw his fourth TD, a five yarder, and just like that, Miami had a chance to pull even with a two-point conversion. Kosar completed a short pass to Melvin Bratton, who was kept out of the end zone by defensive back Keeta Covington. The Terps then covered the ensuing onside kick and ran out the clock.
Maryland finished the season with a seven-game winning streak, 9-3 overall. The Terps beat Virginia 45-34 in Charlottesville for the conference title then edged Tennessee 28-27 in the Sun Bowl. Miami closed with a three-game losing streak.
"You always have to believe you can win. If we didn't, it wouldn't have happened," said Reich, who later would lead the Buffalo Bills to the greatest comeback in NFL history. He currently serves as coach of the Indianapolis Colts.
The Terps' place in football history lasted until 2006, when Michigan State trailed Northwestern by 35 points (38-3) – and won 41-38 in a matchup of teams with losing records.
Ross, who turns 85 a couple of days before Christmas, used "crazy" and "amazing" to describe Maryland's comeback. Johnson called it his "most disappointing loss." Several Terps were quoted as saying the trash-talking Hurricanes did not bother to congratulate them afterwards.
You could only imagine what Johnson and friends said off-the-record 13 days later after Doug Flutie's iconic Hail Mary pass beat Miami 47-45 in a nationally televised (CBS) game. Flutie wound up winner of the '84 Heisman Trophy.
How good were the Saturday after Thanksgiving festivities honoring the long gone but hardly forgotten football rivalry between Armstrong and Maggie Walker high schools? Ask one of the organizers, James Jackson, and you have to believe a good time was had by all.
A parade kicked off the day-long event … "and they were lined up, standing along Leigh street and Lombardy … sitting on porches and watching, too," said Jackson (Armstrong, Class of 1975). "There were a lot of people."
By his estimate 3,000-to-4,000 then gathered at Virginia Union's Hovey Field to tailgate and watch a couple of championship games in the Dept. of Parks and Recreation's 8-and-under and 12-and-under youth football divisions. By design the teams wore either Armstrong green and white or Maggie Walker orange and blue.
The Armstrong/Maggie Walker rivalry began in 1938 (when MW first opened its doors) and attracted as many as 35,000 to 22,000-seat (approx.) City Stadium for 41 years. It became a much-anticipated celebration for the city's Black community that ended through no fault of its own.
So was Jackson surprised by the turnout? "Yes and no," he said. "It was the first year." In other words, no one really knew what to expect. It had been 43 years since the last game.
Now the plan is to make this an annual event, in what form remains to be seen. The organizing committee is scheduled to meet in a couple of weeks. "We have something to build on," Jackson said. "I'd like to see us raise some money to make it even better." Like, how much? "Oh, about $40,000 should do it."
Maybe Mayor Levar Stoney, who sure sounded like he was in favor of revitalizing the old rivalry, can come up with the necessary funds.
Meanwhile, what apparently pleased Jackson the most about the festivities was the absence of any untoward behavior or nasty incidents. "I had several people tell me how nice it was not to have to look over your shoulder," he said.
The American Hockey League's Hartford Wolf Pack has been shut down for a week after a player or players tested positive for COVID-19. Richmond's Zac Jones is not among them. "He's fine," father Rob Jones, former trainer/equipment manager with the old Richmond Renegades, reported a few days ago.
The Wolf Pack is the No. 1 farm team of the New York Rangers. Jones signed with them in April after winning an NCAA championship with the University of Massachusetts. A defenseman, he became the first born and raised in Virginia to play in the NHL when he appeared in 10 games a season ago.
Jones, 21, had an outstanding training camp but was sent to Hartford to get a lot of ice time – and develop – which he has. The Rangers are overloaded with youngsters on the backline, and a couple who have stayed with the parent club have played little. One, Libor Hajek, seldom dresses. Nils Lundkvist, a former No. 1 draft choice, gets on the ice maybe as much as 12 minutes a game.
"Zac would go nuts if he didn't get more than that," Rob Jones said. "In Hartford, he's averaging 25 minutes, playing regularly … and happy."
Jones has three goals and 10 assists for Hartford and was named first star in a game with Springfield. The Wolf Pack (12-4-2), second in the Atlantic Division, is scheduled to resume play Friday.
Former general manager of the Richmond Coliseum, Larry Wilson, 52, died recently in Columbus, Ga., where he had been named president of Ignite Sports and Entertainment four months ago. Ignite is parent company of the Columbus River Dragons of the Federal Prospects Professional Hockey League as well as two teams in the Sunbelt Baseball League.
"He came back from the Labor Day break … went to the ER … and that was pretty much it," said Ignite CEO/owner Jeff Croop. "Had sclerosis of the liver. Nobody knew it."
Croop was general manager of the Richmond Riverdogs in 2004-05 when Wilson was running the local, now-closed downtown facility for SMG. The United Hockey League team lasted three seasons … and Wilson left in late 2005 to be first manager of UVA's $130 million, 15,000-seat John Paul Jones Center, which opened in 2006.
The Sunbelt is a short-season circuit for college players. Ignite operated the new Columbus Chatt-a-Hoots last summer and will add the fledgling Choccolocco Monsters (Oxford, Ala.) in 2022. The company, formerly based in Richmond, was re-branded shortly before Wilson was hired.
"We stayed friends through the years," said Croop. "He was in charge of managing the staff and overseeing everything … The [Columbus] ball park is ours, and we do events. He was using his connections in the entertainment field."
An alumnus of the University of Memphis, Wilson had an impressive resume in the running of major facilities. He spent 23 years, including 4 ½ years here, working for SMG. He left Charlottesville in 2010 to go to Jacksonville, Fla. Before joining Ignite, Wilson was vice-president of facility operations for the NFL's Jacksonville Jaguars.
Thoughts while thinking …
So Notre Dame football coach Brian Kelly didn't tell his players he was leaving for LSU before news leaked. So what? Will Wade told his players he was staying at VCU then hopped on a plane for Baton Rouge and was introduced as new LSU basketball coach the next day.
This is what college athletics has become, at least on the upper level where ethics, sportsmanship and loyalty no longer apply. Now, it's all about m-o-n-e-y. Even the athletes are cashing in. Don't forget: they also have been rewarded with freedom of movement from one institution of lower learning to another. It used to be a coach took some – sometimes all – of his assistants with him. Now he can bring many players, too – with instant eligibility. Eventually, whole teams will enter the transfer portal.
This is only a guess, but logic says Kelly had it up to here with the unyielding criticism he got in South Bend – win or lose – and decided to go for the very big bucks. Apparently he more than doubled his annual take to upwards of $10 million including added incentives like not being caught cheating, radio-TV responsibilities, and not saying stupid stuff primarily after games. By the time the Bayou Bengal faithful are ready to make another change, Kelly will be super-rich and won't care.
By the way, Kelly might have been influenced by an offensive line that faces a major makeover. Also, don't forget: this is the same 11-1 Notre Dame team that coulda/shoulda lost to Florida State (5-7), Toledo (7-5) and Virginia Tech (6-6).
There was a great line recently, from a great American whose name escapes: "I hope my children grow up to be fired coaches." This came out after it was announced LSU was giving ousted coach Ed Orgeron a parting gift of $16.949M.
As for Lincoln Riley, who could have had just about any available NFL job but chose to go from Oklahoma to Southern California instead, it's clear he wanted no part of the Southeastern Conference. No dummy he. The Sooners and Texas will be the SEC's newest members.
NBC lost the National Hockey League to a combined overbid by ESPN and TNT. Not to be outdone, the Peacock went all in to keep U.S., rights to the English Premier League. That's the world's best soccer circuit, for those of you who don't know Cristiano Renaldo from Christian Pulisic.
NBC will pay a reported $2.7 billion for six years. That is said to almost triple what the EPL gets from its current contract for both English and Spanish broadcast rights in this country.
Average viewership this season is 609,000, an increase of 14 percent over last year. Talk about growth! Previous rights holders Fox and ESPN averaged 220,000 viewers per telecast in 2012-13, their final season.
CBS and ESPN also bid for the new contract which kicks in (sorry about that!) in 2022-23. With NBCSN, also home to another noted sports property Mecom Auto Sales (really!), going dark Jan. 1, soccer hopefully will have more of a presence on NBC and USA. Unfortunately, streaming service "Peacock," which still has too many glitches, is expected to have the most games. And, Comcast subscribers, don't be surprised when it's no longer free.
At least NBC's futbol coverage has the best studio show, any sport, anchored by Rebecca Lowe and featuring former EPL stars Robbie Earle, Robbie Muscoe and Tim Howard. They don't waste time with a lot of silly talk that has become so prevalent especially the NFL. They are all meat and potatoes – hold the potatoes.
More TV: Now Troy Aikman wants "Tony Romo Money" – $10M to call one NFL game a week with Jim Nantz. Actually, Tony R gets a game off now and then. A three-time, Super Bowl-winning QB with the Dallas Cowboys, Aikman has been analyst on No. 1 NFL-on-Fox tandem with Joe Buck since 2005. Aikman reportedly makes $7.5M a year, which seems a lot for a middle-of-the-road wordsmith.
Meanwhile, Cris Collinsworth apparently has been offered $12.5M a year to stay with NBC where overused Mike Tirico is scheduled to replace Al Michaels, 77, on "Sunday Night Football."