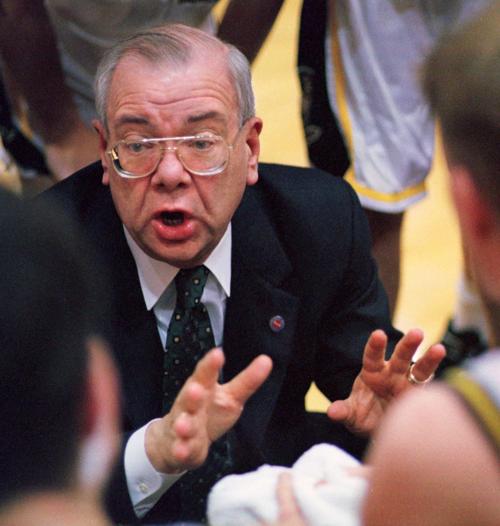 Here we go again, with some long- … but mostly short- … term memories. This is Volume 71: "Take a Bow, Coach."
Every so often, something out of the blue triggers a reminder of long ago, when the memory man really was just a kid on the sidewalks of New York, east side, west side, all around the town. A Big Apple tabloid, in a piece about the old Knickerbockers of the BAA and NBA, recalled late sportscasting legend Marty Glickman and one of his signature calls after a field goal from long range (then worth a mere two points):
"IT'S GOOD! LIKE NEDICK'S!"
Where else but NYC would an oft-repeated description, using the name of a sponsor, become so embedded in the culture? Nedick's (KNEE-dicks) was a chain of walk-in shops devoted to various forms of … orange juice, all tasty treats to look forward to, especially on a trip uptown to the old Garden – or for a double feature of western movies at the New York Theater in Times Square.
Playing pickup hoops outdoors on concrete courts we would swish a long one invariably followed by …
"IT's GOOD! LIKE NEDICK'S!"
Which leads us to other, better known, calls by play-by-play voices that could fill books, but not here and now. Instead, did you hear 83-year-old John Sterling add to his legend with a home run call of a ball that didn't clear the fence during the ALCS this year? This wasn't a first for the radio Voice of the Yankees but you almost felt sorry for him. Almost.
Giancarlo Stanton was the batter. "The pitch to Stanton … and there it goes deep left ... IT IS HIGH … IT IS FAR … AHHH, IT IS GONE, OUT OF THE BALL PARK … A STANTONIAN HOME RUN!!! (Pause) Now, what did I do wrong? What did I see wrong? He's at first base."
Sterling has been calling the Yankees on radio since 1989, and his critics are legion. He's been described as "dishonest, a clown, the worst of all 'homers'" – and worse. He's also rooted in Bronx Bombers' lore, too deep apparently to be fired. The club announced he will return in 2022, the last year of his contract, but must accept an abbreviated work schedule. (For the best/worst of Sterling, check YouTube.)
It has been called to our attention that …
… Chris Mooney, a good coach, is an even better person.
The University of Richmond basketball boss showed up – unannounced – to visit long-time booster/benefactor of Spider sports (including men's and women's hoops) Ellis Dunkum shortly before he died July 29.
Dunkum (UR, Class of '59) was home (next to CCV's James River golf course), in hospice and pretty-much unresponsive when Mooney stopped by. "He told Ellis about the team, the upcoming season, and how they would play for him," said wife Elizabeth Dunkum (UR, '59). "I don't know if he heard him or not … I would like to think he did."
We're told this wasn't a first-time thing for Mooney – without ceremony. No publicity.
This was something he did straight from the heart, which is very rare, especially these days.
At a meeting here Sunday, the honors committee of the Virginia Sports Hall of Fame selected four members to the Class of 2022 but opted not to choose anyone from either the media or veterans category. Executive Director Will Driscoll said he hoped to have an announcement "before Thanksgiving."
Among the nominees long-overdue for induction is the late Hal Nunnally, long-time basketball coach at Randolph-Macon and one of only four in state history to win 400 or more games. Gary Williams, who directed the University of Maryland to the 2002 NCAA championship, wrote an endorsement that read, in part:
"I know many Division I coaches, including myself and several others in the ACC, would often seek Hal's knowledge … on all aspects of the game … I've said many times that playing against Hal was like playing against a Bobby Knight-coached team. His teams were ALWAYS so disciplined and played far above their talent level … He always did more with less and he did it the right way … He knew how to win close games, and I heard his scouting reports were akin to college term papers … Hal Nunnally was one of the most successful and respected college coaches, not just in Virginia, but nationally as well ..."
Member of the Naismith and College basketball halls of fame, Williams obviously didn't just go through the motions in a two-page, well-thought-out, clearly sincere letter. He closed with: "Without any hesitation whatsoever, I give him my very highest recommendation for immediate induction into the Virginia Sports Hall of Fame."
… Dave Schultz has another book in the works, title unknown here … but here's hoping it won't have the same effect as his first: "The Hammer: Confessions of a Hockey Enforcer." In it, one of the original Richmond Robins who became the face of the Philadelphia Flyers' two-time Stanley Cup-winning Broad Street Bullies, pulled a no-no by criticizing teammate and captain Bobby Clarke. As a result, Schultz became persona non grata in the Flyers' family for many years following its release in 1982.
Stan Fischler was listed as co-author – which means he actually did the writing, with Schultz providing the opinions and information. Now Fischler, 89 and retired, was a long-time hockey scribe, historian and broadcaster who was weaned on tabloid journalism in New York and made a lot of enemies with his acerbic and questionable reporting style.
It is entirely possible – make that downright likely – that Fischler talked Schultz into including his feelings about Clarke, saying that could guarantee widespread interest and possibly a best seller. Ironically, Fischler was inducted into the U.S. Hockey Hall of Fame, a member of the Class of 2021 that included long-time Flyers player, coach and general manager Paul Holmgren.
A recent tome that included a look at Colonial Downs, its record-breaking 2021 handle and a look ahead to 2022, brought an email rant in reply from an old friend. "Derby Bill" Watson always had a quaint way of putting things but it sounded like he thinks legalized gambling has become a problem – already – in Virginia and can only get worse. He decried local TV's "Caesars Sports Desk" and "Rosie's Sports Moment of the Day" and called "sports wagering in Virginia … the monster out of the gate." He kept referring to degeneration this, degeneration that. Uh?
"Degeneration is 100 percent OK with me," Watson said. "That's a person who doesn't have a job and gambles for a living. It's a guy who takes a day off at the track or is retired. He's called a 'degenerate,' an industry nickname. You're not a high contributor to society … someone who bets $2 at Belmont for four hours of entertainment."
Lists are, always have been, the rage. When in doubt, run "best of" or "worst of" just about anything – and it is guaranteed to generate response. Check the recent NBA's 75 (a voting tie actually made it 76) best all time. Likable Reggie Miller said he was surprised to be included, and he should have been.
ESPN's $11 million/year man Stephen A. Smith went off when Golden State's Klay Thompson was omitted. "I wouldn't blame him if he never talked to the media again," said Smith, also noting the press previously cost the wounded Warrior $30M in bonuses by failing to place him – as deserved – on all-league teams. Dwight Howard was most mentioned as most deserving among those ignored.
The internet is chocked full of lists. For some reason we were drawn recently to 25 Most Overrated NFL Quarterbacks, from No. 25 – one-time Redskin (as they were known then) Marc Brunell – to No. 1, Joe Namath. Unfortunately, the author compared statistics from today with those of yesteryear when compiling his rundown, failing to understand the game has evolved to offense at the expense of defense. Now, put a hand on a receiver … touch a QB … flag: 15 yards. Then, everyone with a pulse was fair game until the whistle – or after it, for that matter.
None of his top 10 most-overrated played since 1989. They include No. 2 George Blanda (1949-75), No. 3 Bobby Layne (1949-62) and No. 6 Norm Van Brocklin (1949-60). Blanda was better known for kicking yet wouldn't have lasted long these days, making 54 percent of his field goal attempts. He was 48 when he retired. Also, none of the above was anywhere near in athletic shape, especially compared to today's players. For Layne and Van Brocklin, in particular, their idea of a workout was lifting a tall, cool one. To them eating right meant a bowl of Wheaties, "The Breakfast of Champions."
It was a different time and certainly a different era. Comparisons are worthless even if they make for fun lists.
I know, I'm old, but … tell me why …
… The Colonial Athletic Association, in effect, found James Madison U., guilty before it announced it was leaving for the Sun Belt Conference?
And, why didn't JMU wait to make it official after the spring session? VCU didn't tell the world it was going to the Atlantic 10 until the end of the 2011-12 school year, thereby assuring none of its teams would be sacrificed under the CAA rule now 21 years old – and antiquated especially considering how much the college sports landscape has changed?
Speaking of which … it would appear the JMU women's national-champion lacrosse team will be hardest hit, so … what would keep the players from entering the transfer portal and going, en mass, to another school where they would be eligible instantly? Nothing.
Officiating (all sports) has become more questionable than ever?
Example: Pittsburgh is putting it to Clemson, leading by 11 in the third quarter and moving the ball almost at will. Then every big gain is negated for holding or illegal formation (which could be called a lot but seldom is). ABC's replays show several holding infractions to be questionable at best. The Panthers settle for a field goal after a helmet-to-helmet hit is ignored, to the dismay of network analyst Todd Blackledge. (There was supposed to be an emphasis on targeting but, more often than not, it is ignored or overturned – when benefit of the doubt goes to the offender rather than the victim.)
Pitt persevered, and the flags stopped coming. The Panthers beat the Tigers and the point spread but, again, with legal betting services so prevalent, conspiracy theorists surely had a field day. Maybe you missed it but New Jersey set a one-month record with $1 BILLION wagered legally on sports in September.
By the way, is there an offensive line in the country that gives its QB more time to throw more often, without being charged with holding, than Virginia's? Kudos to assistant coach Garett Tujague, who came with Bronco Mendenhall from Brigham Young six years ago and has taken all kinds of heat for lack of a running game.
Mention Mendenhall, and we are reminded of former Cavalier coach George Welsh who, watching one of Bronco's early practices, asked: "When are they going to start playing football?"
Helmet-to-helmet interpretations vary from crew to crew?
In other words, the NCAA rules committee needs to reconsider it, or at the very least, remove the part that removes the guilty player from the game. Make it a 15-yard penalty. That's all. Most officials are reluctant to call it and possibly change the course of the game.
Brigham Young lost a player upon further review in the first half of the Virginia game, a decision decried by ESPN. In truth, the hit didn't appear nearly as bad as a couple of helmets-to-helmet by UR players that were overturned earlier in the season.
People who should know better say stuff like Jimmy Johnson (Fox NFL Sunday) explaining why WFT's defense has been a major disappointment? "They don't know what the offense is going to do, and that takes away from some of their motivation." Anyone said that to Johnson as an excuse when he was two-time Super Bowl-winning coach of the Cowboys, and you can only imagine his … uh, $#@& response.
The team formerly known as Redskins thinks it has a prayer of landing Aaron Rodgers when he abandons – as expected – the Packers after this season?
Colin Cowherd, who left ESPN for Fox six years ago, told the world on his daily yapfest the Green Bay quarterback was Pittsburgh-bound. He liked the way Rodgers looked at Steelers' coach Mike Tomlin. So it must be so.
By the way, Cowherd was an unabashed critic of professional rasslin'… until Fox got into serious negotiations with World Wrestling Entertainment about what became "Friday Night Smackdown." Suddenly he was seen, all smiles, in the company of WWE boss Vince McMahon.
… Fox drew an average of 11.75 million viewers for the 2021 World Series, won by Atlanta in six games over Houston. That was better than last year's 9.7M as LA beat Tampa Bay in six but otherwise second lowest all-time. In fact, interest has taken a sharp dive since 2017 when the Astros/Dodgers attracted an average of 18.9M. Fox just completed the fourth of a 10-year, $5.1 billion deal with MLB.