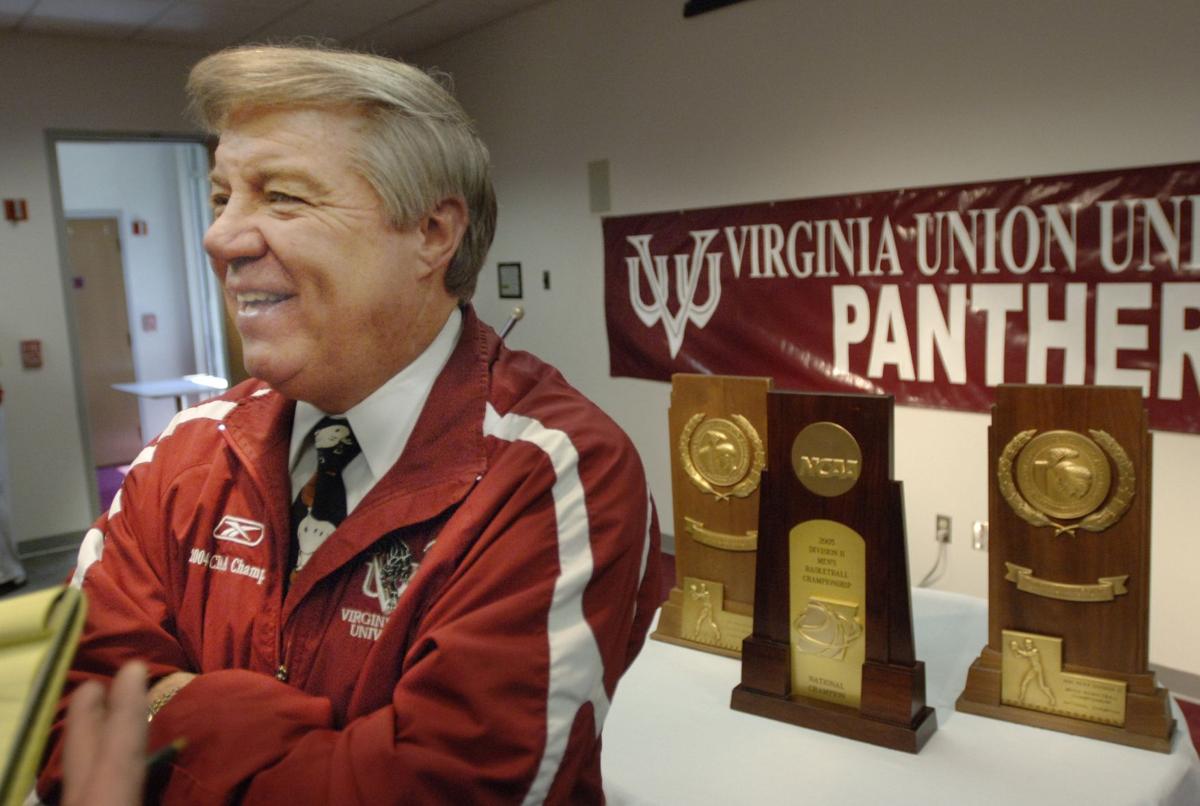 "Hi, everybody, and welcome to City Stadium ... where your Richmond Football Team … formerly known as Rebels ... opens the season tonight against the defending champions … Cleveland Football Team … formerly known as the Browns."
Sounds screwy, I know, but it could have been so. In late 1949, Rebels owner Harry Seibold courted the All-American Football Conference, then in its fourth season of being the National Football League's only serious rival. The A-AFC, dominated by the Browns of Otto Graham and Jim Brown, invited Seibold to a meeting and reportedly said it would hold a franchise for him assuming he could meet certain criteria.
The Rebels were coming off a big season in which they blitzed the American Football Professional League (AFPL) — not to be confused with the AFL of the 1960s that merged with the National Football League in 1970. Richmond finished first with an 8-1-1 record, then buried defending champion Paterson (N.J.) Panthers 35-14 in the championship game.
These were the Rebels of 30-year-old Virginia Union great Fred "Cannonball" Cooper, who led the AFPL in rushing (7.0 yards per carry), and tackle Chester Fritz, 29. Both would become iconic high school coaches here — Cooper (Maggie Walker) and Fritz (Hermitage).
It was a fun team to watch but, despite a top turnout of about 15,000, averaged only 6,500 at the gate. Seibold immediately set a course to get 15,000 pledges for season tickets. The Rebels had given the NFL's Pittsburgh Steelers a tussle, dropping a 28-16 exhibition decision before 9,000-plus here. They had every reason to be optimistic.
No wonder Seibold, who made his money installing fire extinguishers, was thinking bigger. Or, quite possibly, he wasn't thinking at all.
Nevertheless, Seibold, having agreed to buy out the team's 46 shareholders a year earlier, continued with his dream that quickly became a nightmare. He didn't come close to the required pledges but that became moot when, on Dec. 9, 1949, the A-AFC was taken over by the NFL. Three teams — Browns, 49ers and Colts — moved intact. The rest had their players assimilated by the NFL, which now had 13 franchises.
(Let's stop for a moment and think about it. Seibold gets his way, as outlandish as it might have seemed, and maybe — a very, very long shot but possibly maybe — we're talking about a new, much bigger stadium for your NFL Richmond Football Team ... OK, let's get serious. Back to reality.)
Meanwhile, down on the farm, the AFPL barely finished the 1950 schedule. Three teams folded. Richmond, which had a working agreement with the Chicago Bears, finished first (6-3), playing one team three times and claiming another win via forfeit. There were no playoffs. Highlight of the year was a midseason exhibition with the Bears — of Sid Luckman and Johnny Lujack — that attracted a crowd estimated at 17,000 to City Stadium. The final was 47-14 Chicago, but it was 21-14 at the three-quarter mark.
The Rebels closed with a 14-0 victory over the "Southern Conference All-Stars" before 2,000 here then went out of business as did the AFPL itself. That was at least the third league that went out of business with a local team on board — with more to come.
Here we go again, looking way, way back at sports the way the memory man recalls them. This time the focus is on semipro football, Volume 33, Part Uno … and we begin with an unintended prophesy. A September 1947 Times-Dispatch article began: "The Richmond Rebels hope to become as much a part of Richmond as the monuments on Monument Ave." How about that, Mel Allen?
Call it semipro, minor league, sandlot — whatever. You can rest assured all teams that play football for pay regionally will have a number of things in common but most likely it is that they won't last very long. Home attendance will be lacking. Checks will bounce. There will be perpetual turnover in ownership despite startup claims this operation unlike the others, will be successful. And, if they're lucky, they won't go under before their league does.
In 1964, after an absence of 14 years, football returned, thanks (no thanks?) to a former hearing aid salesman from Harrisburg, Pa. Bob Spitler, who had some success in the Atlantic Coast Football League, arrived unannounced and organized the latest incarnation of the Rebels, newest members of the ACFL. That triggered a string of seven straight seasons in which we were blessed or cursed — your choice — with a consortium of teams (four) and leagues (three).
Actually, the latter included a con job called the United American Professional Football League, sold as legitimate by a con man who came here in 1967 — after the Rebels folded — and barely beat the posse by leaving town under the cover of night with three games remaining in the season.
However, before next week's little ditty when we detail the sort of drama-filled life and times of the UAPFL, the Mustangs and the man who made them all possible, Hal Shapiro, a few words (that will be the day) about the new Rebels. They survived three seasons, and it was a wonder they made it through one. A 39-7 exhibition loss to defending champion Newark in their first local appearance sent a paid crowd of 6,300 home so dissatisfied that only 2,392 bothered to show up for the next preseason game.
The franchise had been incorporated in March, 1964, leaving the 33-year-old Spitler in charge of the day-to-day operations as general manager. By early September, four games into the regular schedule and already hemorrhaging big bucks, Spitler was fired by the board of directors. It was no secret coach Pete Pihos, the former Philadelphia Eagles great, didn't get along with Spitler. "I'm smiling for the first time in two weeks," said Pihos, who also replaced Spitler as GM.
In late September, the team filed for bankruptcy, with debts of $39,461.15 and assets of $15,974.72. Two days later Richmond Sports Club, Inc., led by Milton Markel, took over the franchise, paying $9,000. The league promptly restored the franchise, which had been revoked. The revived Rebels finished the '64 campaign 6-0-1, and the new owners said they planned to field a team in 1965, too. What else?
Overall, the 1964 Rebels were 8-5-1. Rookie quarterback Merv Holland, from George Washington University, led the league in passing with 2,586 yards and 18 touchdowns. From Pittsburgh, he would remain here after his playing days were over, working as salesman and general manager with several car dealerships. Holland died in 2015 at age 72.
In 1965, the Rebels left the ACFL to join the new Continental Football League, which required a $5,000 franchise fee and $25,000 letter of credit. It was considered to be a step up in competition. Pihos remained coach. And, once again, the team struggled at the box office, losing an estimated $150,000-plus after selling stock to 85 additional investors. On the field it wound up 6-8, with running back Tony Kozarsky, from North Carolina State, the MVP.
With Pihos replaced as coach by Steve Sucic, the Rebels continued their downward spiral in 1966. Despite the arrival of defensive back Lloyd Swellnis, who had played for Sucic with a minor league team in Grand Rapids, Mich., and pass-catching whiz Dave Robbins, from Catawba by way of the Denver Broncos' training camp, Richmond wound up 4-11-1. Robbins led the team with 41 receptions. Kozarsky earned his second team MVP.
Yes, THAT Dave Robbins, all 5-foot-9, 170 pounds of him, from Asheville, N.C. The man who became a legendary basketball coach originally came to town to play football, complete with a Denver Broncos' playbook he still has. A multisport star at Catawba College, Robbins returned for a fifth year to complete his gridiron eligibility and was good enough to get a free-agent tryout with the Broncos, then members of the AFL.
Now 78, and still living in Chesterfield County, he recalled playing in a few exhibition games "but I was color blind and couldn't pass a test they gave the rookies … then hurt my knee the next week and got cut. … They told me to keep my playbook and go to Wheeling [W. Va.] or Richmond. This was closer to my home in North Carolina … and one of my teammates with the Broncos, Eddie Fletcher, was already here, so I decided 'I'll go to Richmond and play with Eddie.'"
Robbins arrived in mid-September. "The next day they cut Eddie. I got his job … and his apartment," he said recently. The irony wasn't lost on Robbins then or now, given all the crazy steps it took for him to wind up a member of seven halls of fame, none for football. "I was a decent receiver in college. My senior year I caught 36 passes. Fletcher caught 125. They threw the ball coming out of the locker room. We passed on third and 14," Robbins said. "Go figure."
Go figure, indeed. He played for three teams in three seasons here before a series of knee injuries ended his playing days. Meanwhile, Robbins was working in the Richmond schools system. He started at the old Westhampton junior high, where he coached just about everything and, not surprisingly, did well.
"I think we lost one football game in four years," Robbins said. He did OK in hoops, too, and that led to replacing longtime (40-years-plus) coach at Thomas Jefferson High, Spud Bloxsom. Robbins took a team that "had won only three games in two years" and developed a winning program that included a state championship in 1975. That's well documented. What isn't was his immediate challenge in the classroom.
"They had me teach Virginia history … and I told the kids I knew little about it but I would stay a chapter ahead of them," Robbins said. "You know how sometimes you don't know how to pronounce a place … well, the kids laughed when I called it Monti-sello. They quickly corrected me … Monti-chello.
From TeeJay, Robbins became nationally known for his 30 years as Virginia Union basketball coach, the "White Shadow" at the predominantly Black institution. From 1978 until he retired in 2008, the Panthers won three NCAA Division II championships and 14 CIAA titles while compiling a record of 713-194. Among his NBA stars-to-be were Charles Oakley and Ben Wallace. Robbins was ushered into the Virginia Sports Hall of Fame in 2010 and National Collegiate Basketball Hall of Fame in 2012.
All because the Denver Broncos cut him, what Robbins calls "the worst day of my life." At least he was told to hold onto the book of plays, which was some indication he might still be in their plans. "Then the whole staff at Denver got fired … and I never had a chance to return." Things just have a way of working out, don't they?
Not for the 1966 Rebels. According to published reports, they lost $200,000 — an estimated $400,000 since the Richmond Sports Club took over 2½ seasons earlier. By season's end it was obvious they were on life support. You couldn't get ownership to talk about another season, a tipoff if ever there was one. They said they were trying to sell the franchise.
Some local people considered it, then wisely passed when they couldn't raise $250,000 or line up a NFL working agreement. On April 28, 1967, the Rebels died officially. Two seasons later the Continental Football League was gone, too. R.I.P.
A few final items, thoughts, etc., on your Rebels before moving on next week to your Mustangs, Roadrunners and Saints:
Naturally, injuries played a large role. In the exhibition rout by Newark, the Rebels lost former University of Richmond great Pat Lamberti, who had caused quite a stir as a rookie in the NFL Chicago Cardinals' preseason camp by KOing star running back John David Crow. On the Newark game's first snap, Lamberti, the defensive left end, re-injured the right knee that ended his bid with the Cardinals and now effectively ended his football career. He wasn't even hit on the play. "I just turned, and it popped … I guess it just isn't my year," he said.
Nor was it Bruce Nunnally's year either. The punter and defensive back from Wake Forest suffered a broken right ankle while making a tackle in the fourth quarter. A Thomas Dale High alumnus, Nunnally, 85, was the team's defensive backfield coach for three seasons and still resides here. Lamberti joined Pihos' staff as defensive line coach. He died in 2017 at age 70.
Other players who endured several seasons here included kicking specialist Bill Joyner and receiver Bill Barber, father of University of Richmond All-American Shawn Barber, a Hermitage High School graduate who played 10 years as linebacker in the NFL. Joyner, a local product (Armstrong High) who went to college at Johnson C. Smith, was among the CFL leaders in scoring for three years.
Say this for the Richmond Sports Club: It was ambitious. Originally, Markel, Massie Valentine and friends also planned to purchase baseball's Triple-A Richmond Virginians. The International League franchise had been sold by the New York Yankees in late 1962 to supermarket mogul Romeo J. Champagne, who proved extremely unpopular here. His asking price was $100,000 but apparently would have accepted less.
When talks between Romeo J. and RSC broke down, the franchise was sold at baseball's winter meetings and moved to Toledo. Parker Field was dark for the 1965 season before the Atlanta Braves moved their IL affiliate here in 1966.
By the way, Seibold, who died in 1960 at age 58, was the original owner of the Vees. He lost so much money in two years (1954-55) that the IRS took over the team for failure to pay taxes then sold the club at auction for $20,000 to a local group that included Lewis Markel and E. Claiborne Robins Sr. The Yankees acquired the Vees in 1959.