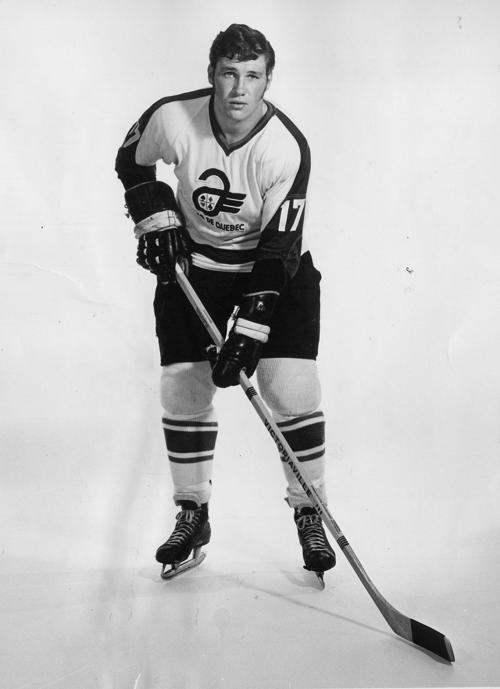 Time waits for no one … it passes you by. If you're the octogenarian memory man, slow of mind (as well as foot), it can mean missing an anniversary before he ever got the bat off his shoulder. Wow! How's that for mixing, not metaphors but sports? This is Volume 70: The Coach Was a Basket Case. (While we're at it, let's toss in a little old pop quiz, too. Answers below.)
Hard to believe, considering that rusting old hulk of an abandoned building downtown, but 50 years ago – Oct. 12, 1971, to be exact – ice hockey made its first official appearance here. Opening its doors to the public for only the second time, the spanking brand new $24 million Richmond Coliseum played host to its first "permanent" tenant, the AHL Richmond Robins, who defeated the Providence Reds 2-1 before a revved up if not overly knowledgeable opening-night (announced) crowd of 7,214.
"It didn't take them long to catch on [but] when we first came here, a lot of people didn't know a lot about hockey," recalled defenseman Willie Brossart, "One time somebody asked me if they could get some tickets 'around the 50 yard line.' I said, 'I don't know, that might be hard to come by … but I'll get you something around center ice … if that's OK.'"
(I know, I know … we used that previously. Sorry, but it was too good not to reprise here. However, with that in mind, this re-creation from long ago will be devoted primarily to the telling of stories by some of those who lived the game's infancy in the Capital City.)
ROCKIN' ROBIN … TWEET … TWEET.
New sport, new building … of course, everything went smoothly that inaugural game, with few if any glitches … of course – not. The lighting was so poor they had to hang a large illuminating rig high above center ice which created unwanted shadows on the skating surface. There was no main scoreboard because the architect said it would spoil the aesthetic beauty of the building. No kidding! With all those ugly brown seats?
Instead, small, barely-noticeable, all-but-useless boards were inserted high up at either end of the facility. Oh, and because they had no place for penalties – details, always details – a large portable clock was perched in the make-shift press box, and the public address announcer had to count down the time.
"You always expect a sellout with a new venture. So, looking back, I would say we were disappointed in the opening-night crowd. Actual attendance was probably 6,000-plus," said Charlie Evranian, who was the Robins' assistant general manager. "Our PA announcer was explaining the game as it was being played – offsides, icing and such. [Coach] Eddie Bush had no patience with the Coliseum's issues … and was a basket case. Of course, winning covers a multitude of sins."
Pop Quiz Question No. 1: Who scored the Robins' first goal on home ice? 
Officially, first-year attendance was 249,311 (avg., 6,560), from a high of 10,196 for a Jan. 7, 1972 much-anticipated rematch with the Boston Braves to a low of 3,761 on Nov. 3, 1971 against Nova Scotia. Of course, the numbers were more often than not inflated and, apparently, someone decided neither the team nor the building was getting enough publicity.
One morning, while the Robins were preparing for their next opponent, Coliseum manager Larry Thomas informed them a bomb threat had been called in to the office. They would have to leave the facility immediately. The next day the Times-Dispatch ran a picture of the players, some still with skates on, standing outside at the Leigh Street entrance.
Later, we were told it was a hoax, no one had threatened anything, that an unidentified employee of the Coliseum had made up the whole thing. It was treated as a meaningless prank. There was little if any inquiry regarding the culprit. No harm, no foul. Thomas, the first manager who left after two-plus years for Niagara Falls and continued a distinguished career in Miami Beach, died July 5, 2020 at age 78.
A defenseman during his playing days that included a season (1941-42) with the Detroit Red Wings, Bush, then 53, was loud, laughed a lot, but strict, a taskmaster who would never win a popularity contest in the dressing room. Still fresh in the mind's eye: a post-practice stick fight with veteran Larry Keenan … and an off-ice confrontation with Danny Shock who said something Bush didn't like. Still wearing his skates, the coach chased Shock back to his locker. Other players broke it up. Nobody was hurt in either … ahh, skirmish.
In the beginning, the Philadelphia Flyers, who moved their top-farm team, formerly known as the Quebec Aces, here, originally were co-owners with Claiborne Robins, Jr.. One morning during training camp, after watching Bush run a practice laced with profanity, Flyers' GM Keith Allen said, "I sure would like to have heard him when he went courting."
Pop Quiz Question No. 2: It came down to a choice between the Flyers and what expansion team that offered to give Robins, Jr., the AHL franchise at no cost?
Frank Spring was one of the original Robins, a right winger who had a heavy, hard shot but left the impression he was seeing two nets – and invariably took aim at the wrong one. "You couldn't put the puck in the Atlantic Ocean," said Bush. (On Nov. 11, 1971, in Providence, Bush sent Spring to the dressing room during the second period after they had an angry verbal exchange.)
Pop Quiz Question. No. 3: Who scored the Robins' first goal? 
Oh, the stories they still tell about Bush, a man of many hats (literally) and sayings (for every occasion), a veritable quote machine, who died in 1984 at age 64. He was hard not to like yet seemed to be constantly at war with someone – players, game officials and front office alike.
After the Robins finally got to .500 (17-17-6) only to stumble, winning four of their next 17 games, Allen came to Richmond in mid-February. Would he fire Bush? After a meeting with GM Hillman Lyons, the answer was no. The embattled Bush stayed, and the team missed the playoffs by three points (29-34-13). It was 5-24-9 away from home, going winless in the last nine (0-6-3).
That was it for Bush. The Flyers hired Larry Wilson, the Providence coach who would direct the Robins for four years – until Robins, Jr., pulled the plug when they couldn't sell 3,000 season tickets for the 1976-77 season. In constant conflict with Flyers' ownership, he dropped a reported $1.5M-plus.
"I liked Eddie, I really did," said Brossart, who suited up for three NHL teams during a nine-year pro career. "One time we were playing [on the road]. I thought I was playing pretty decent … and he benches me after the second period. I see no ice time at all, and I'm thinking Holy Caboodles!
"He calls me in after the game and tells me 'You're going to New York to join the Flyers tomorrow night.' He didn't want me to get hurt before my first [NHL] shot in the Big Apple."
Promotions, promotions … and more promotions. Evranian, 69,who lives in Richmond after a long, storied sports-related career, told of a contest in which the winner and a guest would accompany the team to Hershey for a game on Christmas Day. To give his players more time at home for the holidays, Robins Jr., scheduled a charter flight rather than the usual bus trip.
"Bush was superstitious about women traveling with a hockey team … and he went off the rails when he found out two women would be going with us to Hershey," Evranian said. "Moments into the flight the plane experienced a sharp drop in altitude. It had a crack in the cockpit window, so the pilot was forced to land in Winston-Salem [N.C.] and have the glass replaced. As we landed Eddie came charging and told me to get those women off the plane. They were bad luck. Within an hour the repairs had been made and we took off again … with all passengers on board."
Pop Quiz Question No. 4: Who was the Robins' least favorite referee?
Ask anyone about the fledgling Robins … and if they're old enough and still able to remember … they first mention Dave Schultz and all the fights he had. It's doubtful there has been a more popular athlete to pass this way – despite a short tenure – than the 6-1, 191 pounder who his teammates here called "Shooter" and later became the "Hammer" with the two-time Stanley Cup-champion Broad Street Bullies … err, Flyers.
In one lively season (73 games) here, Schultz scored 18 goals, with 28 assists including four (plus a goal) March 28 at Cincinnati. A left winger, he could play the game, too, but had already established a reputation for fisticuffs. The native of Rosetown, Saskatchewan, Canada, had his first fight Oct. 17 against future Flyers' teammate Moose Dupont in Providence, R.I., after the local paper there all but dared them to drop the gloves. It was a draw, with few punches landed.
In all, Schultz, who turned 72 Oct. 14, collected 19 fighting majors and finished with a league high 392 penalty minutes. He took on allcomers among them such noted hockey pugilists as Boston's Terry O'Reilly and Nova Scotia's Tony Featherstone and Ron Busniuk as well as DuPont. Schultz dropped the gloves home and away, unlike so many players who backed down on the road. His beatdown in Springfield with goaltender Billy Smith Dec. 18, 1971, at the old Eastern States Coliseum was a never-to-be-forgotten classic. Among those watching was Indians' owner Eddie Shore, one of the NHL's all-time tough guys who reportedly had his nose broken 14 times and his jaw shattered five times in 13 seasons with the Boston Bruins.
"A lot of people would have loved to play here because we had the best of everything," said Brossart, 72, retired and living in Ashland with wife Sue. "The crowds were great especially after Davey got here and got scrapping."
Pop Quiz Question No. 5: Timberlake Brothers Towing sponsored the "Golden Gloves Award." Who was the first recipient?
For all their noteriety as bad birds, the Robins finished second in penalty minutes (1,296) to the Tidewater Wings (1,350) and fourth in fighting majors (40).
Pop Quiz Question No. 6: Richmond was No. 2 in minor penalties. Who had the first of 423 in a 3-1 season-opening loss to Tidewater at the Hampton Roads Coliseum?
Goalie Michel Belhumeur (2.76 goals-against) and sturdy stay-at-home defenseman Ralph McSweyn were named to the second all-AHL team. Like Brossart, Belhumeur, who later was drafted by the Washington Capitals, came back the area after he retired, moving recently from Centerville (Goochland County) to Gum Spring. McSwyen left the Robins for the World Hockey League then returned a year later. He died May 21, 1995 at age 52. Shock likewise remained in town, became a car salesman and died in 2017. He was 68.
Bob Taylor, who still goes by the nickname "Chief" while doing Tampa Bay Lightning TV since 1993, pretty much shared the work between the pipes with Belhumeur although Bush used four goalies in all. Don McLeod started the first game (in Hampton) and played five in all (2.61 goals-against) before the Flyers shipped him to Providence. With Belhumeur sidelined – briefly – with a pulled stomach muscle, Ron Low was brought in from CHL Tulsa March 15 and beat Springfield 6-2 here for his only appearance in Robins orange, black and white.
Belhumeur, 73, started 20 of the last 21 games after Taylor (26 games, 3.03 GA) was summoned on an emergency basis to Philadelphia Feb. 15 and remained the rest of the season. Ironically, Low (from the Toronto Maple Leafs) and Belhumeur (from the Flyers) were the top goaltenders chosen by Washington in the1974 NHL expansion draft. Taylor, 76. spent six years in Philadelphia as a backup (44 games) and was the only player to appear in each of the Robin's five seasons (58 games in all).
En route to becoming an AHL icon, Rene "Chico" Drolet led the first Robins in scoring with 61 points (31-30) in 74 games. He and Andre Gaudette were a couple of small but clever, shifty centers. I can still hear Gaudette saying how tired he got, grabbing an opponent's jersey and holding on, every time Schultz got in a fight.
Evranian: "Drolet was hit in the face by a puck one night and required stitches. The team doctor did not answer his page, so I found our team dentist to stitch him up. The team doctor walked into the room as the dentist was finishing up, and I had to calm the doctor down. I suggested he pay more attention to the game and stop signing autographs."
The trainer/equipment manager was Eddie Swiss, whose name prompted an instant tale of woe from Brossart. Seems he, Swiss and Schultz got really good deals on new 1973 Pontiac Grand Prix automobiles in Powhatan. Brossart finished the season with the Flyers, and a bunch of the guys met at a favorite watering hole in Philadelphia before heading home the next day.
"I was going to take Don McLeod to the airport … and I gave him the keys to get the car in the parking lot. He comes back. 'Willie, I don't see it out there.' I thought he maybe he had too much to drink. So, I go out there … AND IT'S GONE!! STOLEN!! ... never to be seen again.
"I had it five weeks … 1,500 miles … Brown, with a cream-colored vinyl top. One of the most favorite cars I ever owned … for the shortest period of time."
Swiss was replaced by jovial Earl Curtis, as much a character as Swiss was all business. From Toledo, with some if limited experience as a goalie, Curtis was clearly off-the-wall. Brossart remembered Curtis "juggling oranges between periods" and for his corny jokes like: "Fred Zamboni … he's been dead for 30 years and still keeps resurfacing."
Curtis, 77, died from a heart attack March 24, 2020 in Ft. Worth, Tex., where he moved after 23 years in hockey. His wife Sharon said Curtis taught plumbing at a local technical high school and coached the girls' golf team – and always left them laughing.
* Answers to Pop Quiz questions:
1 – Shock beat Providence goalie Rich Charron after the Robins, who began the season 0-2, trailed 1-0. Defenseman Roger Pelletier had the winning goal, the first of five overall in 58 games.
2 – About to begin their initial campaign, too, the Buffalo Sabres wooed Robins, Jr., who decided to go with the more established Flyers despite an upfront payment said to be in the neighborhood of $150,000. It proved not to be a marriage made in heaven, with both ownership groups in seemingly perpetual disagreement. Many years later Robins, Jr., said he wished he had gone with the Sabres but, given his druthers, he would never have gotten into the hockey business in the first place. "The timing was all wrong."
3 – Spring beat Wings' goalie Bob Sneddon in Hampton after the Robins trailed 1-0. He scored 10 goals in his first 37 games .. and only two in his last 37. In 1972-73, Wilson switched Spring to defense then, a year later, traded him to WHL Denver for Dave Schultz's older brother Ray.
4 – A better question would be: Whom did they like? Name one. Bob Myers was high on the dislike-list yet his record working Robins games the first season was 6-3-1. They were 4-0-1 with Dave Newell and 4-3-1 with Dave Shewcyck. Neither would have gotten high marks either especially from radio (WRVA-1140) play by play man Bill Hamilton who made no secret of his contempt for Alf Lejeune (2-3-0) as well as Myers. So who had the worst record? the forgettable Brent Casselman (1-7-1) who also was a linesman in the NHL before jumping to the World Hockey Association.
5 – One guess is all you get – or should need. He is alive and well (we're told), living in southern New Jersey and staying well under the radar. In a Google search, his bio stops in 1994 when he was UHL coach in Elmira, N.Y. That was the last time we talked to him, too. Recent efforts came up empty.
6 – Believe it or not, McLeod, the goalie, was whistled by Myers for slashing in the first game. In all, "Smokey" appeared in 24 games, 19 for Providence and it was his only penalty of the season. We weren't aware of it at the time … but McLeod wore a size 10 right skate and a size 7 left skate – and his left leg was two inches shorter than the right – the result of being born with a deformed left foot. He also was one of the first goaltenders to use a curved stick.