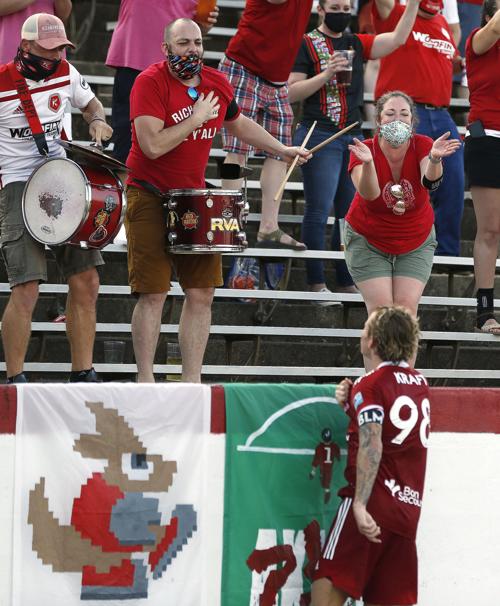 Originally, Bobby Lennon had no intention of coming to our fair city and creating what has become — miracle of miracles given a plethora of continuing obstacles — this country's oldest existing continuous soccer franchise. Thirty years ago, tired of working for other people on far away shores, the Fairfax County native planned to go to either San Francisco or Colorado Springs, Colo., and start a team he could call his own.
What changed his mind, Lennon said, was coming to town for the 1992 junior world championships held at the University of Richmond and recognizing a special enthusiasm for the sport that was unbelievably rare in this country. "It was well run. The fans were great. So I called the [Richmond] Sports Backers and told them of my intentions," Lennon said last week. "And it just took off."
Sounds easy enough. Of course, there was nothing easy about it. Here was Lennon, 28, already something of a futbol vagabond, having played as a professional in Jacksonville, Fla., and Wales, Taiwan and China in addition to running a Nike-sponsored camp in China — with little to no money of his own — asking us to believe in him and his dream.
We met Lennon for lunch in Shockoe Bottom, skeptical, cynical (as always) that he was just another hustler out to make a fast buck and be gone, leaving behind a bunch of unpaid bills — see semipro football's Hal Shapiro and ice hockey's Sandy Reis — never to be seen or heard from again. To tell the truth, if Lennon hadn't been so likeable, seemingly genuine in an otherwise naive sort of way, it would have been logical to dismiss him.
He was — still is — a hustler "but not a con man," said former business partner Sue Ann "Cookie" Ketcham. "Bobby had a rough childhood, and his teachers always told him he was going to fail. So he's driven … absolutely driven. I've never seen anyone who takes so much time working — and never stops to enjoy himself."
The son of an FBI agent, youngest of seven children, Lennon played at Lake Braddock High School, with the Annandale Boys Club that won a national championship, and has been involved in more soccer stuff than we have space to list here and now. Suffice to say he was already an established lifer in The World's Most Popular Sport when he first entered our consciousness.
Thus the Richmond Kickers were born and with them began the Legend of Lennon. Yes, in the beginning he did operate out of a shoebox. No, he did not sleep in his car, he said. "This was my master's degree in sports management. Did I pass? I'll leave that up to you."
In brief, Lennon was gone after four years, in effect turning over the franchise to late restaurant entrepreneur Dick Ripp, who owned a number of Arby's franchises in the area. It was Ripp who put up the money that kept the team alive after Lennon and Ketcham ran through her original investment of $50,000 that Lennon used as seed money to get the whole thing going.
(More on Ketcham, how she teamed with Lennon and where her money came from, in a moment.)
"Everything I've done I've done with my heart, and I was good at promoting, going out and getting something started. But didn't have any business sense. That was my problem in Richmond," Lennon recalled.
(Well, one of them, anyway. He made some mistakes, he says, that could have been avoided. You think?)
OK, kiddies, time to gather 'round especially those of you who think soccer is the real futbol. This time we go inside the creation of the United Soccer League franchise, the early years. It is a tale of mostly good, some bad, for the first time revealing that, yes, the great 1995 team that won the league and U.S. Open Cup was a bunch of well-compensated (read: paid) alleged amateurs. This is Volume 59 in the memory man's look back at all things sports during 47 years with the RTD — and beyond. Call it: Rumors Confirmed.
The Kickers kicked off their first season in 1993 with Lennon as coach of a talented group of collegians and ex-collegians that scored 30 goals, gave up 30 goals and finished the regular season 8-8. This was
an amateur team — honest! — that Lennon originally sold as professional, bringing the NCAA into a messy mix that led, for example, to UR junior Leigh Cowlishaw having to sit out the first game or possibly lose his last year of eligibility.
The league commissioner was Fernando Marcos, "who told us we could market the team any way we wanted to in our backyard," Lennon recalled. "The NCAA got involved, but that only lasted a month."
To this day the fact the team lasted more than one season, given numerous difficulties not the least of which was serious lack of funding, remains a head-shaker to anyone who knew what was going on — including Lennon. "My thinking after the first year was: 'now what?' I didn't know how we were going to afford a second year. I was under a lot of pressure. It was do or die. And I did not want the thing to die."
The 1993 edition was an undisciplined, unpredictable, bickering bunch that drew a few thousand fans (if that many) to home games at UR's on-campus grass field once used for baseball. It was surrounded by a then-state-of-the-art track, with seating for maybe as many as 2,500 in old concrete stands since removed to make way for Robins Stadium, the school's cozy football facility.
Among the players were Rob Ukrop, an All-American at Davidson and 1992 college player of the year; Cowlishaw, transplanted Brit and future Kickers' coach of 19 years; and VCU's John Dugan, like Ukrop a scoring machine and key figure in perhaps Lennon's No. 1 regret as team owner.
"I enjoyed the first year. It was an entertaining team, with a lot of egos," Lennon recalled. "We had good crowds, and I think they enjoyed it."
He also will tell you, looking back, he ran himself ragged. "I wore too many hats … did all the heavy lifting … and [except for Ketcham] was pretty much alone in the thing."
Among the people he asked for advice or help or both was Bruce Arena, then in the process of creating a soccer dynasty at the University of Virginia. "I went to Bruce in the beginning, and he wanted nothing to do with it," Lennon recalled. "He didn't like Marcos, for one thing. I think, at the professional level, he was the best coach America has ever had [but] Bruce only cared about Bruce and UVA. I think it's fair to say he wasn't enthusiastic about helping the Richmond Kickers get started."
Actually, Arena's lack of encouragement, while understandable (He didn't know Lennon from Charlie Brown.), was the least of Lennon's concerns. He told a story about a couple of local soccer people, with some clout, who "wanted to work for the club," Lennon said. "We had no money to pay them. The players weren't paid. We didn't make any money. I don't think any team in America made any money."
He said he didn't want to identify them — he's pretty sure both are dead — "so what's the use [but] they were handfulls. There were nothing but threats from them … 'we're going to do this, and we're going to do that, to you.' There were a lot of distractions."
In retrospect, Lennon blames himself for some of it. "I should have done things in a more mature fashion. My ego was a little too big, trying to prove myself to myself — and whoever else. Did I think I knew everything? Yeah, I guess. I wish I had been more prepared," he said. "I'm 58 years old. If I had been 58 then ..."
He met Ketcham in Colorado Springs where he brought a youth team from Taiwan to play in the International Friendship Cup. "I had gotten the itch to return home and coach college soccer. Then I heard about the USL, and that interested me more than college," Lennon said. "Cookie was the director of the tournament. She was ready for a change and followed me to Richmond. She wasn't in the original plans."
Well, as you might suspect, there was more to it than that. "I asked my parents for the money. My dad said OK. My mother wasn't too happy about it," said Ketcham, who lives in Norfolk and recently retired after 15 years working for the city of Virginia Beach directing its Community Emergency Response Program.
Alma and J. Lawson Cook ("Cookie," get it?) lived in Richmond in the '30s. "So I knew a little bit about it already," Ketcham said. "And Bobby went there for the youth championships, told them what he had in mind while they were watching the games, and everyone said: "Great. We'll give you money … We'll give you money.' They all wanted to sponsor it."
Among "everyone" was Bobby Ukrop of Ukrops Markets fame and father of Rob as well as Ripp and Bill Flowers, president of the Strikers, the area's oldest and largest youth soccer club, and member of the Sports Backers board of directors. "We liked what [Lennon] wanted to do … and were willing to help him do it," recalled Flowers the other day from Naples, Fla.
"The first year people gave us $125,000 in cash and another $125,000 in equipment," Ketcham said. Including the stash from mom and dad, that gave them a total of $300,000. They were in business and smiling at their good fortune — which didn't last long.
"The problem was, we were both inexperienced … but learned pretty fast — the hard way," Ketcham said.
All things considered, the Kickers should have been laid to rest after season two. Lennon hired John Kerr Sr., who lived in the Washington, D.C., area, to replace him as coach. While Kerr Sr., had an excellent reputation and background in soccer, he commuted to Richmond and brought with him a number of players "who were too old and too slow," Lennon said.
"We got away from college players who provided a lot of excitement, and it totally changed the perception of what we were doing. People warned me not to bring in Kerr but I wasn't comfortable with the other options I had at the time."
The Kickers were 4-14 under Kerr. "We had the slowest defense in the country," Lennon said. "The year was a disaster."
Maybe he should have walked away then, Lennon said, "but I've never given up on anything in my life. Between seasons I worked 24-7, convincing players to come to Richmond … and we brought in more sponsors ... and we went to every youth club and put on week-long clinics for every age group."
And Ripp opened his check book to hire former Manchester United great Dennis Viollet as coach for $50,000 just for the season. Viollet had been a father figure to Lennon and original choice as Kickers coach but was in charge of the program at Jacksonville U. and hadn't been available.
And Lennon, with Ripp's blessing, rounded up an all-star cast of collegians by paying them "even though, technically, we weren't professional until the next season. They got anywhere between $1,000 and $2,500 a month for three or four months which at the time was very good money for this level. They also got furnished apartments. They were treated very well."
Depending on your point of view, it was money well spent. The 1995 team that featured Rob Ukrop, the Kickers' all-time leading scorer now franchise chairman of the board; goalie Jeff Causey and midfielder Richie Williams, both from national NCAA-champion UVA, and Creighton's Brian Kamler — all future Major League Soccer signees — finished 15-3. Playing home games at 21,000-seat City Stadium for the first time, they claimed the Premier League title and won the 82d version of the Open Cup, beating the El Paso, Texas, Patriots there in a 4-2 penalty shootout after playing a man down for much of the second half and two overtime periods.
"Mr. Ripp's children were upset because he wasted all that money," Ketcham said.
Viollet returned to coach the Kickers in 1996 when MLS made its debut and forced a roster makeover. Ukrop, for example, joined the New England Revolution and scored its first two goals. Causey, Williams and Kamler joined Arena at D.C. United and won the initial MLS championship. Meanwhile, the Kickers, designated professional for the first time, wound up 10-8 and lost the Select League title matchup to the California Jaguars 1-1 on penalties (2-1) here. Before the season was over, Lennon and Ketcham knew they were goners.
Ripp and Bobby Ukrop, who Lennon said was a big help from the outset with sponsors but wasn't part of the ownership — not officially anyway — while he was here, apparently decided to make a change "and they held the purse strings," Ketcham said.
Say apparently because all calls we placed to Ripp while he was involved with the Kickers were never returned, In fact, the only time I ever spoke to him in person was at the Patterson Avenue Arby's. I introduced myself. He said, "OK," or something equally short, before looking away to resume eating. Ripp died June 24, 2019. He was 89.
"I just saw the writing on the wall. I don't remember what the debt was. We just lost a lot of money … and I turned over the team to Dick Ripp," Lennon said. He was resigned to the fact. Ketcham didn't go quietly.
"I'm not one to hold grudges … but I was angry," she said. "They went behind our backs with the league." Ketcham also said she contacted a lawyer about suing Ripp for money she alleged he owed her. "I was told not to bother. It would cost more than what I would get if we won."
If he could return to those glorious days of yesteryear and be granted a makeover, what would Lennon do differently? "I know I made a mistake [the first year] not playing Rob Ukrop after he came back from being away three or four weeks with the under-23 national team. But Dugan was scoring a lot of goals, and I didn't want to lose the locker room, so I stuck to my principles. The decision was good at the time, big-picture-wise, it wasn't," Lennon said, adding, "That was the beginning of the end for me."
He said he would rather not elaborate. Both Rob and Bobby Ukrop said they couldn't comment because it happened so long ago they would be hard-pressed to remember the situation much less the details.
Currently, Lennon is operating an academy for young, dedicated American soccer players in Serbia, having been in Spain previously. "I'm trying to close the big gap between American soccer and European futbol, and the only way to do that is in Europe," he said.
Down the road, way down, Lennon plans to buy "a little piece of land in the Florida Keys, with lots of trees. I don't want to see my neighbors, just trees," he said.