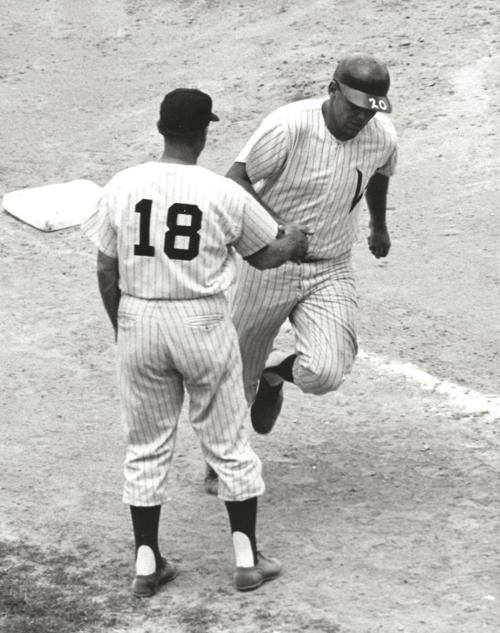 Gather round, kiddies. The memory man is at it again with short-term as well as long-term recollections of a variety of stuff. This is Volume 61: "In The Hole, You Dummy!"
In response to the Flying Squirrels moving in The Diamond's outfield fence at the request of the parent San Francisco Giants, reader Van Noble writes: "It's my recollection in the '60s, the R Vees moved in the right field fence. [And] Fred Hopke, the husky left-handed power-hitting first baseman, named the area between the temporary and permanent fences 'Gopher Garden.' … what a great name, if correct."
Frank Carpin, who played with Hopke on the 1964 Richmond Virginians, recalled "the right field fence coming in for some temporary seating … but only vaguely." The lefthander from Richmond said Hopke, "was overweight … a fun guy you could joke with … a good hitter … maybe not quite major league quality but a good player. I have fond memories of him."
Both Carpin and Chuck Boone, who was a player and manager in the Yankees organization, agreed Hopke probably came up with the "Gopher Garden" description, given his wicked sense of humor. Boone, 83, University of Richmond alumnus and former athletic director (1977-2000), was more sure of it than Carpin, who turns 83 Sept. 14.
Hopke died in 2018. His baseball card shows him wearing a Philadelphia Phillies cap but he never played a game in the big leagues. From New Haven, Conn., Hopke spent 10 years in the minors including two with the Vees. In 1963 he batted .262 in 99 games, with 13 home runs. The following year he batted .260 (130 games, 16 HR) and was the only International League player among 19 who slugged 16 or more that season never to make it to The Show.
Listed as 6-2, 215 as a rookie in 1956, Hopke constantly waged a battle of the bulge. At one point he ballooned to 245 and, while supposedly on a diet, was eating a very large piece of cake topped by a mound of ice cream when seen by his manager who went ballistic. Hopke was batting .335, leading the league, but was traded to Syracuse.
Poor Fred. He was baseball's version of Joe Btfsplk, who always lived under a dark cloud as sketched by late cartoonist Al Capp. Hopke slid into third base and had his hand stepped on by Joe Linsalata, the umpire. Selected for the IL All-Star team, the big guy was hit in the face by a ground ball, resulting in seven stitches. On a lighter note, Hopke — believe it or not — persuaded colorful umpire Augie Guglielmo to change a called strike to a ball.
Out of professional baseball at 31, Hopke worked as an exterminator then in a warehouse for a drug company. He also served as volunteer batting coach for Seton Hall. His philosophy was "See ball, hit ball," according to a piece on Hopke by the Society for American Baseball Research.
After retiring, Hopke moved to Toms River, N.J., to be closer to the craps tables at casinos in Atlantic City. He was 81 when he passed.
Also among Hopke's teammates here with those really bad Virginians teams here was righthander Mel Stottlemyre, who would spend 11 years pitching for the Yankees and another 23 as major league coach. (How bad were the Vees? The '63 edition, managed by Preston Gomez, finished 66-81. In '64. also with Gomez in charge, they were 65-88, averaged 1,846 in attendance, and owner Romeo J. Champagne — one of the great names — took the franchise to Toledo.)
Back to Stottlemyre, who died in 2019 at age 77. Boone was a friend and spring-training roommate who tells this one about taking Stottlemyre to play golf for the first time. "He hit everything on the ground … until we came to the first par 3. I can still see it. He got the ball in the air … on the green … bounced left … hit the stick … a HOLE-IN-ONE!!"
"And he said, 'Where did the ball go?' I couldn't believe it. 'In the hole, you dummy.' He became a golf nut after that."
Add Carpin, a Notre Dame alumnus who signed with the Yankees as a free agent in 1959 and spent two years in the major leagues — with the Pirates (1965) and Astros (1966) — on the future of Fighting Irish football:
First, let it be noted no one can possibly be more devoted to Notre Dame than Carpin. We learned first hand many moons ago when a handful of us in RT-D Sports would predict the outcome of Saturday's college football games. (They were all played on Saturdays then.) A nod to the Irish opponent of the week guaranteed to get a call — no internet in those long ago days — from F. Carpin, and we've remained sparring partners ever since.
One year, I got the late Jean Jones to make my selections incognito until season's end. Jones was the daughter of former Georgia coaching great Wally Butts as well as wife of then-UR coach Frank Jones. She KNEW football. So, whenever she picked against the Irish — which wasn't often — Carpin would give me you-know-what and didn't understand until later why I couldn't help but laugh.
No, Jean didn't finish first. She came in third because, believe it or not, of difficulty getting it right in the Southeastern Conference, which she followed her entire life.
Back to the present and Carpin. Remember, Notre Dame is the last of the independent football-playing schools with some clout (See its exclusive contract with NBC). Now, with Oklahoma and Texas of the Big 12 ready to bolt to the SEC, the entire college landscape appears set for a major makeover.
"These are the final days of independence," he said. "I don't see how Notre Dame can avoid joining the ACC. And the ACC is going to desperately need them even more. They're going to have to take in Notre Dame and West Virginia to keep up. For sure, things are going to change drastically."
Let's see: West Virginia also belongs to the Big 12, which is blaming ESPN for the sudden shrinkage. Commissioner Bob Goolsby accused The World Wide Leader of conspiring with other conferences, in effect, to kill the Big 12 and thereby end a TV contract that could save the network as much as $1 billion. Come on, ESPN (in the midst of cutting payroll, no one is safe) wouldn't do that, would it?
By the way, Carpin spends a lot of time these days in Pauley's Island, S.C., playing a lot of golf — like five and six days a week. We once played a captain's-choice round with Boone and Carpin at the Federal Club here. It was a Virginia Sports Hall of Fame outing, and our scheduled fourth, Johnny Newman of UR basketball fame, must have known something. He didn't appear.
From the cutting room floor comes dueling tales from two knowledgeable sources regarding the recruitment of Moses Malone, Petersburg High School basketball player who, it says here, was the state's all-time best.
According to Michael Perry, as told to him by Lefty Driesell, "Mo had committed to him [when the Maryland coach] then called and said he'd sign the next morning," said Perry, a former UR star who later served on the Lefthander's staff — then succeeded him — at Georgia State.
"You know Lefty. He panicked and couldn't wait. 'Someone will steal him from us.' So he camped out in his car all night in front of Mo's house. The next morning who comes walking to the house but [VCU's] Chuck Noe and some pharmacist guy. 'So we get out and confront them. We were likely to have a fight … when Mo comes out, pulls us aside and says, I'm going to sign with you guys, but I'm going to meet with them first, then you come in, and I'll sign.'"
Which, Driesell told Perry, he did … and he (Malone) did. There was no mention of the story Driesell found Malone sleeping and actually jumped in bed with him to get his signature on the dotted line. Oh, and that pharmacist guy was Charlie Moses, who owned a pharmacy near the downtown campus and doubled as booster/assistant coach in Noe's program.
Mike Pollio, who was a VCU assistant (1973-75) then, refuted Perry's second-hand account during a recent conversation. While there was no dispute that Malone did agree to play at Maryland — then changed his mind and went straight to the pros in 1974 — Pollio insisted Noe wasn't in Petersburg that day. Why?
"Word was out anybody who got Moses Malone would be investigated by the NCAA," Pollio said. "Chuck Noe wrote a letter to Malone, saying he wasn't going to recruit him any more. I took it to Petersburg … and cried all the way. We were not there [the day Malone signed]. It was over."
Pollio also recalled, "Clemson got caught cheating … giving Malone a rental car to use. Charlie Moses found the receipt in the glove compartment. You know Lefty didn't do anything wrong. He's not that dumb."
Three months ago Craig Laughlin was congratulating former Renegades trainer/equipment manager (1993-2003) Rob Jones for son Zac Jones making it to the New York Rangers as a rookie out of Richmond by way of NCAA-champion University of Massachusetts. Laughlin, who played eight years in the NHL, has been an analyst on Washington Capitals' TV since 1990 — and once had a small piece of ownership in the ECHL Renegades.
So, on the May 3 telecast (Rangers at Caps), Laughlin noted the 20-year-old defenseman was a rarity, saying, "That doesn't happen very often in the NHL, a kid from Virginia making the show. Way to go, Zac! Love your dad … always have. A good friend of mine."
Jones was appearing in his seventh game (of 10 in all), playing a regular shift and getting the big buildup from the New York media. At season's end, he went to the World Championships where the U.S. team claimed the bronze medal, and Jones was named one of Team America's three best players. Now, it appears the harsh reality of life in the big time might be catching up to him.
Having missed the playoffs for the fourth straight year, the Rangers changed their front office, selected a new coach, and have gone about retooling their lineup, adding several free agents, including a couple of journeyman defensemen — Patrik Nemeth (6-3, 228), 28, and Jarred Tinordi (6-6, 230), 29. Both are left-handed, like Jones, and both are part of new general manager/president Chris Drury's attempt to add muscle to a team that, for the most part, lacked it a season ago.
(On Dec. 26, 2015, then with Montreal, Tinordi fought Caps' Tom Wilson to a free-swinging draw that surely caught Drury's attention. Wilson became the Rangers' public enemy No. 1 when he bullied Artemi Panarin and since-traded Pavel Buchnevich during a scrum — and no one attempted to retaliate — during that May 3, 2021, meeting in Washington, D.C.)
If form holds, Tinordi will (a) spend most of the season with the Rangers' AHL farm in Hartford; or (b) be a regular healthy scratch in New York. A first-round draft choice of Montreal in 2010, he made his first NHL appearance in 2012-13 and has played a total of 102 games (one goal, 14 assists, 123 PIM) in parts of eight seasons. In 2020-21, his only fight in 14 games with Boston was against Wilson, going to another draw. Tinordi was suspended 20 games March 9, 2016 for using banned substances.)
Drury's makeover, turning the light-hitting Rangers into the Philadelphia Flyers' Broad Street Bullies of the mid-1970s, continued by acquiring enforcer/goon Ryan Reaves (6-2, 225) from Las Vegas. In 12 NHL seasons the Winnipeg native has 937 PIM (71 fighting majors) in 686 games while building a reputation as a cheap-shot artist. He's been suspended three times for six games and fined an undisclosed amount of money. Drafted in the fifth round in 2005 by St. Louis, Reaves also played 236 games in the minor leagues, including 22 in the ECHL.
Anyhow, Jones is said to be bound for Hartford — if he isn't traded. At least that's how the Big Apple media sees it. The New York Post suggested a logical deal would include Jones in a 4 for 1 swap with Buffalo for unhappy, oft-injured Sabres center Jack Eichel.
Jones has been training, skating and playing the occasional game at Team America's training center near Detroit. "He hasn't heard a thing from the Rangers," Rob Jones said Friday. "It's a waiting game, which kind of [stinks] but when you're a young player, that's the way it is, right?"
At this point all Zac Jones knows for sure is that he's scheduled to report to the Rangers' training camp on Aug. 22. "He's had a good summer. He's gotten bigger, looks broader," R. Jones said, adding, "You want to go where you're going to play. If he's in New York, the sixth or seventh defenseman, and not playing a lot, I'd rather be in Hartford playing 25 minutes a night."
Oh, did we mention the Rangers open 2021-22 with an Oct. 13 date in the nation's capital? Wilson can expected some tag-team action from Reaves and Tinordi, in particular.
Bobby Lennon, who gave birth to the Richmond Kickers, thinks he did it all wrong — and is convinced American soccer continues to make the same mistake now, 30 years-plus later. "My ambition was to build pro soccer … when we should have been building youth soccer first," Lennon, 58, said.
"Futbol still isn't in the culture here. There is a very good business model but not a good player developmental model. It's the same everywhere: lack of fundamentals. This country built pro soccer before it built youth soccer — and that's the wrong way to go."
The late Dick Ripp, of The Restaurant Company that operated (among other things) several Arby's franchises in the area, bankrolled the team for most of Lennon's four years as Kickers' founder and frontman. "I wanted a Kickers youth team, but it was rejected by Mr. Ripp," Lennon recalled. "His thinking was it would pull away from fans coming to the games. Maybe he was right then. Now youth soccer has paid for a lot of [professional] teams."
The Kickers, for example. They eventually built a youth program that has been so successful — read: lucrative — that it has proved a franchise saver. The Richmond Kickers Youth Soccer Club was listed as team owner for 10 years until replaced in 2019 by 22 Holdings LLC, a group of former Davidson College players and coached led by former All-American (1992) and Richmonder Rob Ukrop. A non-profit, the RKYSC still owns a minority stake in the United Soccer League member.
Since turning over the Kickers to Ripp after the 1996 season, Lennon has been doing what? "You are kidding, aren't you?" he said recently. "Soccer … of course." Included has been operating academies devoted to youth in this country and overseas. Since 2015, Lennon has been running a program in Spain now in Serbia devoted to giving American players an opportunity to learn the game the European way.
Along the way he coached at a couple of small NAIA-affiliated colleges in Florida — if briefly. "I was diagnosed with [prostrate] cancer in 2007 … and needed the insurance," Lennon explained. "Took radiation. I'm fine."
Jerry Lindquist can be reached by email at