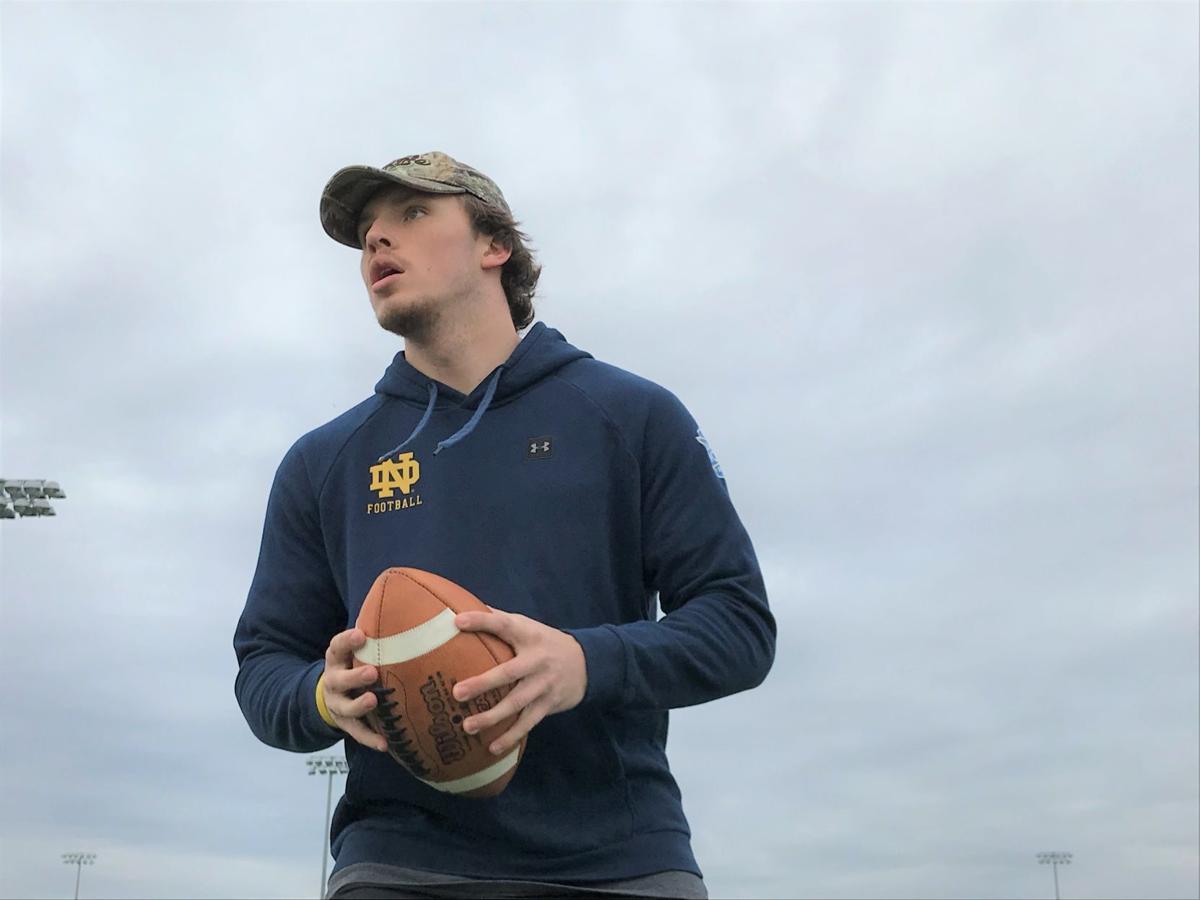 The older you get the slower you are to pick up on stuff. Oh, it's true all right. To wit, only recently did it occur to us that Buster O'Brien, 75, who led the University of Richmond to its greatest victory (49-42 over 15th-ranked Ohio University in the 1968 Tangerine Bowl), has a lot in common with a mere lad 50-plus years his junior whom O'Brien has never met.
This is Volume 65 in the memory man's look back, short- as well as long-term, at local and area sports over the past seven decades. Call it "What Kid Wouldn't Want To Go There?"
Three years ago Brendon Clark, like O'Brien a quarterback, was putting up the kind of numbers that had all roads leading to Manchester High School. Clemson wanted Clark. And Tennessee. And Georgia and Georgia Tech. And … any major school that thought it had a chance of landing the classic 6-4, 200-pound-plus pro-style pocket passer with a strong, accurate arm – and football sense to match – came calling.
In the end, Clark went to Notre Dame for reasons that most impressionable youngsters opt for South Bend, Ind., home of Rockne and Gipp, Touchdown Jesus and the storied past unmatched in gridiron lore. His coach at Manchester, Tom Hall, said Clark "hit it off" with QB Ian Book as well as position coach, now offensive coordinator, Tom Rees during the recruiting process.
"Ultimately, he chose Notre Dame because it was Notre Dame. What kid wouldn't want to go there, given the history and all?" Hall said.
O'Brien certainly understands. From Virginia Beach, where he set all kinds of records throwing the football at Princess Anne High School, he recently recalled receiving letters of interest "from more than 85 schools." His senior year O'Brien visited "probably 15 or 18," he said, "[including] Georgia, Georgia Tech, North Carolina, N.C. State, Duke, Auburn, Wake Forest and Vanderbilt. There were a lot of things you could do then you can't do know."
Oh, the stories he can tell. Like "I got three calls one day from [Alabama coach] Bear Bryant. I didn't take a visit. He was a crazy man back then," O'Brien said. "I said, 'I don't think I can play your kind of football.' They were headhunters."
VMI's John McKenna came to the house. O'Brien: "He walked in, and I said, 'Coach, I want to be real honest with you: I'm just not a military-school-thinking guy … I don't know I would fit in.' And he said, 'I appreciate your being so honest … but I heard a lot about you and would like to meet you and your family.' He sat down for an hour or two. Then he said, 'If you need anything or need to know anything, I'd love to be able to talk to you.' That was it. He got up and walked away. He was a first-class guy."
Several schools tried to sweet-talk O'Brien with all kinds of under-the-table incentives. He was an elite, blue-ribbon, most-wanted recruit, after all.
"I could have gotten money from Georgia and a couple of schools like that. How much? I don't remember exactly. It was right much," O'Brien said. "… and cars, clothes, and I could have had a summer job I didn't have to go to … that kind of stuff."
And he turned it all down? Get serious! "Georgia came in and offered me some stuff," O'Brien said. "I told them 'That's illegal … I don't want to talk to you any more.' I was straight."
Like Clark -- many coaches and rule changes later – O'Brien committed to Notre Dame. "I went out there for a visit. My parents went with me. Everybody was crazy about it. I came back home, called and told them I wanted to come there," he said.
Irish coach Ara Parsehgian came to O'Brien's home – fittingly enough – on St. Patrick's Day 1964 to sign him. Admittedly, his head was swimming with thoughts of grandeur. George Gipp, Johnny Lujack and all you Notre Dame quarterback stars of yesteryear: step aside, Buster was on his way to climb heights never before imagined.
"It was much different back then. There was no limit on scholarships, and they actually had 12 quarterbacks on the roster when I got there. TWELVE!" O'Brien said. "Of the three who came in with me … one wound up playing linebacker for the Redskins … another a safety for the Browns."
No dummy, he. O'Brien, who would become a lawyer, later a judge and member of the Virginia House of Delegates, quickly recognized his mistake. "They were looking for guys with a whole lot more speed than I had … and that wasn't my calling card, as you well know," he said.
No kidding! He was 6-4, upwards of 200 pounds, blessed with football smarts and the ability to anticipate open receivers. It's a very old joke but nevertheless appropriate to say they didn't time O'Brien, the runner, with a stopwatch – they used an hourglass. So, when he ran 31 yards – lumbered was more like it – for a touchdown on the Tangerine Bowl's first play of the second quarter, you knew Ohio U., was in deep trouble.
So was O'Brien with the No. 1 Fighting Irish. "I could count," he said. "I could see there were a lot of guys who were ahead of me. I knew I wasn't going to play."
He stayed in South Bend one season. Freshman were not eligible to play varsity in those days. (That didn't change until 1972.) "We were the scout team that ran the plays of the next opponent," O'Brien said. "Because we had four freshman quarterbacks, we used two a week, which meant I didn't get to face the varsity but every other week."
He had seen all he wanted of the world of capital-B big-time college football, and it was time to come home. He knew William & Mary had two quarterbacks with eligibility remaining. So did Virginia. O'Brien wasn't interested in the school then known as VPI "because they didn't throw the ball." He wound up at Richmond, sat out his transfer year then was a starter for three years, culminating in the Orlando, Fla. bowl, UR's first ever.
Any regrets, signing with Notre Dame? Doesn't sound like, not that it would have mattered anyway. "No," O'Brien said, "I went out there and fell in love with the place. The football was second to none. The had great academics. It was everything I was looking for out of high school … "
Here the comparison between B. O'Brien and B. Clark changes even if the similarities appear likely to resume. At this point Clark is best known on campus for a world-class mullet. He appeared in two games for Notre Dame as a first-year player. Last year he got on the field for one play. This season it appears doubtful he will play at all.
A serious knee injury suffered at Manchester has come back to bite Clark in what, to the layman, seems unreal by any measure of predictability. Hall explains:
"He tore his ACL as a freshman in high school … had two reconstructive surgeries that went well. Had a good sophomore year, a really good junior year ...and was exceptional as a senior. At Notre Dame … he was No. 2 behind Book last year when one day in practice he told Coach Rees 'my knee doesn't feel right.' They took an MRI … and found he had grown so much he had shredded the ACL. They said the cartilage with the ligament looked like a piece of string cheese." Ouch!
Hall said Clark elected to have surgery immediately "because it was an eight- or nine-month process" before he could reasonably expect to play again.
Last year he got on the field in one game, completing a seven-yard pass in a 45-3 rout of Pittsburgh.
Head coach Brian Kelly told reporters Clark's knee got "cranky" and left it at that.
Book got most of the snaps the past two years (25 games, 5,864 yards passing, 62 touchdowns including 13 running) and was drafted by the New Orleans Saints. Meanwhile, the Irish continued to recruit blue ribbon quarterbacks like Drew Pyne from Connecticut; Tyler Buchner from California and Ron Powlus III whose father played QB there (1994-97) and currently serves as associate athletic director for football administration. Then, Kelly brought in Jack Coan, a graduate transfer from Wisconsin, who promptly set an Irish record for most yards passing as a starter in the season-opening close call at Florida State, 41-38.
In the second game of 2021, against 17-point bow-wow Toledo in South Bend, Kelly called on Buchner, a true freshman, as well as Coan as the Irish barely escaped 32-29. Pyne, who was listed No. 2 on the depth chart, dressed but didn't play. He stood on the sideline with Clark, who was in uniform, and Cole Capien, a walk-on senior who, like Clark, apparently was being used to relay signals, be cheerleaders or whatever else is required of non-combatants.
Oh, and Notre Dame also has gotten a commitment from Steve Angeli, a top-rated pro-style thrower from New Jersey, for its next, always-highly-rated class of run, pass and kickers. Pyne, who still is No. 2 on the three-deep for this week's game with Purdue, and Buchner each will have three more years of eligibility. The latter played so well coming off the bench against Toledo that, naturally, there's already talk of a quarterback controversy. And, of course, Kelly could sign another transfer, graduate or otherwise.
In other words, Clark, no matter how good he can be, finds the odds stacked against him for 2022. Hall said he talked last week to his former protege – "one of the best players ever to come out of Richmond, and the best player I ever coached" – and … "he travels but isn't cleared to play. He says his arm is better than it's ever been, and he's throwing better than he ever has … but he's still not 100 percent on his leg. I know he felt very good – if he had been healthy – about competing for a starting job this year."
(We should pause here to say all attempts to talk to Clark were met with total resistance. A Notre Dame spokesperson emailed, "Unfortunately, Brendon is not available. If/when he becomes available in the future, I'll be sure to let you know. Have a nice day!"
When we e-mailed a follow-up with, "Is that true of all players? Why?" … she responded: "He [Clark] is injured and not on the depth chart … We make four players available per week. It won't be an injured player not on the depth chart" There was no "Have a nice day!" this time. We tried again via e-mail to ask if this was standard procedure or a hard and fast rule by Coach Kelly? Still waiting for an answer.
At least she responded. Three other athletic department members listed under communications didn't bother to return calls. Not to pick on Notre Dame – which, we're told, is no different than most high-profile schools when it comes to assisting the print media – but, as we wrote May 31, 2020 in Volume 5 ("The Way It Was … But Sadly Isn't Any More"), it can't be much fun being a sportswriter these days. In the good old days of yesteryear, the reader was beneficiary of our almost-daily access to coaches, athletic directors, even players, albeit more limited.
Sorry, old-timer. Those good times are gone forever.)
Anyway, the time is rapidly approaching for Clark when he must make a decision to stay at Notre Dame or pull an O'Brien and go. "He told me he just wants a chance to compete," Hall said. "He's going to graduate in three years this spring, and he's engaged to be married. And he still would have three years of eligibility – maybe four because of COVID.
"He told me, 'Coach, I'm better than the other kids they have here … I'm stronger … I throw the ball harder' … and that doesn't surprise me. You don't put up the numbers he did against the caliber of competition we played and not be very good. Player aside, he's 10 times a better person."
If you think Clark is thinking about telling Kelly and friends– play me or else I'm outta here – think again. That isn't his style, Hall said. "There has been no talk of him transferring, none at all. He just wants to be healthy and wants to compete. There have been no ultimatums. Personally, I want to see him get a chance to be equal … and the rest will take care of itself."
Nevertheless, new NCAA rules make it oh-so easy to go elsewhere and play immediately, without having to sit out a year which was a major deterrent but no longer exists. "If he doesn't feel he has a equal shot, I told him to put in for the transfer portal," Hall said. "The great thing is, it's 2021, and there are a lot of options out there."
Hall's phone "blew up" (his description) last winter during Christmas break from schools calling, asking about Clark's potential availability. "[Notre Dame] did a pretty good job keeping [knee surgery] hush-hush," Hall said."But when they didn't see him on the field ..."
Among those to call were South Carolina, Georgia, Tennessee, Virginia Tech and Clemson, which Hall says was Clark's No. 2 choice originally "but they had Trevor Lawrence, and Brendon wanted to go in and play his second year. I wanted him to go to Clemson. I love [coach] Dabo Swinney. With Dabo, what you see is what you get."
You are left with the impression that, while Hall liked offensive coordinator Rees, he was less than enthusiastic about Kelly. So, tell us, coach, do you think Clark will get a fair chance – or has it already passed him by?
"I can only go by what their coaches have told me in the past, [and] I don't necessarily believe a lot of coaches," Hall said. "The higher up they get in these Power 5 conferences the more they're like car salesmen – and I don't want that to sound derogatory about car salesmen, but I think you know what I mean."
Come to think of it, Hall said, "I wouldn't want to be a college coach in this day and age. You not only have to recruit high schools kids, you have to keep recruiting your own team to keep them from transferring."
Whether it comes to that for Clark remains to be seen. If it does, and he has a hard time making a decision, Buster O'Brien has some unsolicited advice. "I tell kids this all the time: If you're an athlete, you want to play … and if you go some place you don't play, you're not going to get nearly as much out of school as you would if you played. An athlete gets more out of school if he can play and perform and enjoy himself. It's true," he said.
"He [Brendon Clark] can't be getting as much out of Notre Dame as he should be because he's worried about playing … and not playing. He's disappointed and frustrated. And that goes over to the classroom, too."
O'Brien made the decision to leave, and it certainly worked for him. "I don't know what Brendon is going to do, but he's in a great mind set," Hall said. "It's going to be interesting to see how it plays out for him."