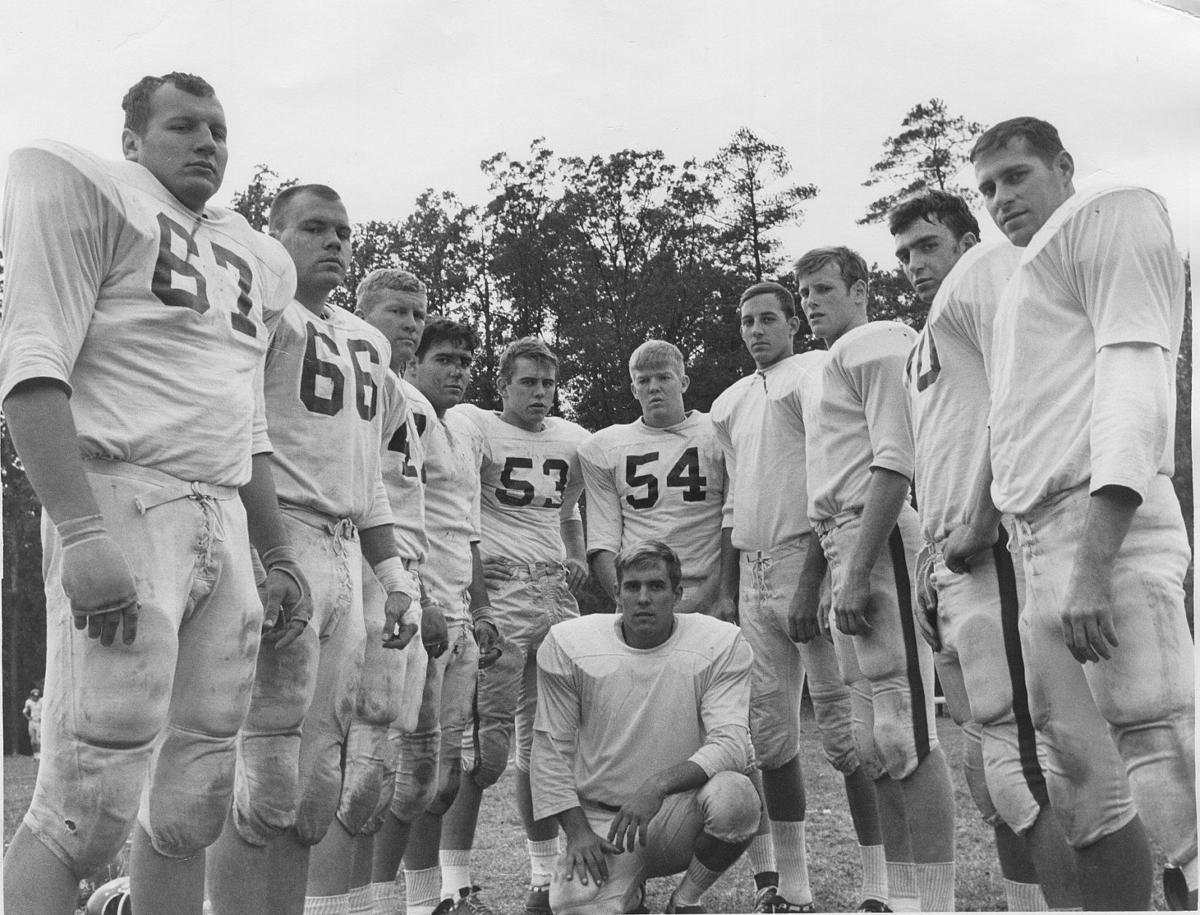 Once upon a time the memory man promised a piece on "The Real Hero of the 1968 Tangerine Bowl." Now, with Sunday marking the anniversary of the most significant — easily the most entertaining — game in University of Richmond football history, we will have to revise our tease. In light of subsequent information, let's drop the hero designation — it's only sports, after all — and weigh in on some off-the-field stuff that proved downright relevant to the outcome.
In no way does it lessen the appeal, much less the drama, of an event held 52 years ago. This is Volume XXXV, Part One in our series looking back at one very old — OK, ancient — sportswriter's recollections (however prompted): "OK, Let Him Play."
Where to begin? How about the beginning, like more than a month before kickoff? It was Sunday, Nov. 22, fewer than 24 hours after UR had beaten William & Mary 31-6 at City Stadium for its eighth win in nine games to close the regular season 8-3 and earn a trip to Orlando, Fla., where Disney was busy gobbling up land to build a new home for Mickey and Minnie. This was the first year the Tangerine (now Citrus) moved from being home for an NCAA College Division playoff game to becoming a matchup of University Division teams: the Mid-American Conference champion and a representative from the Southern Conference.
The SC champ (6-0), Richmond started playing football in 1881, and this was the Spiders' first postseason experience. It was a BIG deal, as you would imagine. Three years earlier, under new coach Frank Jones, the program was in the throes of a 19-game losing streak, longest in the country, now this. Today, William & Mary, tomorrow the world, which suddenly proved sobering with the realization on tap Dec. 27 was unbeaten, 15th-ranked Ohio University.
The Bobcats were 10-0 and among their victories was a 40-31 decision over conference rival Toledo, which had crushed Richmond 31-14. While averaging 37.6 points, third best in NCAA Division I, Ohio also had disposed of W&M 41-0 in Williamsburg. The powerhouse Bobcats of coach Bill Hess had six first-team All-MAC players including quarterback Cleve Bryant, conference player of the year.
If anyone thought Richmond had a prayer, he kept it to himself. Then came the news UR quarterback Buster O'Brien had run afoul of an NCAA rule and would not play. (There are conflicting accounts of how the late Jones first learned about it — and exactly what happened next.)
All O'Brien knows for sure is that "Frank called me the morning after the William & Mary game: 'Don't talk to the press,' he said. 'What are you talking about?' … 'You aren't eligible for the Tangerine Bowl. Don't say anything because we're working on it.' … And he hung up the phone."
In those days The Times-Dispatch ran a Monday Morning Quarterback roundup, and it was sportswriter Shelley Rolfe's turn to put it together. Where Rolfe got his information has become a blur in this octogenarian brain but he uncovered the archaic rule (long-since removed) that said an athlete, in essence, couldn't participate in a bowl as a fifth-year senior.
From Virginia Beach, O'Brien first signed with Notre Dame and spent one non-playing season there before leaving and sitting out the obligatory transfer year (1965) at Richmond. Rolfe made several telephone calls, including one to the NCAA for confirmation and another to Jones. If he didn't know of O'Brien's predicament at that point, now he did — and let Rolfe know of his displeasure.
Chuck Boone, who was working as fund raiser (among other things) for the athletic department at the time, said last week it was his understanding that SC commissioner Lloyd Jordan first told Jones about O'Brien. Meanwhile, Rolfe was getting quotes from a member of the NCAA's bowl committee and was told he thought O'Brien should be able to play regardless of the rule. That was all Jones needed to press his case. Because the man, whose name escapes, had spoken out of turn, without authorization, the NCAA was in a bind. It's possible Jones even threatened to sue the governing body.
However, while the coach was pleading his case, time was running out. The team left for Orlando about a week before the Friday night game. O'Brien didn't want to go "and just sit there, watch them practice and not be a part of it. Frank made me go. He said, 'There are boys getting killed in Vietnam … AND YOU'RE FEELING SORRY FOR YOURSELF?"'
At Princess Anne High School in Virginia Beach, O'Brien was so good he had offers from everywhere. His 5,435 career passing yards were a state record that lasted four decades. Originally, the plan was for him to go with his top receiver, Charlie Carr, who opted for North Carolina, where Danny Talbott and Jeff Beaver were the QBs, "and I would have been No. 3," O'Brien explained. "So I went to Notre Dame, where I was like No. 9 on the list. I never got a shot."
In truth, he had decided to attend Vanderbilt but had promised visits to Georgia and Notre Dame, so he told Vandy coaches he'd "take them then come back and sign with them." Once in the clutches of the Fighting Irish he was hooked. "I could have played at Vanderbilt," O'Brien said.
He left Notre Dame after his freshman season and opted for Richmond because "I wanted to be close to home … and William & Mary had [quarterbacks] Dan Darragh and Mike Madden … Virginia had Bobby Davis and Gene Arnette … and [Virginia] Tech didn't throw the ball at all. I thought I had the best chance of playing at Richmond. It's the best decision I ever made."
Now, watching backup Charlie Richards prepare for Ohio, O'Brien surely had some doubts. Although he started three years, the Spiders were a run first (and second down) and pass third team. A soft 6-3, 200-pounds-plus, he hardly ever ran with the ball. There was a reason, of course.
"Buster was a bad athlete," said teammate Walker Gillette, a receiver who was UR's first consensus football All-American. "He had a bad body … so maybe he couldn't run but he could throw it … and he was a good leader."
Four days before the Tangerine Bowl, O'Brien dutifully went to practice "and before I got off the bus with the rest of the guys, coach Jones tells me to sit down and says, 'You're going to play … Don't tell anybody … The assistant coaches don't know.' After practice he told everyone."
So how did Jones pull it off? O'Brien said he didn't know the whole story until a year or so ago when Boone, who was UR athletic director from 1977 to 2000, told him. Briefly, Jones had been typically persistent on O'Brien's behalf, fueled in no small measure by the NCAA committee man's verbal misstep to Rolfe. In the end, the NCAA decided to leave it up to Hess, the Ohio coach, of all people.
"The NCAA said, if the two schools can get together, we'll honor it," Boone said the other day. "We had a meeting — Hess, MAC commissioner Bob James, Frank and myself — and they asked Frank if he was in Hess' position, would he let Buster play? And Frank says, 'Oh yeah. Sure. The kid played all season. He deserves to play.' [Duh!] Then Hess says, 'We'll have to think about this. [short period of silence] OK, let him play."'
Like he was really concerned about the outcome, with or without O'Brien's participation. "Ohio was really fired up," Boone said. "It was a great story." With a deliriously happy ending, Underdogs everywhere, rejoice!
There had been no pregame interaction between the teams at the site. "They [Bobcats] didn't like us," Gillette said. "I have an article that says they won't even talk about the game."
One of three unbeaten/untied teams, along with No. 1 Ohio State and No. 2 Penn State (both 9-0-0), Ohio could beat you on the ground with a couple of all-conference bulldozers at running back or in the air with Bryant throwing to all-MAC Todd Snyder. The fewest points the Bobcats scored was in a 24-7 decision over Miami (Ohio). If the oddsmakers had any hope for a competitive game, never mind a UR victory, it was Ohio's defensive breakdown over the last five games, allowing an average of 24 points.
Had it not been for Bryant scrambling, turning nothing into something, it wouldn't have been close. The big running backs were held in check by a defense led by nose guard Dick Irvin and ends Buzz Montsinger and Mel Medved. Richmond won 49-42 in a game that seemingly lasted forever before a crowd of 16,114 (17,000 capacity) plus a regional TV audience.
O'Brien set school records for completions — 39 (of 58 attempts) — and passing yards — 447 — while throwing for four touchdowns. Gillette, a junior, caught 20 passes for 242 yards, both UR standards that still stand. O'Brien's other favorite target was Jim Livesay (10 for 127).
"I hadn't taken a snap in more than a month," O'Brien, 74, said, "but when I started practicing again, I was hot as a firecracker throwing the ball … unbelievable … and it carried over into the game."
It also helped that the scouting report indicated Ohio's reluctance to change on the fly. O'Brien: "We knew they would stay in one defense … regardless of what you did." So, when the Bobcats opened in a Cover-2, with two deep safeties, and had their linebackers close to the line of scrimmage, he knew there would be "a lot of dead area … and pockets," waiting to be exploited.
With the first two series devoted, as usual, to establishing the Richmond running game ending with punts, Jones quickly went to Plan B. Said Gillette, 73, "Frank says, 'We're going to stop this right now,' and we started throwing on first and second down, something we had never done, and I thought: 'This is going to be a lot fun.'"
How much fun was it? Gillette ran 10-yard curls and assorted other routes, mindful of O'Brien's orders. "Buster said, 'You better get open. If you don't, I'm going to get hit — and you don't want me to get hit."
With every catch by his son, Jim Gillette, a former great running back at UVA, stood and cheered. According to Boone, what made it all that much sweeter was a pregame quote from the Bobcats' defensive back assigned to W. Gillette, who had acquired a nickname "The Blade" because of his last name (the same as the razor company): "He said something like, 'I'm going to cut up the blade.'"
All along he planned to attend his father's alma mater where J. Gillette was known as the "Courtland Courier," a two-way player who — in 1940 — became the first of 164 Cavaliers (in all) to be drafted by the National Football League. He played six years in the NFL and was a member of the 1945 champion Cleveland Rams. Meanwhile, W. Gillette attended UVA games as a youngster. When the time came to go to college himself, he thought he was a lock to play for then-coach Bill Elias.
"My dad had gone to school with the dean of admissions who looked at me and said, 'We'd like to have you … but you'd fail the first six weeks,'" Gillette said. "I was good in math but my reading was slow, so I had trouble with English and history … and he said, 'You won't pass here.' I didn't like that."
Ed Merrick was the Richmond coach and offered Gillette, who had been used primarily as a blocking tight end in high school, a full scholarship. That was that. Later, he recalled, after being good enough at UR to be a first-round NFL draft choice, his father's friends from UVA, "wouldn't talk to him for 10 years. I didn't know I was going to be any good. It wasn't his fault." In fact, J. Gillette, who died in 1990 at age 72, originally wanted his multi-sport offspring to play baseball in Charlottesville.
In Orlando, W. Gillette had 14 receptions in the first 30 minutes, leaving former Courtland High School teammate Buddy Pope feeling no pain. "He was watching the game on TV — and told his wife every time I caught a pass he'd drink a beer," No. 84 in your program recalled. "He was drunk by halftime."
If there was a staggering moment in the game, it came on Richmond's first snap of the second quarter. A terrible punt gave the Spiders possession at the Ohio 31 yard line. O'Brien rolled out (which he seldom did) to his right, planning to pitch the ball to either Joe Kellum or Jim Crenshaw. (It's difficult to tell from an old, grainy, black-and-white tape available on YouTube — and O'Brien understandably doesn't remember.)
When the defensive end went for the backs, who were running wide side by side, and ignored O'Brien, the UR quarterback ran to blinding daylight. No one touched him until he got inside the 15 yard line then lunged into the end zone with a would-be tackler holding on.
Right then and there it should have been obvious the Spiders could win. Old slow foot himself running for six? "That was nuts," O'Brien said.
Richmond led 14-7 and never trailed thereafter. Seldom hit, thanks to an offensive line that included all-conference tackle Wayne Fowler, O'Brien threw touchdown passes of 24 and 15 yards to Livesay, 5 to Gillette and 12 to Crenshaw that more than offset bombs of 49 and 45 yards from Bryant to Snyder. Kellum's 4-yard burst snapped a tie at 28 then O'Brien-to-Crenshaw built a 14-point lead going into the final quarter. Ohio made it somewhat respectable with a touchdown and two-point conversion 1:33 from the end.
"It was kind of surreal," Gillette said. "At first, I didn't know what was going on. I was just a player, and it was just another game [except] Buster wasn't supposed to play. We didn't know what Frank was doing behind the scenes, who he was arguing with. The man had a lot of pull, I can tell you that."
Maybe so, but Hess, the Ohio coach, realized too late what a mistake he had made, agreeing to let O'Brien suit up. "He was so funny [after the game]," Boone recalled. "He said, 'You're looking at the dumbest SOB in the world.'"
Ohio was ranked 20th in the final AP poll and would not appear in another bowl game for 39 years. The 1968 MAC coach of the year, Hess compiled a record of 80 -83-3, with four MAC titles and one Small College Division championship (1960), from 1958 through 1977 at Ohio. He died in June of 1978 at age 55.
Until next time … when we take a look at what happened to some of your UR favorites after the Tangerine Bowl.