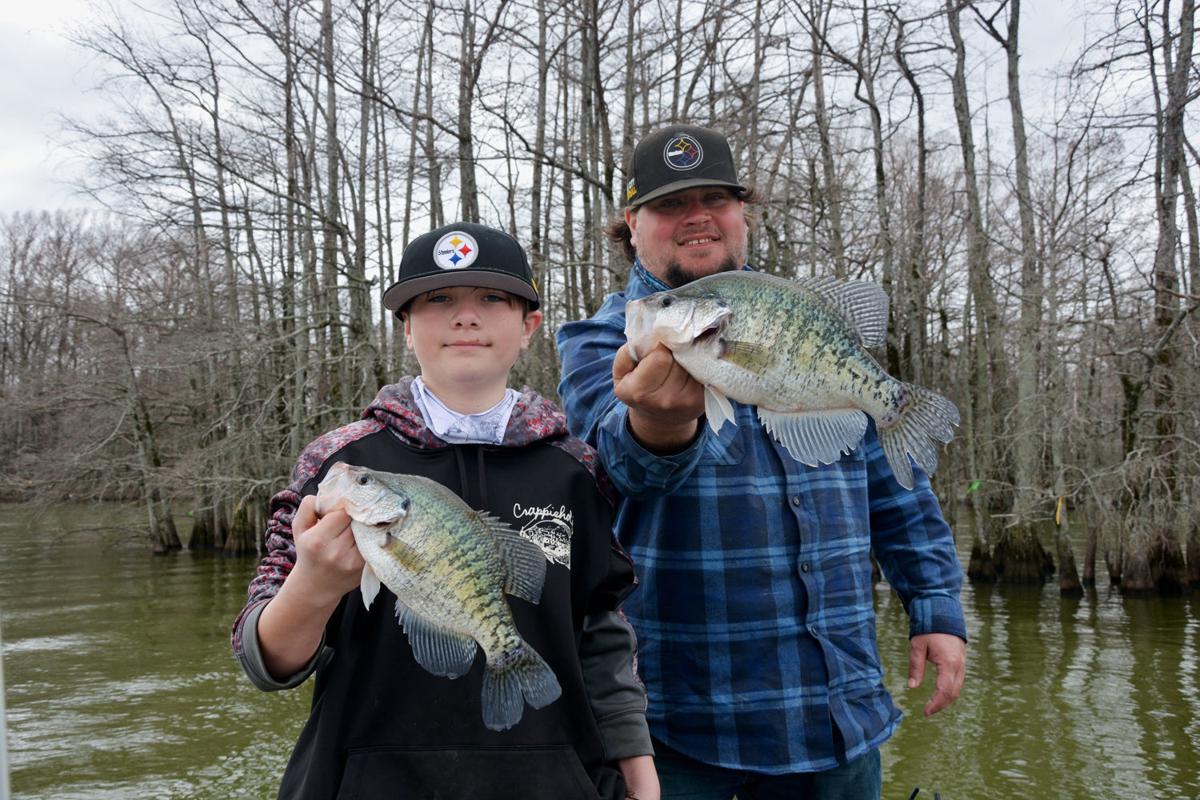 In any given year, the last week of February offers incredible action to crappie anglers in the southern Mississippi Delta.
The legendary slab-sized fish of that region greedily feed as they approach the early spring spawning season. So, when offered an opportunity to be part of a three-day fishing camp on Lake Washington, regularly cited as on of the country's top destinations for mega-crappie, it was, "Sign me up."
Of course, this isn't any given year, and I'm not talking about the extension of COVID-19 times into 2021. No, it was the weather that threw the fishing into a bit of a tailspin; namely 10 consecutive days of snow, ice and freezing temperatures in a location seldom seeing those winter extremes.
Lake Washington has gained rapid stature in the crappie fishing world, often ranked just behind Mississippi's Grenada Lake when it comes to the nation's top crappie destinations. The lake is a couple of hours south of Memphis along the Mississippi River. It is one of those oxbow lakes formed as the mighty river adjusted course over the centuries.
Now cut off from the river, it is unique when it comes to fish habitat. Why? It is almost uniformly shallow. Only one section reaches 10–15 feet deep. Most of the lake consists of 5- to 8-foot flats. Houses and camps line the lake's east side while the west features stately cypress forests standing in 1–4 feet of water.
Jones said biologists have determined that crappie in the lake are fast growers. Fish can reach a couple of pounds in just three years.
The ice melted on many sections of the lake the day before we began our camp, staging out of Mike Jones' Bait-N-Thangs tackle shop about 20 minutes south of Greenville. Ice girdled the bases of the lake's impressive cypresses when local angler Mark Hamberlin and I ventured out in an opening afternoon trip aboard his pontoon fishing machine.
Hamberlin, a retired Army veteran who takes disabled vets out on free guided trips with his DD214 Guide Service, loves fishing with Pico square-billed crankbaits, the ones perfectly sized for big crappie.
Anglers had been regularly catching limits two weeks before our arrival, but the arctic blast derailed the fun. Water temperatures were still below 39 degrees in many of the areas Hamberlin and I cruised. The fish were sluggish. We struck out.
Warming temperatures over the next two days, though, saw steady improvement.
Yazoo County, Miss., angler Will Hutto considers Lake Washington his home waters, He and his son Jesse James are successful anglers, with the teenager winning consecutive major youth tournaments.
Like most serious crappie anglers, Hutto uses long rods (10–16-footers) and Garmin "Live- Scope" electronics to fish while "spider rigging" or trolling. Eight rods, sporting jigs of various colors and tipped with live minnows are arrayed at the front of the boat when spider rigging. The LiveScope transducer mounted on the trolling motor identifies fish in a cone that extends about 25 feet.
Stealth is key. Move slowly in the water. Crappie are easily spooked. Ideally, the long rods deliver bait to the crappie before the boat or trolling motor scatters the fish. When fish are overly finicky, Hutto will identify them on his scope and then use a single rod to pitch a bait under a slip bobber just past the crappie's position. Observing both your bait and the fish on the scope is entertaining.
Fishing in about eight feet of water just outside a cypress grove, we boated a couple nice crappie with Hutto. Still, things remained slow.
I also fished with Arkansas guide and Pico Lures professional Greg Robinson. Pico Lures owner Mitch Glenn was also in the boat. Like Hutto, Robinson began by spider rigging in deeper water, figuring the crappie had moved to deeper water during the prolonged cold front. They had previously been staging in the cypress groves, ready for when the water temperatures said it was time to spawn.
We slowly picked up a couple of fish before Robinson decided to test the shallow waters of the cypress forest. Continued spider rigging and single-pole pitching to fish marked on his 10-inch LiveScope monitor yielded more fish. Robinson and Glenn eventually ditched the movement-limiting spider rigging and just cast slip-bobbered baits a few feet from the cypress trees. As the water slowly warmed, the bite picked up.
Anglers routinely asked each other what color jigs the fish seemed to want. Orange was popular, for a while. Glenn said any color can catch fish but selection depends on water conditions, the sky, and the mood of the fish. You have to figure it out. When fish are picky, giving them something with a lot of contrast often helps, Glenn said.
My final trip was a brief "long-lining" (trolling) expedition with professional crappie fishing angler and guide Brad Chappell, a go-to guide on Lake Washington. He graciously shared his technique for catching lots of fish.
Chappell slowly trolls with his eight crappie rods of varying lengths rigged with double jig sets. He ties the jigs to the main line with lengthy loops, a technique he says ensures free-swimming lures and minimal entanglements.
While other anglers picked up a few fish here and there on Day 3 of our camp, Chappell loaded his live well with a limit of crappie.
I returned home with enough crappie fillets for a couple of meals. Robinson and Glenn graciously cleaned the fish, with Glenn offering a fillet knife tutorial on how he ekes out every piece of edible flesh from a crappie.
While the weather may have chilled the appetites of the lake's crappie, it couldn't dampen the wonderful hospitality of the people coordinating the camp, the guides, restaurants and innkeepers.
Oh, and I stayed in a haunted plantation house. It appears I had an extremely close encounter with the spirit world. But that's a longer story, with details about the spooky evening at Belmont Plantation on my weblog at outdoorsrambler.com.