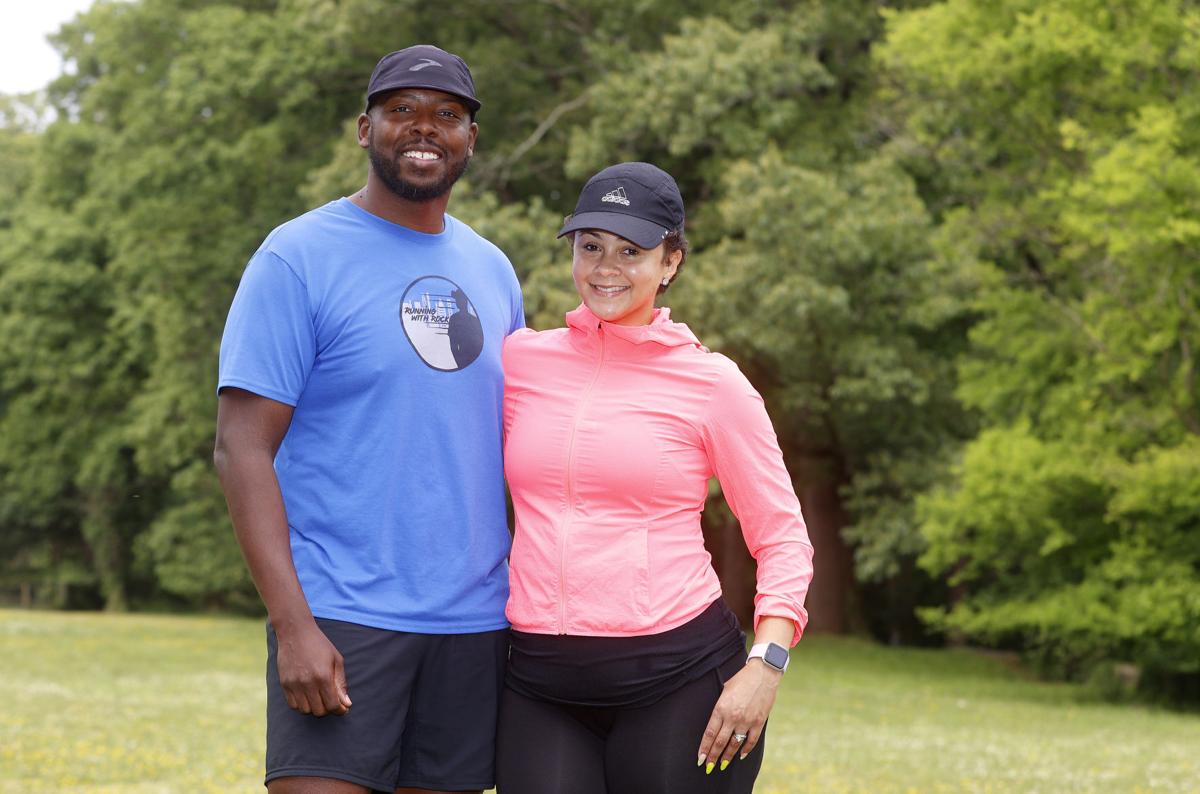 A visit to the doctor seven years ago got Anthony Clary moving.
What he heard in that visit spurred it. He was told he was prediabetic.
"I said, 'Oh, no. No, no, no,'" Clary remembered recently.
A change was necessary. Clary laid off sodas. He began to work out, settling on group SEAL team-style sessions and running.
Eventually, Clary dropped 100 pounds, down from 300.
"And I was like, 'Man, I want to share this with people," Clary said of his more active lifestyle.
Clary, whose nickname is "Rock," ran with a friend, with whom he played football at the now defunct Saint Paul's College. The two discussed how they wanted to get a group of people together to run.
That idea blossomed from an initial band of five runners to something much bigger.
Clary and his wife, Tara, established a new group, now called the #WEOFFTHECOUCH Run Club, last April. In the year-plus since, the group has swelled to as many as 80 runners in a given session, with four sessions each week.
Twenty-five of the club's members participated in the CarMax Richmond Half Marathon last November, and 40 will take part in this year's Ukrop's Monument Avenue 10K, which will be open to runners on two course options Thursday through Sunday.
But #WEOFFTHECOUCH has become much more than a gathering of joggers. It's become a community, fostering a sense of connection amid the pandemic. With roots that dig back to the start of Clary's fitness journey, the running group has become a vehicle for others to grow and touch goals.
"It's bigger than just striking the pavement," Clary said. "It's like we're striking walls that have been erected in people's lives for whatever reason. And even our own walls, striking down stuff that just doesn't need to be there."
Clary, 37, and Tara, 35, are South Richmond natives who met at a youth church as teenagers. Clary played football at Huguenot High before Saint Paul's, a defensive end at both. Tara ran track and cross country at John F. Kennedy High (now Armstrong).
As the run club began to form, Tara jumped in to join as well. They established Sundays as their main run day and began to invite more people.
The format of the runs changed as the group, a mix of skill levels, evolved. The Clarys started with one big run, but adjusted to hold a 2-mile beginners' run at 10 a.m. on Sundays, before a more advanced run, of at least 5 miles, at 10:45 a.m.
They believe there's no such thing as a "runner's body," Tara said. All paces are welcome.
"I think that's intimidating when you're coming out here to run for the first time," she said. "It's like, 'I don't want to get left behind. And I'm not a runner.' So, what is a runner?
"It's like you have legs, you can move, if you're healthy and you're able, please by all means come and give it a try."
Clary added it's not a competition when members get together to run. Rather, it's "you versus you."
The club is just an avenue.
"What goals do you have? Let's help you get there," Clary said. "We'll do it here together."
#WEOFFTHECOUCH has grown through social media (on Instagram and Facebook at @weoffthecouch), word of mouth and getting noticed on runs.
Sierra Seaborn, 30, found out through word of mouth. It was a way for her to be active and be around others, and she became hooked.
Running is not her favorite thing, she admits. But she loves the people.
"So that's why I continue to come. Rock and Tara have become like a big brother, big sister to me," Seaborne said. "I came out with the intention of just being in community, but it changed my nutritional habits, it changed my body."
Jonathan Keel, 15, joined after some urging from his mother, who thought he was becoming too inactive.
And he has enjoyed the camaraderie.
"The community is great," Keel said. "Even if you don't think you're doing your best, trust me, you are doing your best."
Dogwood Dell and Texas Beach are among the Clarys' favorite spots to host runs. And they expanded their weekly schedule to include a women's run with Tara at 6:30 a.m. on Mondays and a 5:30 p.m. extra run on Wednesdays.
They've been using their recent runs as training for the Monument Avenue 10K. Members are looking forward to it.
"They always harp on, you got to run your own race," said Elvin Eaton, 29. "So I'm just going to just try to do my personal best and go back and get some more people and support them. Bring them through the finish line."
The setup of this year's 10K will be similar to last year's in that runners will be able to tackle the 6.2-mile official courses on their own from 7 a.m. to 7 p.m. Thursday through Sunday. The two courses, which will be chip-timed and include directional arrows, are Byrd Park and Dorey Park.
There's also a virtual option, wherein participants can complete a 6.2-mile course of their own.
It's not the same as a typical 10K on Monument Avenue with 25,000 people, acknowledged Jon Lugbill, the executive director of event organizer Sports Backers. But the more flexible format is a way to make it work.
"During the pandemic. we have both the opportunity and challenge to make it as real life as possible, but also spread everybody out so that people can be socially distanced and be safe," Lugbill said.
A new addition to the 10K docket this year is the CoStar Group 10K Challenge, an incentive for runners to complete both courses and receive a special medal and finisher item. Clary is among those who plan to compete in that.
Clary and Tara have a goal of eventually starting a community center where they live in Manchester to provide a place for people to access free workouts and nutrition, in an area where Clary sees no easy access to healthy options.
He got moving seven years ago, diverging from his prediabetic path. He hasn't stopped since, with a community around him now that he and Tara are building brick by brick.
"Different backgrounds, different beliefs, different sides of the political spectrum," Tara said. "But we're just all here coming together as a community to run and to just love each other."
(804) 649-6442
Twitter: @wayneeppsjr