Swashbuckling pirates, gravity-defying Jedi Knights, armor-clad medieval swordsmen and that scene from "The Parent Trap" have inspired many a child to playfully emulate the art of swordplay.
But for 18-year-old St. Christopher's student and Hanover resident Mason Stanley, that childhood affinity for swordsmanship grew into a lifelong love for the sport of fencing, and a passion that Stanley, a Notre Dame recruit and Virginia's top-ranked high school fencer, dreams of riding all the way to Olympic gold.
"I started it and never stopped. I liked sword fighting, liked the idea of stabbing my friends," a chuckling Stanley said Monday afternoon following a training session with friend and fellow Saints senior and fencing enthusiast Max Kobal.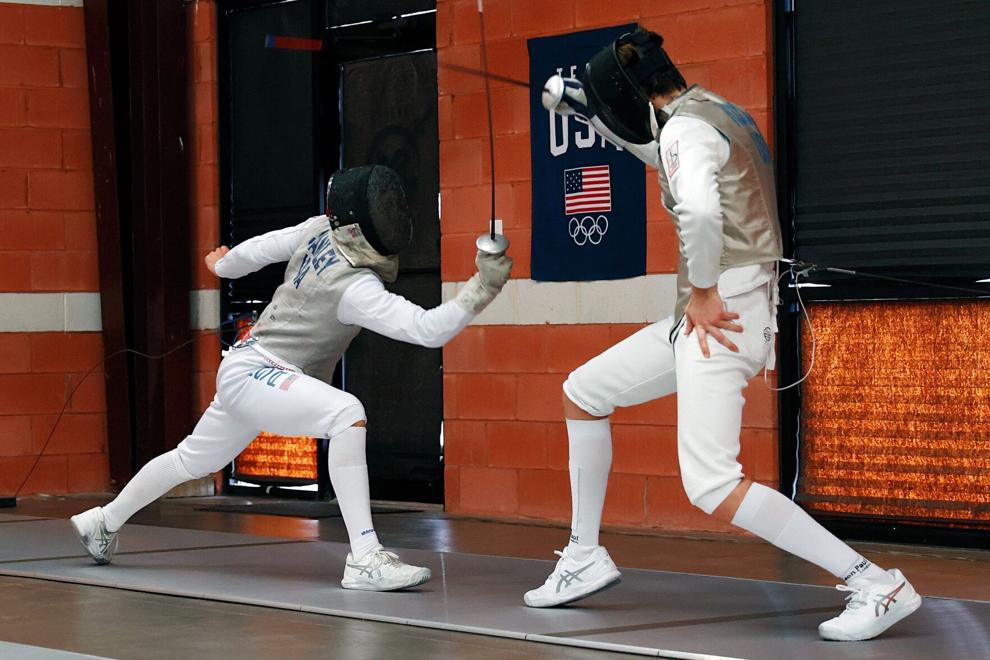 "I liked 'Pirates of the Caribbean,' 'Star Wars,' all that kind of stuff. You ask a first-grader, 'Do you want to swordfight after school?' What do you think he's gonna say?"
'He was just happy when he was playing with swords'
Stanley has fenced in seven different countries — the U.S., Hungary, Cuba, France, England, Spain and Croatia. He has traveled all over North America, the Caribbean and Europe for the sport, placing in and winning elite international and national tournaments.
Fencing is separated into three disciplines, or weapons — foil, sabre and épée. Nearly all fencers specialize in one of the disciplines, and Stanley's specialty is foil, the most prominent of the three in popular culture. The foil is a light thrusting weapon with a maximum weight of 500 grams, and competitors are allowed to target the torso but not the arms, legs or head.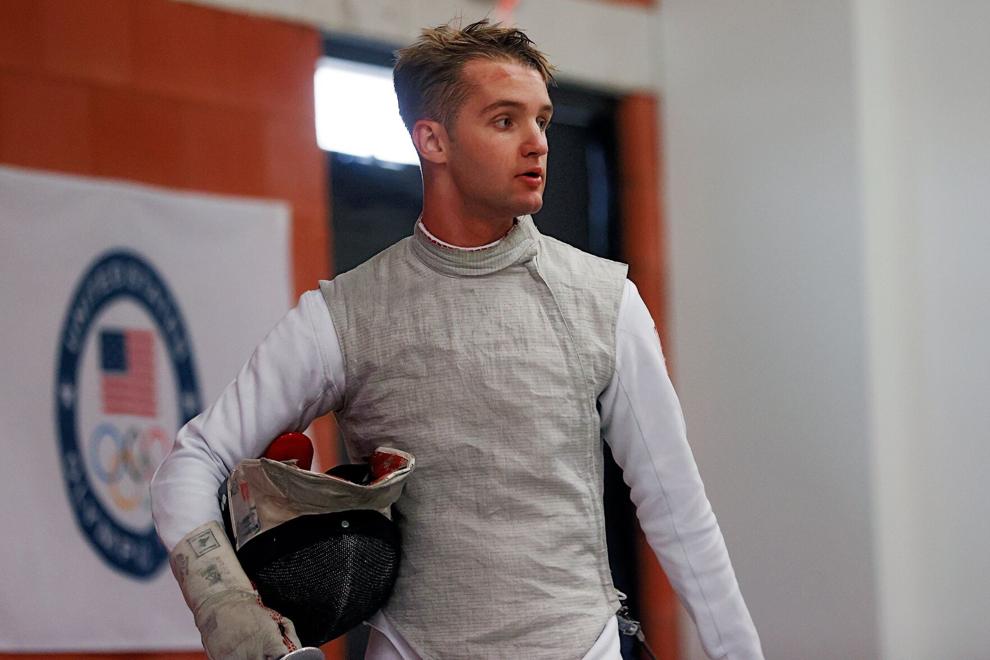 "There's just something about foil, I like the distance, I like the timing," Stanley said after about an hour of intricate footwork and wrist action practicing with Kobal in a sport that tends to induce plenty of sweat, with competitors wearing mesh masks and layers of protection.
"There's a lot more tactically that can go wrong, and there's a lot more tactically that can make things beautiful [as opposed to sabre and épée, which both feature more free-for-all action]."
Stanley qualified for the U-17 (Cadet-level) U.S. National Travel Team after an impressive finish at the Junior Olympics a few years back. At 14 years old competing in his second national championship in 2019, he medaled, a feat that blew his and much of the fencing community's minds, Stanley said.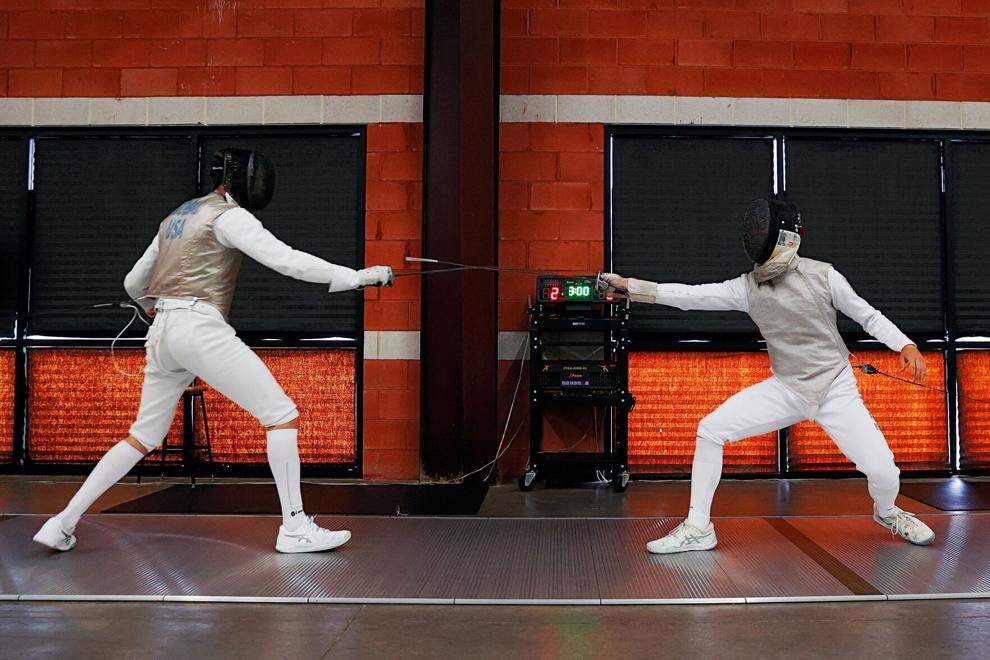 In January, he finished in the top 16 of the U-20 age bracket at the FIE Golden Foil of Zagreb World Cup in Zagreb, Croatia.
"That result caught everyone off guard," Stanley said of Zagreb, adding that his coach, MIT foil coach Bojan Jovanovic, is Croatian and at the tournament garnered plenty of praise for his work with Stanley, who has reached a relatively unprecedented level of success for someone with limited early life exposure to the sport and training resources.
The fencer and coach have developed a close bond traveling the world together over the years.
"He's almost been like a father figure to me; he's introduced me to so much," Stanley said of Jovanovic, a former Olympian (London 2012).
"Not just fencing, but traveling the world with him, he's shown me so many different things that he's become a role model."
Born and raised in the Richmond area, Stanley did not start fencing competitively until he was about 11 or 12 years old. But he began falling in love with the sport in first grade through a once-a-week, six-week introductory afterschool program at St. Christopher's.
Stanley's father played baseball in college, so Mason initially tried to find his way on the diamond. But the father and son had a habit of acting out sword and lightsaber fights, prompting mother Kelley Stanley to think, "Hey, maybe he should try fencing."
"He was just happy when he was playing with swords," Kelley said, sitting beside her son and Kobal in the Stanley family's Ashland-based practice facility, a large storage space-esque room rented out in 2019 that now includes three fencing strips spanning its length.
"We went to Disney many times and did the Pirates of the Caribbean experience, and I said, 'You know, he really likes this.' And I also think because he's a perfectionist who is very much wanting to control the outcome of his destiny, relying on a team was hard for him."
'A miracle child'
Stanley will not be attending his senior prom, choosing instead to compete at the this year's national championships. He has never gone to a school dance or party, and he has only been to two football games.
Mason recalls weekdays where he would leave St. Christopher's, fly to Boston to train with Jovanovic, fly back the same night while doing homework on the plane, return to Richmond at 1 or 2 a.m. and get to school after a few hours of sleep.
His teachers have worked with him along the way, helping him attain a 4.40 GPA despite the anomalous schedule and demands.
The vast majority of his weekends are spent traveling and training. The family even rented an apartment in Boston for a time and considered moving there, though Stanley was averse to leaving the school and friends he loves.
His mother said Mason has sacrificed much of a normal childhood in favor of chasing his fencing dreams.
"Because he's driven, he's always been driven," Kelley said.
"If he's got a goal, we see how hard he works at it. He is dedicated and disciplined."
There is lots of losing in fencing, Stanley said, as combatants wade through arduous brackets filled with the nation's and world's best. Only one fencer leaves entirely content. And Stanley has done much of his training with older fencers who get the better of him more often than not.
"I believe you really see who somebody is when they lose," he said, adding that it took time for him to become a gracious loser.
"Everybody can smile when they win something. But when you see somebody in their weakest spot after they've lost something, that's when you see their true character."
Added Kelley Stanley: "You hate to see them lose, but you also are happy they had the experience and you know there's going to be another opportunity. You just want them to be a gentleman on the strip, because it's a gentleman's sport."
That sport has proven an enormous financial and time commitment for the family. Mason said it has helped that he is an only child, so the family can concentrate its resources and time on him.
The practice facility was his dad's idea. Mason was 15 when his parents revealed the space to him, and all Mason remembers is the look of awe on his face upon stepping into the fencing paradise.
"He's kind of like a miracle child," Kelley said with an affectionate glance toward Mason.
'Fence like a champion today'
Hanging on the back wall in the practice facility are American, Croatian, British, Turkish and Italian flags to represent the nationalities of Olympic fencers that the Stanleys are close with. It is a highly unique space in the fencing community, they said.
At least 30 fencers have traveled to the little space in Ashland to train with Stanley, including two current Olympians, Great Britain's Marcus Mepstead and James Davis, as well as an assortment of former ones. Mepstead is Mason's strength and conditioning coach and is preparing to make a run at what would be his third Olympic games at Paris 2024.
Current or former members of the Canadian, Polish, Brazilian and US national teams have frequented the seemingly inconspicuous facility. The Stanleys have made friends up and down the East Coast as well, with parents bringing their fencing-loving kids to train at "Fencing with Friends," a collective hosted by the Stanleys that they said people gravitate toward because it is free of the politics synonymous with club fencing.
Mason has sparred with plenty of Olympians. He usually loses, but can beat one on a good day.
On another wall of the practice space, adjacent to the flags, there hangs a poster that summons the iconic motto of Notre Dame football: "Play like a champion today."
"Fence like a champion today," it reads.
Stanley seeks to live by that mantra, for the ultimate goal has always been clear. World Championships for fencing are coveted, make no mistake. But there is one goal that internationally elite fencers seek above all other accolades.
Stanley promised his parents he would never get a tattoo, save one to commemorate his life's goal — the Olympic rings, with the yellow one bathed in gold.
"I've always wanted an Olympic gold medal," he said, gazing around the practice facility that has meant to so much to his development.
"But it's very competitive to make that team."
Kelley wants to start with NCAA success and go from there, as Mason at Notre Dame will enjoy his first consistently regimented training program with coaches devoted to him individually.
The top three fencers in the country make the Olympic team. A fourth goes, but is not guaranteed competition.
Notre Dame fencing last year passed football in national championships, with its 12th, to become the most successful athletic program at the South Bend, Indiana, university.
"It's so hard in this sport to make it to [the Olympics]. I want him to chase his dreams and be his own pilot, but I see how hard it is," Kelley said.
"The Olympians he trains with now, they're in their late 20s. One's 31 years old and this is their third Olympics. It's not going to happen right away."
'I want to inspire somebody'
Notre Dame fencing is currently the country's top college program. The Fighting Irish have won four of the last five NCAA National Championships, and the last two after the 2020 tournament was canceled due to the pandemic.
Upon hearing Stanley's story — how late he started the sport and the limited training resources available to him in Virginia — Notre Dame head coach Gia Kvaratskhelia called him "a miracle."
Cuban Olympian Rolando Tucker-Leon is the Notre Dame foil coach and used to coach at a club in Northern Virginia, so the Stanleys have known him since Mason started fencing. Jovanovic recommended Tucker-Leon as a college coach who would suit Stanley's style as a read-and-react, instinctive competitor who "fences with a feeling" as opposed to a set plan of action going into matches.
"He'll just go out there and say, 'I'm going to fence the way I want to fence," Kelley said.
"It doesn't matter if he's fencing a lefty, someone tall, he's going to feel it in the moment."
Even above an Olympic gold, inspiring other kids to chase their dreams is what Stanley covets the most.
Even if those dreams originated in fantasies.
"I want to inspire somebody. That's been one of my life goals," he said with a glance toward the mother who has spent countless hours traveling the world with her son in order to support his dreams.
"I want people to understand it doesn't matter who you are, if you're willing to work for it you can do anything. And I'm hoping that, by winning an Olympic gold medal and being one of the greats, some kid like me now is going to look at who I'm going to be and be inspired. That's what I want out of all this."
Zach Joachim (804) 649-6555
Twitter: @ZachJoachim