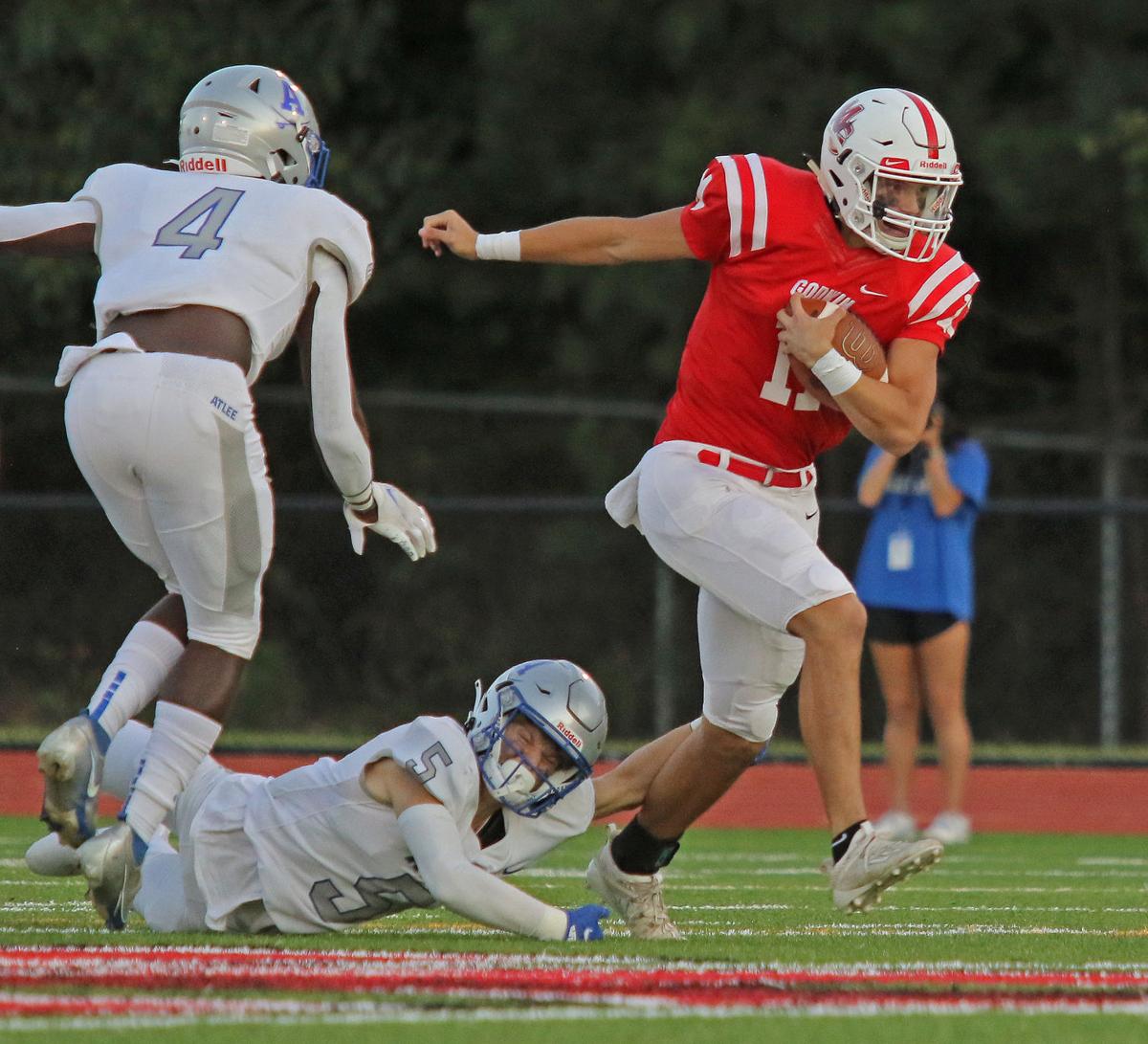 This column is for all the high school athletes, especially those who play football under the Friday night lights.
Well, since high school kids probably don't read newspapers (I pray some know what one is), if all the parents or grandparents could maybe pass it along by Facebook, if it's operational, or maybe copy and paste this into a text message, that would be swell.
Teenagers, you've always heard the older people in your life ask, "Where does the time go?"
It might happen as you watch your son go off to first grade when it felt as though five minutes ago you were in the delivery room awaiting his arrival, or wasn't it just a year ago your daughter was graduating from training wheels, and now she's graduating college.
I know the stuff old people say; it's because I'm old and getting older.
Recently, my daughter has taken to listening to the Mills Godwin High School band and watching the football team practice on our neighborhood walks. Last Friday on a rare fall weekend off from my broadcasting responsibilities, my wife and I took her to the Eagles' win over Glen Allen in a tremendous, spirited atmosphere by both bands, fan bases and cheerleaders.
My daughter inquired if mom and dad went to football games when we were little, which started the conversation of how my wife was a cheerleader in high school and dad played football.
Yet when she asked "Daddy, when was the last time you played football?" life stopped me in my tracks.
Her: How many years ago was that?
Me: 25 years ago, honey (pause as life hits with a brick). Wait? 25 years?
How's it been a quarter of a century since I was a senior in high school?
Kids, this happens when you enter your 40s. It's the period of your life when you catch yourself referring to moments in the past as "just a few years ago" only to realize those things didn't happen two years ago but two decades ago. Life sobers you up when you turn 42 and realize that your 21st birthday was 21 years ago.
Even knowing this, how has it been 25 years since I was one of those guys under a helmet and in shoulder pads?
Now before you think this is headed down the road of an Al Bundy at Polk High tale of glory (kids, Google that reference), it is not.
There's a famous scene in "Rudy" where Charles Dutton says, "You're 5 foot nothin', 100 and nothin', and you have barely a speck of athletic ability." Yeah, that was me. I was a 5-11, 165-pound offensive guard and defensive end, who lettered three years on a team that never won more than five games. But what would you expect from a team that had a starting offensive lineman who looked like a punter?
My greatest highlight occurred in the final game of my senior year when crashing in from the end, leaping to bat down a pass, I instead snatched the ball out of midair on a screen pass, with only 48 yards and the end zone in front of me.
My first career touchdown! Nope. I was caught one foot away from the goal line by the quarterback, who got off the ground after being laid out by our nose tackle.
It was OK. We eventually scored and won the game, only our second of the season.
Laugh at the pathetic, old man rehashing embarrassing memories if you will, but these moments are still cherished today, because the part of the story that I left out from that final game was that I had missed the previous four with a severe patella injury that left my right kneecap the size of watermelon in an immobilizer for two weeks. The student athletic trainer who spent three to six hours a day rehabbing my leg was my kid sister, Samantha. She also presented me the game ball that night in November.
The other part of the story that was left out was six years earlier at 12 years old when all I could do was eat, sleep, dream and talk about was football, my body, not even at 90 pounds, was breaking down because of Crohn's disease.
The goal of playing high school football went from something I wanted to do but also to show everyone I could do it, even when it was a long shot.
All those days of GI tests, blood tests and procedures, in addition to the pounding during practices, losses at the hands of teams far more talented and stronger, 25 years ago that November night holding a game ball didn't signify one play but six years of showing I could do it and did.
That's how my football career ended, but the memories have become more about what I've taken forward: Cherish the wins, learn from the losses and make sure to take away a life lesson. For yours truly, that included finding a career in sports.
Mills Godwin coach PJ Adams shared with me this week about how he tries to connect football to what lies ahead for his student athletes. "To be a go-getter and be able to take advantage of things when you see them and going to get them. Not always can you wait for things to happen; sometimes you've got to be a taker and go get it," Adams said. "It's bigger than football. ...Learn from your life lessons and learn from the lessons you've had and the decision to only get better through this."
For a select few, their athletic talent, hard work and dedication will help them reach the next level of their sport. For most, the last game, match or meet will be in their senior year of high school.
Yet, in 25 years, some of you might look back on your high school glory days as the spark that ignited a career in coaching, teaching, becoming an athletic trainer or maybe a sportswriter or broadcaster. You'll realize those long hours of two-a-days or wind sprints established the stamina you carried into finals, your residency in med school or a bar exam. You'll recognize the dedication and selflessness you once gave to a team on the field apply to the team you now come home to every night.
Maybe you'll understand someday when life presents the opportunity and you're 1 foot from the end zone, don't slow down. Instead, sprint.
These things might not make sense now. It's OK. My wish is that you'll understand better in about 25 years.
In the meantime, enjoy every moment.
This column is dedicated to Dave Bodolus, Bill Palladino, Dave Psota, Jim Bildstein, and the late Ron Reed — my coaches. They only yelled because they cared.
Wes McElroy hosts a daily sports talk show at noon on 910 and 105.1.