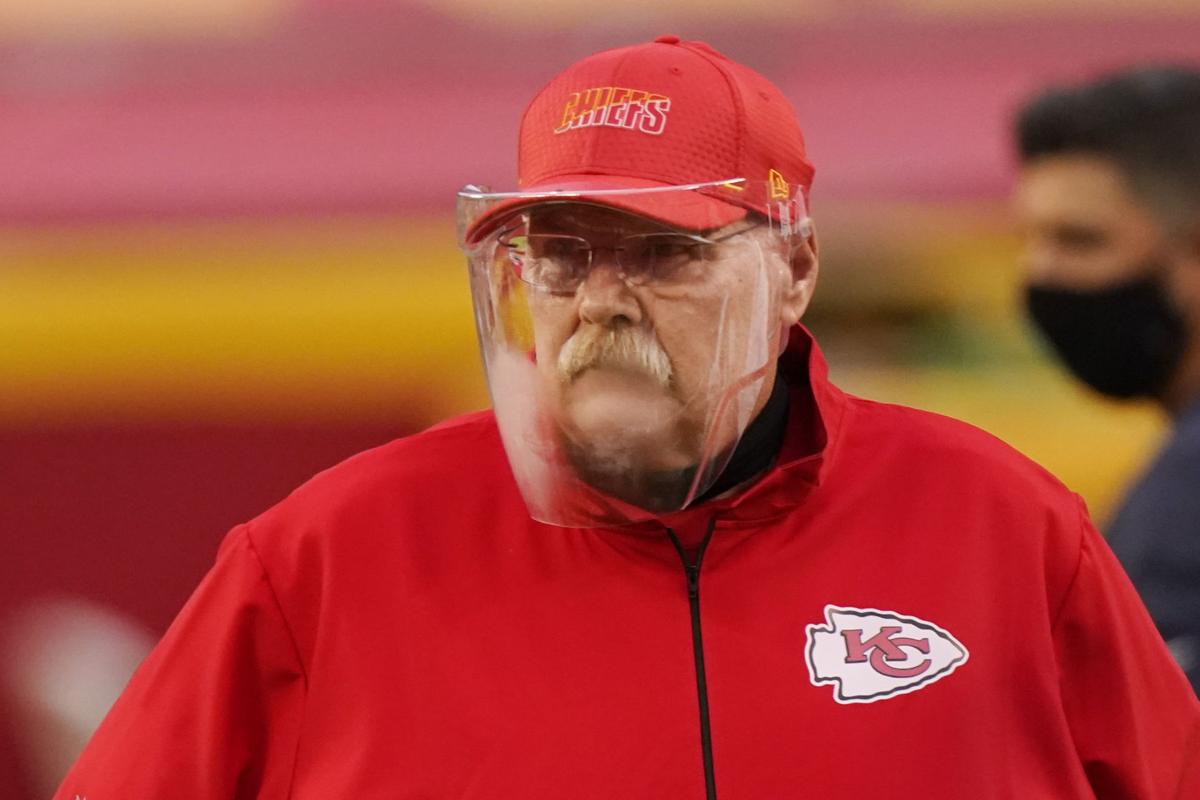 Two weeks ago, Governor Ralph Northam announced plans to replace a 134-year old time capsule in the foundation of the Robert E. Lee statue located on Monument Avenue.
The Governor also invited residents to recommend what could be placed in a new one.
My colleague's creativity got me wondering about the present day. What if we were to plant a sports time capsule on this Independence Day? What collectables from different sports would be placed in it to best represent this time period of sports when it's dug up in 2121.
Andy Reid's face shield: There were many styles of masks during the pandemic, yet no face covering is more memorable in sports than Big Red's face shield fogging up in the 2020 season opener.
Sure, we laughed at the Kansas City head coach, but many of us could relate watching in Week 1. Finding the right mask was trial and error during the pandemic, especially for those who experienced the fog factor while wearing glasses.
It's only appropriate after a year of sports being played during COVID when face coverings were prevalent on the sidelines that it be included in our keepsake capsule.
A side-by-side stadium picture: How can we convey to those a century from now "where we were" and "where we are now" in sports after the past 16 months?
Perhaps take a photo from a MLB game in the summer of 2020, when only players, coaches, and umpires occupied some cavernous stadium in America, and put it right next to an image of July 2021, as fans have returned with no mask or social distancing, just baseball patrons back at the park enjoying the game.
A college football preview magazine: I can just picture it 100 years from now when my great grandson asks my granddaughter, "Mom, can you believe they only had a four-team playoff in college football and Alabama pretty much won the championship every other year?"
Little Wesley will also be fascinated by how there used to be a Power Five, Group of Five and Football Championship Subdivision when in 2121 the landscape has totally shifted and there are only four mega conferences in college football.
A copy of the N-I-L press release: This will also cause my great grandson much confusion when he is baffled that college athletes once were not allowed to make money off their name or have endorsements or outside business interests.
He will also be perplexed by this archaic symbol that that reads "N-C-A-A" representing an organization long crumbled and extinct a century from now.
A fashion portfolio: It's crazy to look at photos from the early 1900s when baseball players wore heavy fabric uniforms or how managers donned suits in the dugout.
Can you imagine Joe DiMaggio or Ted Williams looking at players today with their batting gloves and elbow armor on at the plate?
We marvel at how football players played in leather helmets and hockey players with none at all. Stages of basketball included shorts that sagged below the knee which were preceded by those that were way too high and tight.
Our capsule should include a collection of uniforms from different sports just so those in the future can remove them and say, "I can't believe they used to play games in those things!"
iPhone: Who knows what personal communication might be like a century from now? If we need to talk to someone we might be able to press a remote and transport somewhere just to ask our wives what's for dinner or where the kids put the keys to our flying car.
However, we must include an iPhone in our time capsule to perfectly represent how America watched sports in 2021.
We will include the memo that if something happened in a game, you were supposed to tweet about it. If you wanted to place a bet, just bust out the phone and in three taps your wager is in. If you needed to let all your friends know where you are, take a selfie and post it on something called Facebook or if you were really bored by being at the game, like we see all those fans courtside or behind home plate just staring blankly in their phone despite having the best seats in the house, you could just click to other forms of entertainment on Instagram or TikTok.
Take a minute to look around at the next game you go to or watch on TV; phones in our hands and in our faces are a sign of the times in 2021, so throw one into the capsule.
Additional items could include ... A Bill Belichick hoodie packaged with a Tom Brady Buccaneers jersey to signify the historic split ... an MLB official baseball since it'll probably change 50 times in the next 100 years (don't forget the Spider Tack) ... if they go back-to-back with a Stanley Cup put in a Tampa Bay Lightning jersey to show a Florida team owned a sport played on ice ... and, last but not least, include a mustard yellow championship belt to show that we once used to sit around on the Fourth of July to watch people devour hundreds of hot dogs in minutes.
Wes McElroy hosts a daily sports talk show at noon on 910 and 105.1.