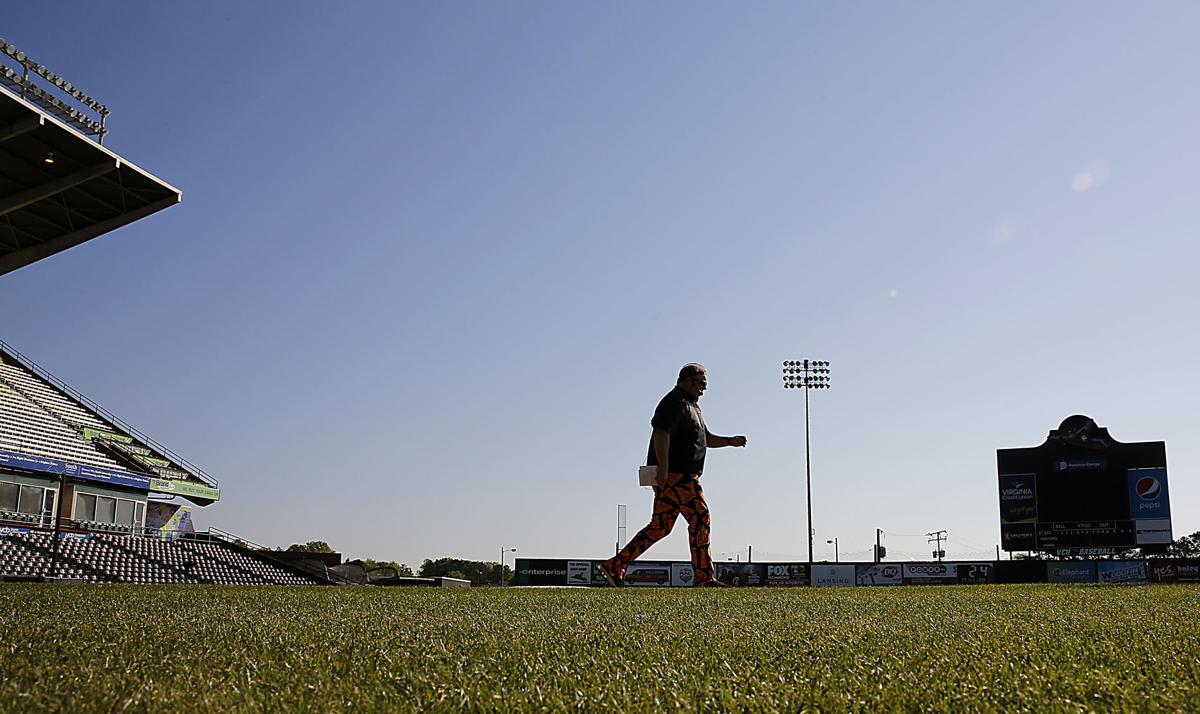 Because the Richmond Flying Squirrels are affiliated with the San Francisco Giants, a franchise recently valued at $3.1 billion, the assumption might be made that they're doing just fine weathering the pandemic.
The Squirrels do not receive even a dollar, never mind millions of dollars, from MLB's lucrative television deals. Their foundational income relies on ticket sales, which spawn concessions, merchandise, sponsorships and other revenues, which were nonexistent for the 2020 season.
Think of the Squirrels — and the Kickers and Richmond Raceway — as you would your favorite restaurant. They need customers to survive. And for all three, they need more than 250 customers each night they open.
The sports groups are lobbying Virginia Gov. Ralph Northam to switch from a hard cap of 250 spectators at an event to a percentage-of-capacity model, including a recent op-ed piece by Todd "Parney" Parnell of the Squirrels.
While it's like biting into a lemon to say these words, simply because he will never let me forget them: Parney is right.
At this point, I'm sure the comment has been snickered by one of you fine readers: The Governor should have far more important things to concern himself with than sports teams.
To that I say, you are correct.
The vaccine, continued rollout and equitable distribution are greater priorities. But employment, income and improving the quality of life in our community also are essential.
With teams and events comes employment. The Squirrels organization has been reduced from 31 full-time employees to 11.
That doesn't even consider the concession workers, parking attendants, game security and vendors who rely on working game days as secondary income.
Then there's the ripple effect in the economy.
According to information compiled by Richmond Raceway for the 2019 year, events at the Richmond Raceway Complex and Martinsville Speedway totaled nearly 300,000 attendees for the four major event weekends, generating more than $720 million in annual economic impact and employing nearly 10,000 people every year.
How about the local hotel, restaurant and grocery industry aided by those attending events at the raceway? As per Richmond Region Tourism, the track's 2018 Saturday race led to a 92.4% occupancy rate for hotels in the region, the highest single night of the year, which represented $2,341,933 in hotel and motel room sales.
No one is asking for the gates to be flung open and the seats recklessly filled to capacity.
But why can't Richmond Raceway, with its capacity of 54,000 and infrastructure that at one time held more than 100,000, admit at least 15,000 race fans?
Last season, the Kickers showed they could safely operate outdoors for a limited number of fans to enjoy a sports event through enforcing face coverings for all fans and staff inside City Stadium, which became a cashless venue, including parking, merchandise and concessions, while all ticketing was processed digitally.
Again, Mr. Sports Talk Host, there are more important things in the community than sports.
True, but sports events are also part of the community.
If I had $1 for every time I'd been told "stick to sports" or "I just want sports as an escape," I wouldn't be writing this column. I'd be floating around a private island on my yacht.
Sports are that escape, and going to a game or a race can provide that sense of normality that we need and that sense of community that is much needed when society feels so fractured.
The Squirrels have done this for the community for more than 10 years, the Kickers for more than 28, and Richmond Raceway since 1946.
The request from the Kickers, Richmond Raceway and the Squirrels isn't unreasonable. They are just trying to move forward safely — something we all strive to do in 2021.
Wes McElroy hosts a daily sports talk show at noon on 910 and 105.1.