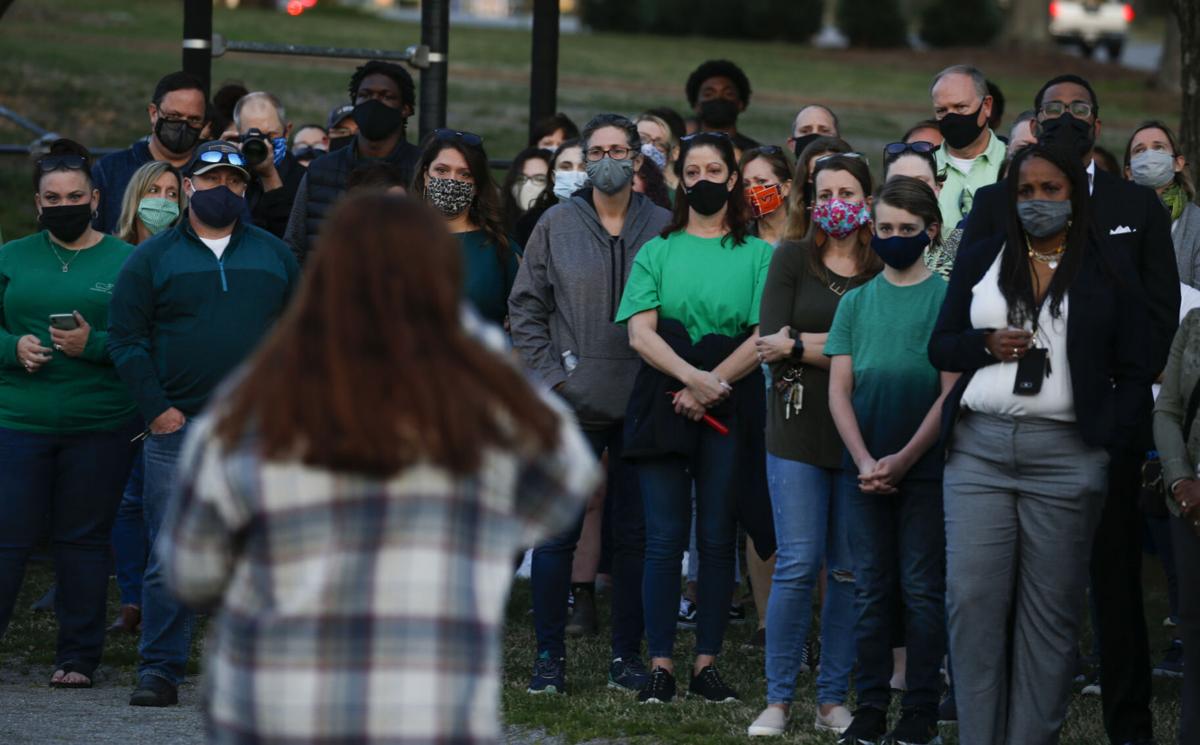 When you first buy a house, you have visions of hosting holidays, bringing home babies, and watching them grow up while playing in the yard.
But no one warns you about some things such as something breaking, and after the repair, something else falters.
One thing no one can ever prepare you for as a homeowner is receiving a text from your neighbor saying, "There's been a shooting in our neighborhood and the gunman is still at large."
That message flashed on my phone last Friday, while my 3-year-old daughter and I were out for a walk in a different part of town.
That shooting took the life of Lucia Bremer.
Lucia Bremer was a 13-year-old student and accomplished soccer player at Quioccasin Middle School and for the Richmond Strikers. She was a daughter, a sister, a student, a farmer and a friend.
She was also a little girl in my neighborhood.
I can't say I've met Lucia, at least not by introduction. But there's a good chance we've said hello to her and her family, as my wife, my daughter and I walked through the neighborhood, or when I run that area three times a week, because that's what we do in our neighborhood.
It's a place where people actually say "hello" while out for walks, and they compliment the flowers in others' gardens, or if there is a team or school flag in the yard, you ask, "Did you watch the game last night?" and make small talk. It's an area where kids actually play outside, ride their bikes, and roam the trails around Mills Godwin High School.
This past week, it also become a gutted, heartbroken neighborhood after the violence that took lovely Lucia's life when she was shot and killed.
This is the part where I'm supposed to tell you, "Things like this don't happen here."
But, as life cruelly continues to remind us almost daily, we now live in a world where the number of communities and neighborhoods unaffected by tragedies, including gun violence, is shrinking.
In the days that have passed, many continue to ask why or how this happened, including those in her family, her friends, and those in her soccer family with the Strikers and the Quioccasin team.
But through the pain and tears, many stories about Lucia have been shared this week with a similar theme: her trademark smile.
"The first practice I had with her, even with her mask on, I could tell that she was grinning ear to ear," said Bremer's Strikers Elite coach, Ashley Williams. "You could just tell in her eyes and just her aura, she was just the happiest, goofy, fun, kind-hearted person. She brought energy to everything. One of our team members commented the other night when we got together as a group that, the first thing I said about Lucia was 'she always smiles'. She was always so happy and that's what she brought to every single thing she did. Everything that's been written about or that's been talked about, it's all true. I mean, she was just such a sweet and happy girl."
Many have remembered Bremer as sweet, upbeat, and also a joker notorious for finding cell phones and taking random funny photos of herself that others would find later.
Yet, when it came to soccer, there was no joking around.
"She was a very positive person and subsequently that carried over to soccer, added her Quioccasin Middle School coach Phil Markowski. "She brought an attitude of: She was there. She wanted to be there. She'd do what it would take to be there. It's kind of hard to explain other than the fact that when she was on the field, she was ready to go. It didn't matter what you wanted her to do. Didn't matter where you wanted her to play. Didn't matter what drill you asked her to do no matter how difficult. It was, OK. Let's do it. I'm here. I'm geared to do one thing and that's play ball."
Williams shared the story that in February she asked her players on a Zoom meeting to share one good story that happened to them that day. When it came to Lucia, she said, "I beat my dad in ping-pong today." Lucia then paused, grinned and added "Twice. And he was really mad," before busting up laughing and making her teammates do the same.
Yet Lucia's competitive side never interfered with her compassion for others.
"Lucia was always there to pick up a teammate; always there to make someone better and not just by chance, Lucia sought it out. If she saw someone struggling, Lucia went out of her way to help that person," said Shannon Richard, a family friend whose daughter, Ariana, was a close friend and teammate of Lucia's. "Lucia was always checking in on her friends. Lucia was always making sure everyone was OK. She was very in tune to what was going on with teammates, with students, with everyone to make everyone be at their best."
Markowski also described the aptitude that Lucia had as an advanced student and how it was carried to the soccer field. "She was a gifted student. She was very intelligent, and I think that bled over into how she accepted the game and how she played the game. She played the game smarter than other kids her age. You know, even when I was in college playing, I didn't see the field at 19 and 20 years old like Lucia could see the field at 13 years old."
Many live as if they have all time in the world, putting off today for tomorrow. Others know time is a gift don't waste a second of a day — like Lucia, who in addition to her outstanding academics and standout soccer skills, was passionately involved in her family's business, Liberty Tree Farm.
"[Her family] would get up and work early and Lucia loved it," Richard noted. "And even then going to the farmers' market, she loved the people. She loved the hard work, and it wasn't a job life for her. It wasn't a chore. She took everything and found enjoyment with it. There truly was just happiness and joy in everything she did and she was so proud of everything on the farm, working at the farmers' market, and doing stuff on the farm. She put in a lot of hours, but again, it wasn't work for her."
A week after she was tragically taken, many are mourning the loss of Lucia Bremer at the same time they are planning to make sure her spirit and smile live on.
"I think it just sort of hits everybody because it hits so close to home and I think the more people hear about Lucia, the more it hits home because she was just awesome. She was an awesome kid." said Jay Howell, executive director of the Strikers who has watched the soccer community come together to help one another including Bremer's teammates and family in this extremely difficult time. "I think that what I would ask is that hopefully we help each other find a little bit of peace ... and, hopefully this will continue to bring all of us together as we move forward.
"Of course, I mean, everybody loves sport and loves soccer and everything else and I would think that Lucia would want us to play. That's what she would want. She want us to go forward and play and keep getting better and loving the game so I would just ask that everybody just continue to support each other and let's try to work through this together as a community.
Lucia's Quioccasin Griffin team are planning to honor her with T-shirts and masks with her number on them. When they take the pitch in early May, Markowski's plans include sending out just 10 girls, keeping Lucia's spot open for her to be subbed out one more time.
"I think that's the beauty with Lucia's name meaning light and the irony of all this is, what I've been saying to my daughter is that there's such darkness and hurt right now and a loss like this and a friend like this and a teammate like this, it just is dark. It's heavy. It can feel lonely," Richard added. "But as I keep telling my daughter, I said Lucia's light needs to live on in our hearts and our actions and in that deepest dark — as dark as it can get — when you put one little light on, what can shine from that is so bright. So it's our job right now is to be Lucia's light and live it in our hearts and actions."
In the days that have passed, the tagline has developed locally on social media "Long Live Lucia."
Long live Lucia Bremer and her light. May it continue to shine on through her family and friends including those at Quioccasin Middle School, throughout the Richmond Strikers, and Liberty Tree Farm as well as our neighborhood.