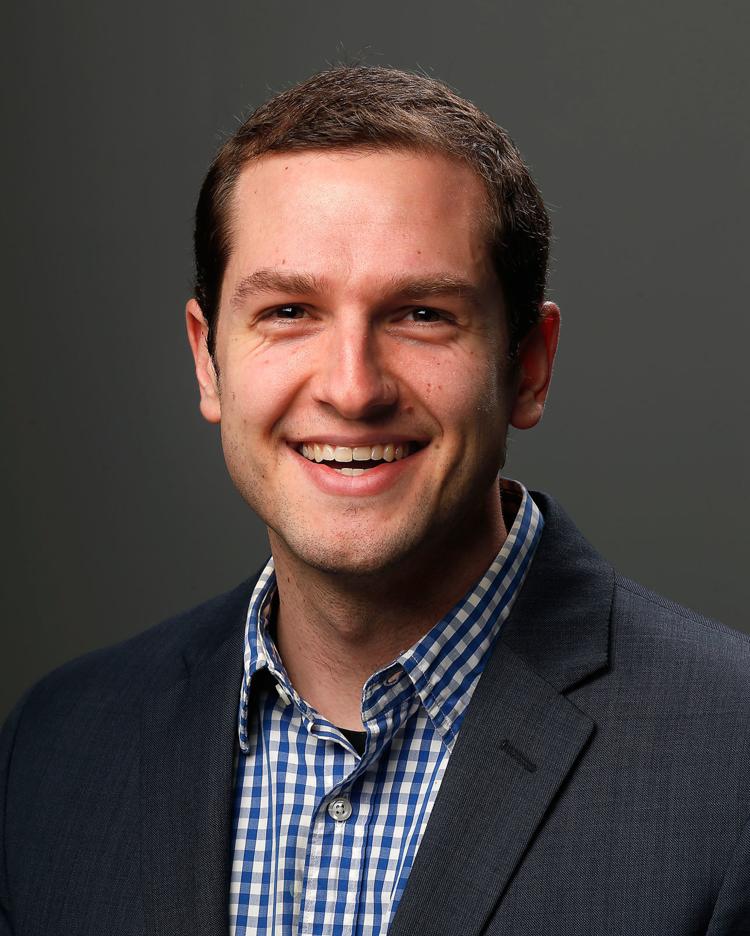 Each day we'll turn this page over to one of our sports writers to share behind-the-scenes stories from their years with The Times-Dispatch. Eric Kolenich joined the Richmond Times-Dispatch in Jan. 2009 as a part-timer. In 2011, he became full time, covering high school sports and writing feature stories. He is currently covering the coronavirus pandemic for the paper.
The best basketball game I've covered:
Henrico 111, L.C. Bird 99, 2 OT (March 4, 2015)
There were years when Henrico didn't need an offensive game plan, it seemed. The Warriors were so fast, they could collect almost all their points in transition, racing down the court and scoring before the opposing team's defense could catch up.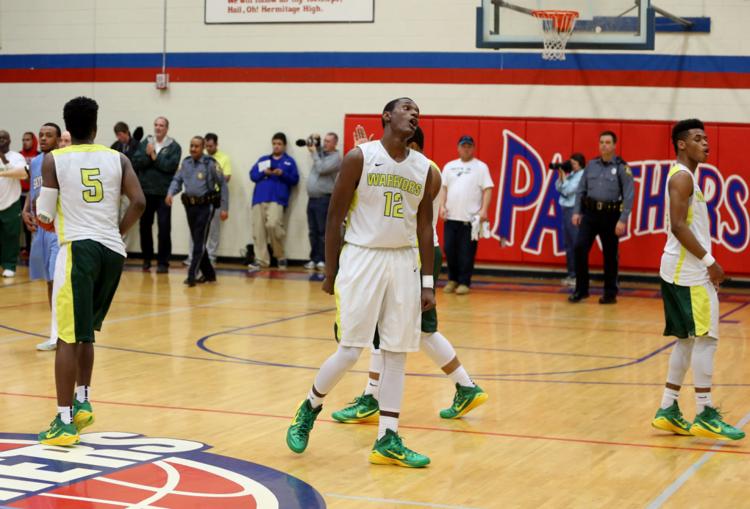 Henrico had one of those teams in 2015, but when it faced Bird in the 2015 5A South region semifinals, it faced a team that could match it in athleticism. That's the recipe for scoring 210 points in a high school basketball game.
To be honest, parts of this game were ugly. Henrico went to the free throw line 57 times and made 41. Bird was 14 of 23. And, to be honest, I forgot that part of the game.
What I didn't forget was future North Carolina player Kenny Williams hitting a jumper from the free throw line as time expired in the fourth quarter, tying the score at 88. I remember the crowd at Hermitage High School spilling onto the court and being pushed back into the stands.
Henrico's Walter Williams — who a year later would perform one of the most memorable dunks I've ever seen, a reverse slam in a state championship game — scored 37 points. Bird's Jalen Elliott, who's now in the NFL, scored 24. Williams tallied 22.
It wasn't until two years later, in 2017, when Bird finally got over the hump, beat Henrico and won the state championship.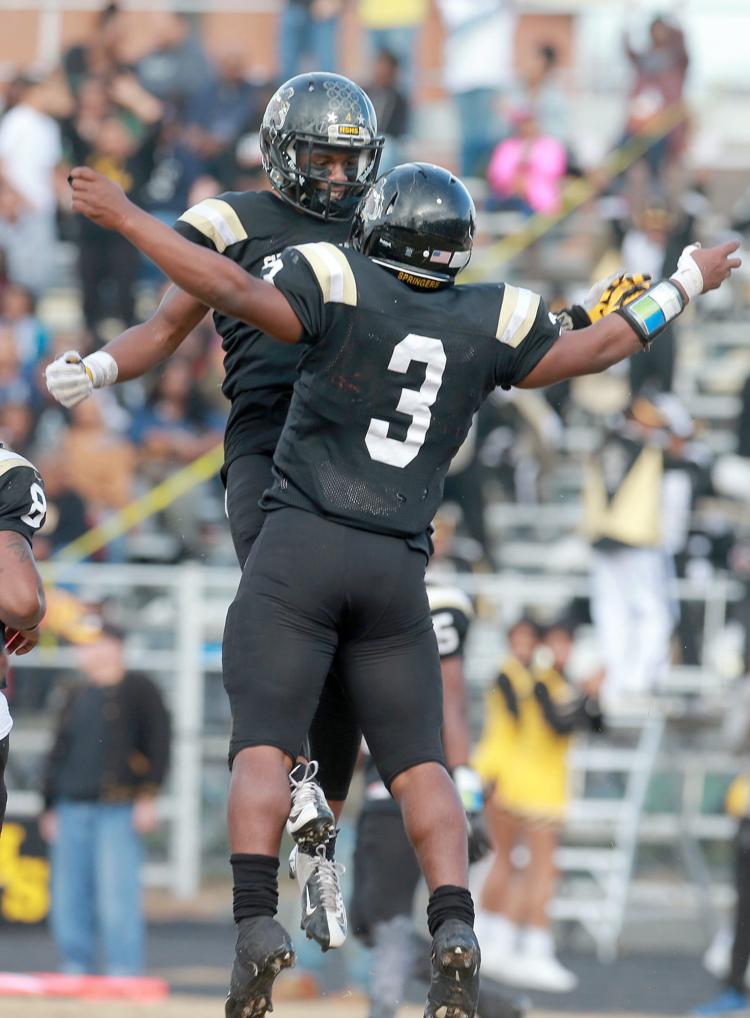 The best football game I've covered:
Highland Springs 42, Hermitage 35 (Nov. 28, 2015)
Most football fans know the play as the "hook and ladder," but at Highland Springs, they called it the "hitch and pitch," because the receiver would run a hitch route, catch the ball and immediately pitch it to a teammate. It's one of the oldest trick plays in the book.
With the score tied and less than 2 minutes left in the 5A South region semifinals in 2015, Highland Springs called the play from its own 40-yard line. Quarterback Juwan Carter threw a short pass to James Jackson, who pitched it to Dashawn Young. Young dashed up the left sideline and was tackled at the 12-yard line.
On the next play, Carter threw a touchdown pass to Jackson with 9.2 seconds left, and Highland Springs won the game. The Springers, it turned out, hadn't blown it. They were up 35-7, only to watch Hermitage come back and tie the score with 1:42 left in the game.
Again, here's a facet of the game I didn't remember: it, too, was ugly. Thirty-two penalties were called, 18 on Highland Springs and 14 on Hermitage.
Highland Springs went on to win its first of four state titles that year.
Honorable mention: I once covered an American Legion game between Mechanicsville Post 175 and a Williamsburg team that went 16 innings, lasting four hours and 35 minutes. Mechanicsville won 6-5. It may not have been the most exciting game I've covered, but it is among the most memorable. It forced me to miss my rec kickball game that day.
I've covered only two Redskins games for The Times-Dispatch. One of them was the 2013 playoff game in which Robert Griffin III injured his knee on a non-contact play. Griffin was never the same, and the trajectory of the franchise changed course forever. That was probably one of the most consequential moments in the past decade of Redskins history.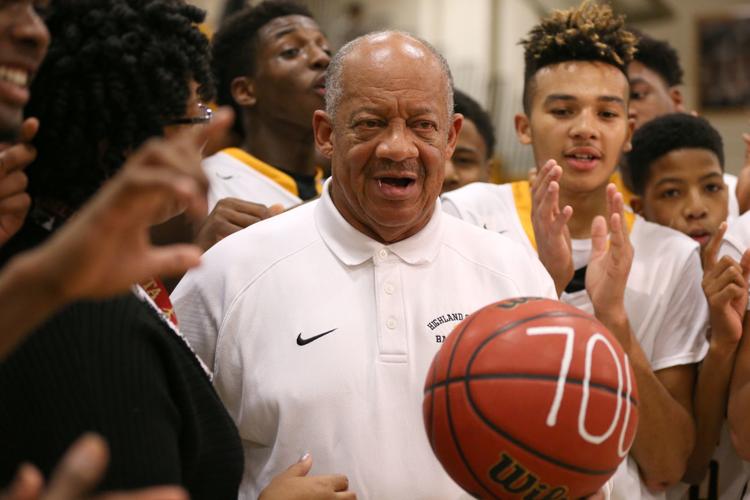 Favorite coach to interact with:
George Lancaster, Highland Springs basketball
I once told Lancaster if he hadn't become a basketball coach, he could have been a preacher. I've never met a coach who had a way with words the way Lancaster does. I've never seen someone who could speak so elegantly and so poetically without any preparation.
"Don't live on the legend," he once told a player. "The legend was last year. The legend was yesterday. We're going to do this today and get ready for tomorrow."
"Life is about service. It's not about wins and losses. It's definitely not about money. It's about giving back."
Any story that allows me to call Lancaster is one I look forward to.
Honorable mention: Hampden-Sydney football coach Marty Favret, who seemingly always spoke in witty, quotable phrases. When Hampden-Sydney faced a much larger Montclair State in the 2010 playoffs, Favret quipped, "We'll bring our slingshot."
Favorite thing about Division III sports:
There's something beautiful about Division III sports. Division I athletes not only have to be talented, but they have to look a certain way — a certain height, a certain build, a certain speed and athleticism. Division III is where athletes often go when they're just as talented, but their bodies don't resemble the Division I athlete.
James McNally of Franklin & Marshall was one of them. He was 6-foot-6 and a somewhat pudgy 235 pounds when he faced Randolph-Macon in the Elite Eight of the 2010 Division III tournament. But here's the thing about McNally — it was as if he never missed. He nailed short jumpers and tallied 22 points and eventually became the all-time leading scorer in program history. I doubt that he received much recruiting attention from Division I schools when he was a high schooler.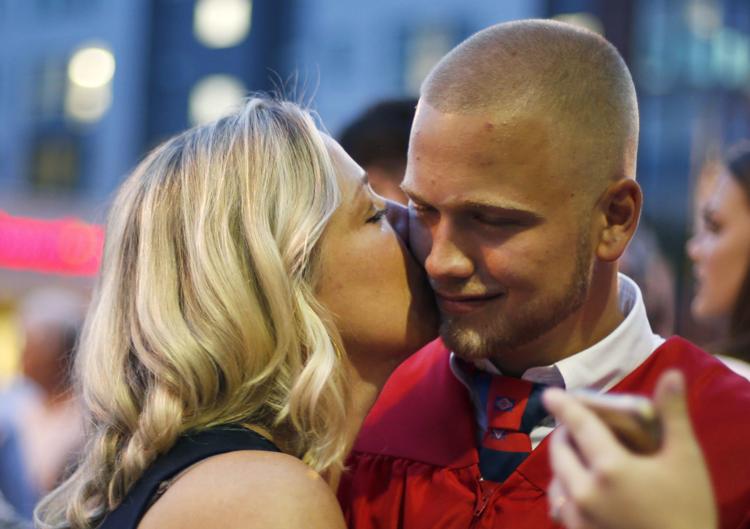 Most memorable stories:
Some stories will stick with me the rest of my life. One that was published in 2016 chronicled the life of Andrew Nelson, a Mills Godwin High soccer player who was recovering from an opioid addiction. Drug addiction has affected so many lives in this country in the past decade, and Andrew's story is one of many similar ones. Because of this story, I will remember that recovery from addiction can take many twists and turns, and the ripples of addiction can affect so many others.
The other story published last year and told the story of a Douglas Freeman High football player named Nick Ackies, who was shot and killed by a teammate at Norfolk State University. The man who shot him was arrested and went to trial. I spent a lot of time talking to Nick's mother, Ruth. I can't imagine there's anything more painful in life than losing a child, and that's a horror Ruth endured twice. The way she was able to get up every day and continue living her life will stay with me forever.
It happened on a Wednesday. This was probably the only Wednesday football game I've ever covered, and the game was played either early or late because of rain.
It started with Manchester quarterback Brendon Clark (Notre Dame) dropping the snap. The ball rolled to his left, so he chased after it and picked it up. He took a few steps and threw downfield to receiver Kevin Henderson.
Henderson caught the ball by reaching his hands around the helmet of Monacan defender Arturo Mendoza. Henderson had the ball pinned to Mendoza's helmet. With no easy way to secure it in his hands, Henderson tipped the ball in mid-air to himself over Mendoza's head, caught it and scored a 47-yard touchdown.
It became the No. 1 play on ESPN's "SportsCenter" that night, and it was later nominated for an ESPY award.
Least favorite part of the job:
Covering the death of a young person. I had to do this recently. A young man who played football at Deep Run died April 27 from a boating accident on Lake Anna. The first time I did it was in 2013 when a football player at New Kent collapsed at practice and died not long after sustaining a concussion.
When you're a reporter covering the death of a young person, you feel like you're invading people's privacy at their most vulnerable moment. It feels like you're doing something wrong. But I also believe that telling these stories is to say that a person was here, he or she lived a life and touched other lives and meant something to other people.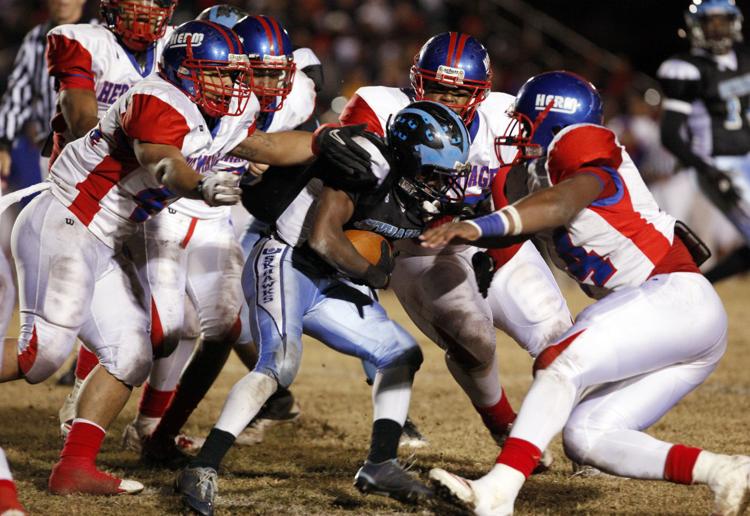 Best players I've seen:
When you cover youth sports, you get to see great players before they become famous. More often, you see players who are great in high school who don't end up being famous. And from time to time, you see a player who you don't think will be great who proves you wrong.
Frank Mason, Petersburg basketball. He was at another level, the way he floated in the air jumping up toward the hoop. In 2012, he went toe-to-toe with Hampton's Cat Barber in the Group AAA state championship game. Hampton won 64-51. Barber went on to play in the G League. No one was surprised when Mason went to Kansas and later the NBA.
Yahkee Johnson, running back, L.C. Bird football. He was just 5-foot-7, 160 pounds, but he could take the ball in the crook of his arm 30 times a game, run forward, get knocked over, stand up and do it again. He never got hurt, and he seemingly never got tired. His endurance was amazing. He was the All-Metro player of the year in 2011 after rushing for 2,509 yards and 37 touchdowns, which were both school records at the time. Johnson didn't become famous, but he did later play college football at Hampton, and he did leave spectators with memories.
Clelin Ferrell, defensive end, Benedictine football. I knew he was good. I knew he was a Division I athlete, but Ferrell missed his senior football season at Benedictine with an injury, and I never got a glimpse of how good he was. When it came time to compile The A-List, the yearly recruiting ranking, the college coaches who voted all said the same thing — Ferrell was the best. Ferrell was the one with the perfect body for playing defensive end in the NFL. I was surprised at the time, but they were right. Ferrell went on to Clemson, where he became one of the best players in the country. Last year he was drafted fourth overall by the Oakland Raiders, making him the second-highest draft pick to come out of greater Richmond, followed by Varina's Ken Willard.
I still have to mention: Brendon Clark, the Manchester quarterback, who was one of the most complete high school players I ever saw. His 2018 team might be the best high school football team I've ever seen.
Highland Springs receiver Greg Dortch could escape tackles like no one else.
Trinity Episcopal basketball player Armando Bacot physically dominated the players around him.
Hanover pitcher Derek Casey was unbeatable in high school. Literally. He never took a loss during his high school career.
James River's Nathan Kirby, a lefty who threw in the 90s as a high school senior, seemed unhittable.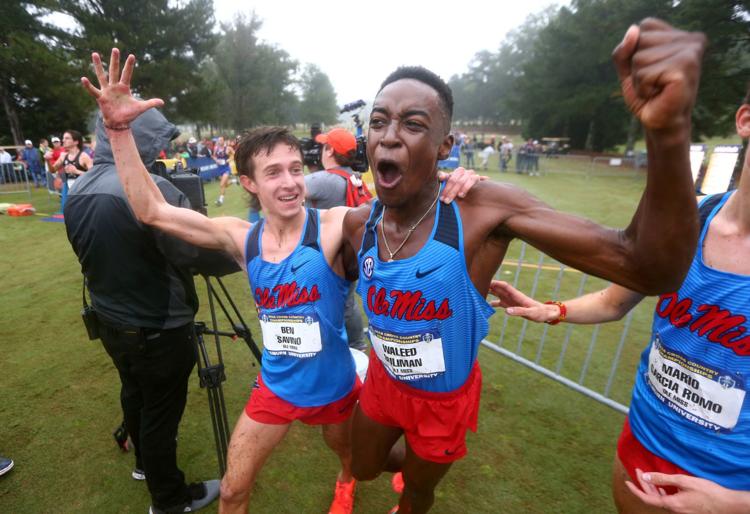 Player I rooted for the hardest:
It's true that sports writers usually don't root for any team. We root for good stories and games to finish early, giving us plenty of time to write. Usually, we don't care who wins.
Suliman, a Douglas Freeman cross country and track runner, was the exception. His parents were from war-torn Darfur, and they later moved to Iraq and then Jordan, where Waleed was born.
He came to Henrico in 2014 not speaking much English, and he joined the Freeman track team, even though he didn't have the clothes or shoes he needed. Two hours before the first practice, he walked to Regency Mall with his dad to buy running shoes.
Suliman went on to become perhaps the best high school runner the Richmond area has ever seen. He completed the 1,600-meter run — roughly one mile — in 4 minutes, 4.11 seconds, setting a local record. He was incredibly close to cracking the 4-minute mile, something very few high school runners have ever done.
Though he didn't cross that threshold in high school, he later did as a runner for the University of Mississippi. I'm not sure I've felt as much joy watching a young athlete succeed as I did with him.