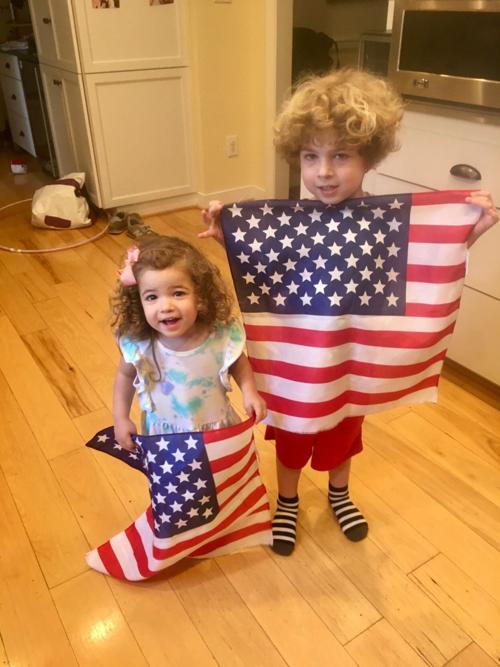 Midlothian mother of two Whitney Richman will represent the United States at the 2021 IAU 24 Hour World Championship Oct. 2-3 in Timisoara, Romania.
Richman, 40, ran her distance of 139.69 miles around a flat track in 24 hours in December, placing her in the sixth and final qualifying spot on the women's United States 24 Hour National Team. But the qualifying window was extended five months when the world championships were moved from May to October, giving other competitors more time to potentially top Richman's distance and supplant her on the team.
"I was sweating it out," Richman said with a nervous laugh after the official team was announced earlier this month.
She went to the final qualifying opportunity, a race in Alexander County, N.C., on May 1, a day before the window closed. Wanting to make sure nobody took her spot, Richman ran 10 hours. Then her Achilles started to hurt, and it became clear that no other runner was setting the pace needed to eclipse her. So she dropped out.
"I thought to myself, 'Well, now I have a world championship to prepare for,'" she said.
Richman got the official email this past week, and has since been in disbelief at achieving a dream as old as her elder child.
"I was pinching myself, over and over again, looking in the mirror saying 'Me?'" She said. "It's super humbling that I'm included on this list of athletes, some have inspired me."
But the days leading up to and following the final race were trying ones for Richman's family. They're good friends with the family of former Richmond Kickers player and coach David Bulow, who died May 6 at age 41 after suffering a stroke two weeks prior.
Richman told Bulow's wife that she felt guilty celebrating her accomplishment.
"And she said, 'You'd better not feel guilty. You'd better celebrate it, because you know he would be standing on the tallest mountain screaming about it,'" Richman said.
The Bulows have watched Richman's kids when she went on runs, and the families used to live across the street from one another. Whitney and Dave bonded over both being athletes, she said, and he'd always tell her before races "Don't come home unless you win!"
"So I'm trying to celebrate, I know he would be as well," she said.
Richman coaches the Sports Backers marathon training program on weekends. She'll continue to do that and run with them, maybe enter some "shorter" 50-mile or 6-hour races, and work up to 100 miles a week between now and October. She's looking forward to training in the hot summer months, her favorite time of the year to run.
Only the top three distances out of the country's six competitors are counted toward the team score. The US women have won the past five world championships, and the men have won two of the past four including the most recent in 2019. There is an individual podium, but the team title is the primary objective.
Richman's daughter Arley is 2 years old, and her son Cole is 6. There's only one other mother on the team, and Richman is quite proud of balancing parenthood with international athletic pursuits.
"Training; baby; training; baby," Richman joked of the effort. "It's hard to train at a high level with little children."
Her husband, Jonathan, has been instrumental. He stays home with the kids during her races, but hopes to travel to Romania with her. When Whitney puts her running clothes on, Arley asks "You go running?" But that's about the extent of her grasp on racing.
Cole, on the other hand, made her a sign when she returned from a race and told his classmates after she won.
"That was super cool because I didn't know he cared so much," she said, laughing.
Richman was initially introduced to 24 hour racing before she had Cole. Another ultra runner, Joe Fejes, reached out to her in 2013 after she ran her first 100 mile race. He'd been on the national 24 hour team before, and encouraged her to give it a try.
Fejes was at the race in North Carolina, one of a few fellow runners telling Richman "You're going to Romania!"
She is still working to wrap her head around living out the dream.
"To be included in this group of people is pretty amazing to me. When you work so hard for something, you're constantly trying to get there, and when you finally do it's like 'What, I actually did it?'" She said.
"I can't get over the fact that I'm one of only six women and six men in the country who makes this, that just baffles me. Maybe when I get there, I'll believe it."
(804) 649-6555
Twitter: @ZachJoachim