SPERRYVILLE — Coming to a road crossing in Shenandoah National Park, Sophia Lohrman was almost shocked to see another human being.
She's been on the Appalachian Trail — essentially off the grid — for over 500 miles and 2½ months.
Through all that time, she's rarely seen more than one or two people every day.
On March 23, the Appalachian Trail Conservancy requested that hikers leave the trail due to the coronavirus pandemic, but it's estimated that a few hundred, including Lohrman, continued on.
The "AT" is more than 2,000 miles long and stretches from Georgia to Maine. It can take five to seven months to complete, meaning anyone attempting to hike it has to be in a position to leave day-to-day responsibilities — a job, rent, children or a spouse — behind. For Lohrman, the stars aligned this year, and she doesn't know if she'll ever get the opportunity again.
She also believes the pandemic has been dramatized by the media.
"I'm not going to completely discredit the virus," Lohrman said. "I know people have died from it, but I don't think it is as scary as some people have made it out to be. That may just be my distrusting brain.
"I figure if something happens to me, then either I'll figure out a way to get some sort of help, or I'll end up dying out here — and that's all cool, too. There are worse places, and I'd much rather die on the trail than being at home and dying in my bed. I don't really think dying is a risk."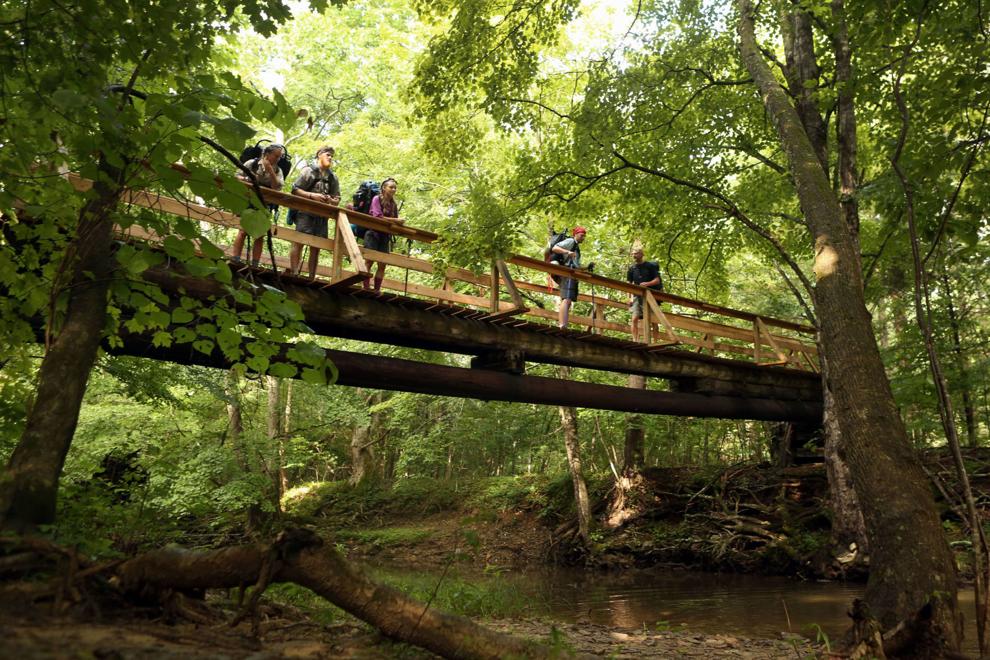 To stay or to go
Those who kept hiking received massive amounts of backlash online. There are a range of arguments, but the general sentiment is that people who decided to stay on the trail are selfishly endangering the lives of others for their own hiking experience.
Rahawa Haile, a writer working on a book about her experiences on the AT, has been especially outspoken on this issue.
"It's reckless beyond belief," she said.
Neville Harris, owner of the Woods Hole Hostel and B&B in Pearisburg, stressed that for some, the decision to stay on the trail is much more complicated.
"It's a self-exploratory territory, and people gain a lot from being on the trail," Harris said. "They get a lot of personal growth. For some, it's physical. For some, it's spiritual. For some, it's mental. It has many layers of growth.
"Some decided emotional trauma would come up if they were breaching the fact of coming back home. Some decided to stay out here because of drug addictions."
While William Welch and his partner, Kera Passante, are extremely concerned about the coronavirus, they didn't see any other choice than to stay on the trail. Like many thru-hikers, Welch and Passante moved out of their home before starting their journey.
"We can't just go home in the middle of a pandemic and get new jobs and find a place to rent," Welch said. "It just isn't that easy. Literally everything we owned was on our backs, and we decided we weren't going to leave unless they dragged us out."
The couple understood people's reasons for leaving the trail as well.
For many people, the community aspect is the biggest reason to hike the AT. Derek Lugo, the author of "The Unlikely Thru-Hiker: An Appalachian Trail Journey," considers meeting the locals and other thru-hikers a vital part of the Appalachian Trail experience that will be missing for those who choose to hike during the pandemic.
For others, it was strictly an issue of safety.
Lugo first hiked the AT in 2012. If he'd been on the trail this year, he would have left it because of how heavily hikers have to rely on the small towns along the trail. With the stores and hostels along the way closed, a thru-hiker could easily get into serious trouble.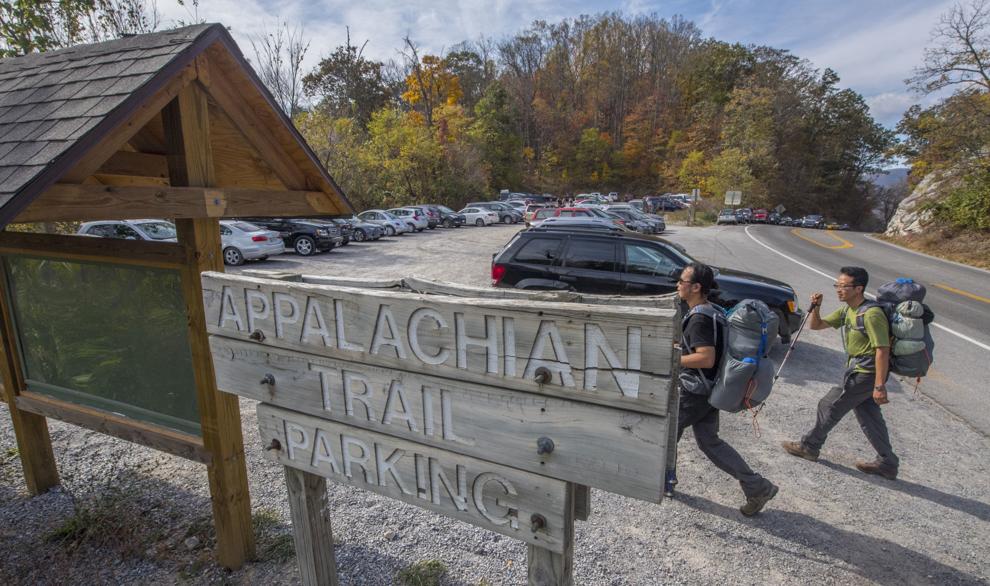 Business as usual
Even during the height of the pandemic, hikers such as Welch and Lohrman say practically everything along the trail was open, whether they were legally allowed to be or not.
"They needed business, so they let us stay," Welch said. "We found that a lot. These towns rely on hikers, so the economies for them were more important."
Some business owners such as Harris did follow the stay-at-home order. Woods Hole has started a "quiet reopening." Harris is diligent about following precautions and making sure social distancing is followed.
Joe Mitchell, owner of the Four Pines Hostel in Catawba, has had less than half the number of visitors he usually does during this time of year.
Mitchell said he finds the ATC's handling of the situation "ludicrous" considering the virus's limited impact in his area. He's in a rural part of Roanoke County, where overall there had been 132 COVID-19 cases as of Friday, according to the Virginia Department of Health.
As a sole proprietor, Harris knows how devastating a hit like this can be for a small business, especially considering how short the window is for trailside hostels. In Virginia, the busy season starts in mid-March and is over by early June.
"I've never sat down and figured out what I had in my bank account and how many months I could live for," Harris said. "I was like 'OK, I can do this.' "
Harris recently received her first unemployment check, which she used to pay her staff.
Day hikers emerge
While these towns do rely on the trail for business, there is also a concern that hikers could be transmitting the virus up and down the coast.
Someone completing the AT travels through 14 states and countless towns. While the majority of the trail is in remote areas, thru-hikers have to go into towns at least every four or five days to resupply themselves.
"This is more states than I've ever visited in my entire life, and I'm doing it during a pandemic," Welch said.
Many people have said they support the thru-hikers' decision to stay on the trail as long as they practice social distancing measures and wear masks.
Lugo doesn't believe the hikers are endangering anyone. He compares it to his home of New York City. He said that even with social distancing, he probably encounters more people on a trip to the grocery store than thru-hikers do on the majority of the 2,190-mile trail.
But as states begin to reopen, that's becoming less and less true.
Since starting the trail 1,000 miles and three months ago, Welch and Passante have seen an average of five people a week.
When they got to Bear Mountain State Park in New York state a few days ago, they were shocked. There were thousands of day hikers at the park.
"It's insane out there," Welch said. "As soon as you get near a public area there [are] thousands of people. They all migrated from [New York City]. It's crazy, being in the epicenter of the pandemic, basically. Nobody's wearing masks. Nobody's social distancing. It's very shocking for us having been in the woods though this whole thing and coming out to see thousands of people."
Even if it is possible for people to social distance on most sections of the trail, it's only because so many other people left the trail early on.
There are typically over 1,000 people who hike the AT each year, leading to crowded campsites and shelters.
Harris worries that those who have disobeyed the ATC's instruction are being "rewarded" with an even better experience than they would have had in a typical year.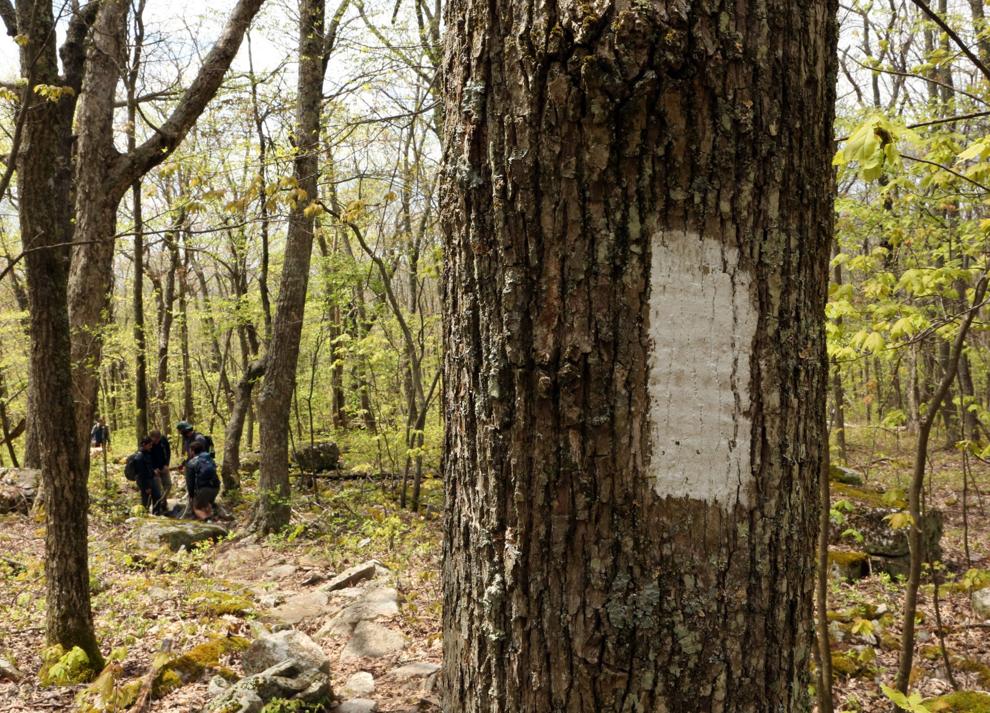 A chapter of history
While most Americans have been forced to stay at home for the past few months, Lohrman has been absent.
She hasn't experienced the Zoom calls, working from home, or the drive-by birthday parties and graduations that have become their own culture amid the pandemic.
She's hardly heard anything about the Black Lives Matter protests that have sprung up around the country in response to the death of George Floyd in Minneapolis.
Thru-hikers are typically able to check the news every few days, whether that's on a smartphone or from a newspaper when they reach a town. But neither Lorhman nor Welch feels particularly connected to what they've read.
These things could be happening in a different country or even on a different planet.
"Thirty years from now, when somebody talks about the pandemic and the riots, our story is going to be that we were literally off the grid walking from Georgia to Maine, and we had nothing to do with it," Welch said. "We were living our own lives in the woods when everybody else was locked down inside their homes. We were the free ones, and everyone else had their freedom kind of taken away."
Harris believes that it's important to step away from the news from time to time and that there's a healing power in nature.
Lugo agrees completely. When he was hiking, Lugo felt he was finally able to have a complete thought. He could have deeper conversations about life, the government and race.
This is one of the reasons he is working to increase diversity on the Appalachian Trail, historically an extremely white community.
In 2012, Lugo was the only black or Latino person who completed the AT. Since then, he has been an influential member of the hiking community, writing about his experience as a person of color on the trail and speaking at events across the country.
He believes it is primarily an issue of education — people in black and brown communities aren't always aware of opportunities like the Appalachian Trail.
While the AT feels very removed from the Black Lives Matter movement, both Lugo and Harris believe the trail is the right environment for discussions about race.
Lugo found white hikers to be open to conversations about race even if it was as simple as mentioning that they hadn't met a lot of black hikers. While the interactions were awkward at times, they never came off as offensive.
"When you're on the trail, and you're at a shelter with someone with a completely different background than you, you could care less about coming from different backgrounds," Harris said. "You're just glad to have company because you're lonely. … There's a healing that happens to our whole psyche, and it happens, not because of some agency. It happens because we're interacting with each other in a really wholesome environment."
Harris believes that regardless of the trauma — whether it stems from drug addiction, racial injustice or any number of other things that bring people to the Appalachian Trail — change starts on an individual level.
"If I need to hike in order to change me," she said, "I need to hike."