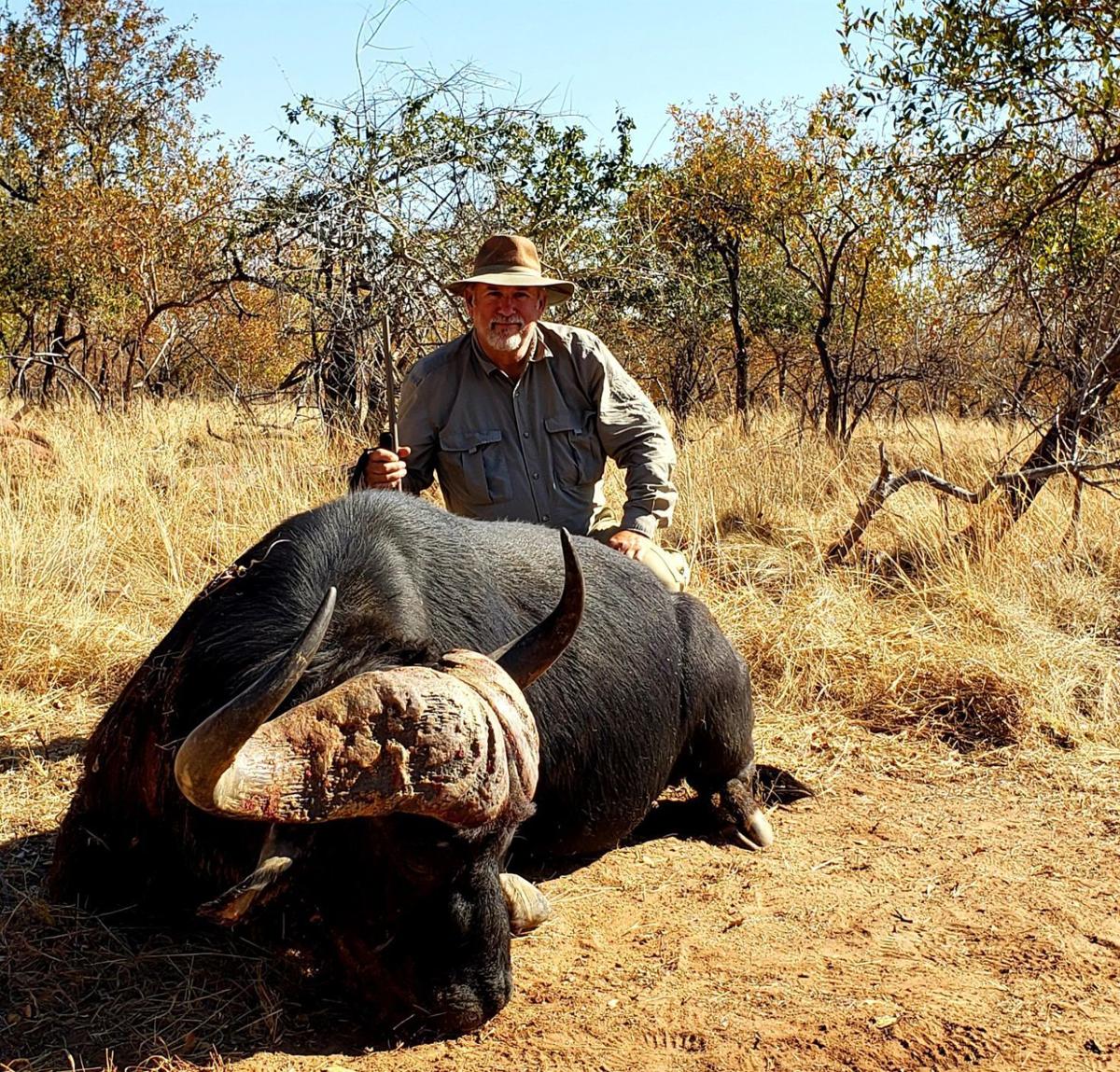 That was a question, rhetorical I believe, posted by a Facebook 'friend' when I shared a photo of myself with a cape buffalo I shot in South Africa a few hours earlier.
Another photo of me with an old sable antelope prompted a "Honestly, it's kind of sick." comment.
Most comments were congratulatory, expressed by others who have enjoyed big game experiences here and abroad. I recognize that not everyone shares my enthusiasm for hunting and the outdoors. It seems, though, that those African animals triggered some sort of evil "trophy hunter" sentiment. Anti-hunters use that term to malign hunters and spread lies and disinformation, usually claiming meat is wasted or something similar.
I rarely respond to snarky comments but saw an opportunity to share facts about hunting in Africa. Regulated sport hunting not only has resulted in the restoration and preservation of many iconic African species and their habitat, but it also supports many rural economies.
Extensive studies show that Kenya's wildlife populations plummeted 70 percent in 40 years once sport hunting was banned. Wildlife, once valued, was quickly seen as bush meat and poacher prey instead of paying for conservation and hundreds of jobs in many small communities. Hunting funds ranger patrols designed to deter and catch poachers, especially those killing species that are truly wasted, such as rhinos slaughtered just for their horn to feed insatiable, insane cravings in countries like China.
Yes, trophy hunters usually retain heads, hides and horns of legally hunted species, shipping them home, providing income for taxidermists and freight companies. For many hunters, those mounts are time machines, summoning the sights, smells and sounds of the adventure and recollections of friendships made.
The U.S. Department of Agriculture doesn't allow wild game meat importation from Africa. Besides, travel times typically exceed 24 hours; it would be impractical anyway. Meat from game animals is carefully processed, sometimes sold and sometimes distributed, making its way back to the people, except for the small portion hunters enjoy in camp.
As one friend puts it, "When was the last time you bought a side of beef and donated all the meat?"
So, I don't apologize for being a "trophy hunter," whether it's a trophy on the wall or a meal for family and friends. Other than the expense, I see little distinction between traveling to Africa for an adventure or sitting in a tree stand or blind to shoot whitetails.
My friend who made that "sick" comment later said he respected my opinion. Sometimes, that's the best we can hope for. He also sought my advice on selecting a deer-hunting rifle for his teenage grandson. I hope the kid grows with the gun and becomes a safe, ethical and successful hunter.
A 50-Year Dream
I grew up reading African safari stories by Teddy Roosevelt and Ernest Hemingway, whose descriptions fueled dreams of hunting Africa.
My grandfather was an artist. In the early 1970s, I found on his dusty workbench an old Remington calendar. A painting of a cape buffalo chasing a terrified tracker while hunters readied their guns seized my attention. I painted my own version, using a palette knife. I later learned the original painting is "Turning the Tables," by artist Bob Kuhn.
The original plan was to travel in 2020 to South Africa's Limpopo region to hunt with Phillip Bronkhorst Safaris, the same outfitter I used in 2015 when I took a superb southern greater kudu, a blue wildebeest and an impala. Bronkhorst's tented safari operations are luxurious, especially by bush standards, with quality gear and equipment, delicious food, and capable professional hunters and trackers.
Losing an entire safari season in 2020 devastated many African outfitters and the staff who depend on foreign travelers spending money.
My Mossberg Patriot chambered in .375 Ruger and topped with a GPO scope was ready. A .375 is the minimum caliber allowed for hunting dangerous game in South Africa. The 1-6x24 scope can quickly zoom out to a wide field of view.
Bull Down!
We first practiced shooting off sticks, customary in Africa. Pieter Taylor, my assigned professional hunter, described what a charging buffalo looks like, its head bobbing as it thunders forward.
Most hunts don't end with a charging animal, but things can get serious quickly depending on how close you are when you shoot, the number of buffalo, shot placement and the animal's demeanor. Buffalo can be ornery.
"It's your hunt, sir. I will shoot only if there is imminent danger," Taylor said, as he fired a couple shots from his hefty .450 Lott side-by-side.
My butt was dragging slightly after three consecutive mornings of several-mile hikes, following tracks in the sienna-colored sand. Following chilly daybreaks, temperatures sometimes reached the low 80s by afternoon. Acacias and other thorned tree and shrub varieties occasionally tugged at my hat, sleeves, socks and boots.
A substantial buffalo herd inhabited the vast hunting area. Taylor wanted an old "dugga boy" he saw on an earlier hunt. Kudu, impala, gemsbok, ostrich, eland and more alternately froze or bolted as our vehicle rolled along.
Each morning we found and followed buffalo tracks, twice coming close–30 yards once-but unable to get a shot. Another encounter came after we located two bull buffalo that had chased a ranch hand riding an ATV.
My buffalo hunt ended on day five.
Dense thickets amid scattered scrub brush punctuated the sloping terrain. Buffalo like these shaded thickets. A couple of hours into the morning, our tracker Juscias raised his fist. Stop! There, 170 yards ahead, several buffalo were in thicket.
We moved slowly, using trees and brush for cover. The wind was in our favor. At 110 yards, Taylor whispered he didn't think we could get closer. He set the shooting sticks. I rested the Mossberg, dialing the GPO to its highest magnification.
Only one of the three or four bulls present offered a shot, a mostly frontal look, quartering ever-so-slight to the left. I aimed just above the point of the bull's right front shoulder, let out a breath and squeezed the trigger.
The buffalo burst left from the thicket. It seemed like minutes, but it was only seconds later when Juscias said, "Bull down."
We carefully advanced, mindful that many "dead" buffalo resurrect for final mayhem, but the old bull was down for good, the Hornady 300-grain DGX bullet capably doing its job.
The ending of any quest prompts a certain reckoning and solemnity; not that the moment was anticlimactic, but there was a realization it was over. I apologized to the old bull and thanked him for the many meals he would provide.