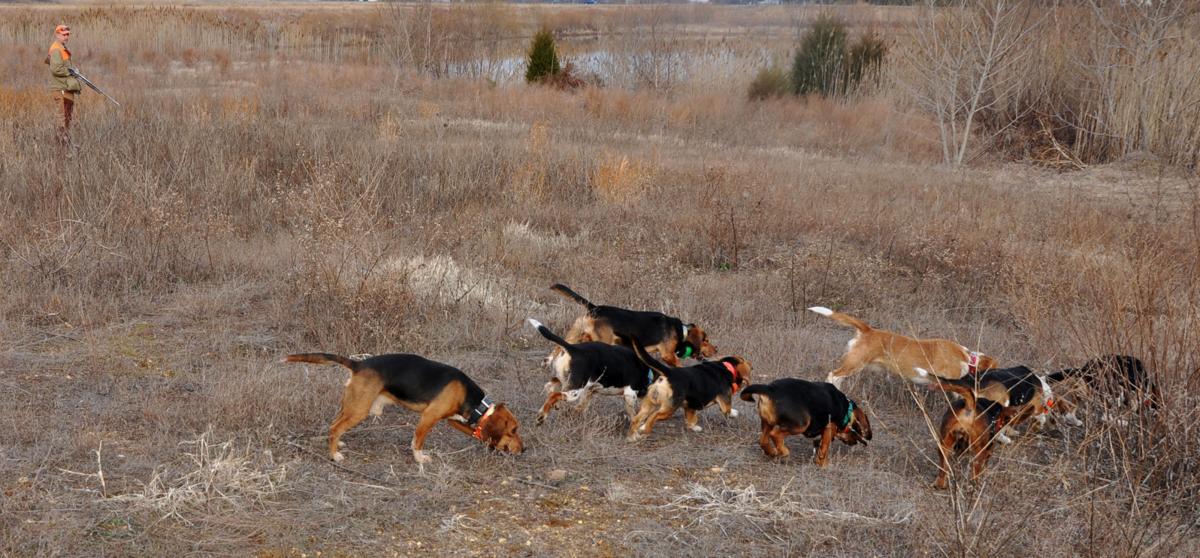 The deadline for public comment on the Virginia Department of Wildlife Resources' proposed wildlife regulatory changes is Monday. Many proposals are being considered, among them new elk hunting regulations, deer and muzzleloader hunting modifications, and a somewhat controversial recommendation to allow all-day, all-season spring gobbler hunting.
Also included are proposed changes related to rabbits.
The agency is moving with urgency due to the spread of Rabbit Hemorrhagic Disease Virus Serotype 2, an incredibly virulent disease that has impacted rabbits in 40 countries.
According to the House Rabbit Society's website, RHDV was first seen in China in 1984 but was thought to have originated in Europe.
There have been confirmed cases in Europe, the Mediterranean, Africa, Asia, North America (Mexico, United States, Canada), Australia, and New Zealand. It has been documented in 12 western states, plus Florida and an apparent single isolated case in a domestic New York rabbit.
Interestingly, according to a National Institute of Health publication, the rabbit hemorrhagic disease virus was widely used in Australia and New Zealand since the mid-1990s to control wild rabbits, which were considered an "invasive vertebrate pest in these countries."
As viruses like to do, though, the original disease began changing. In January 2014, (again, according to the NIH document) an exotic RHDV (the version 2) was detected in Australia, and eight additional outbreaks were reported in both domestic and wild rabbits in the 15 months following its detection.
The issue has been on the DWR radar since last year. Marc Puckett, DWR's small game project lead, and Dr. Megan Kirchgessner, DWR's wildlife veterinarian, gave me the lowdown on the disease and the agency's efforts to keep it out of Virginia.
This variant of the virus spread across Australia in 18 months. It arrived in the southwestern U.S. in April 2020 and has spread as far east as central Texas and the Colorado/Kansas border. So far it appears to be spreading more slowly in the USA than in Australia.
The RHDV2 virus is spread in about every way imaginable: through direct contact with an infected live or dead rabbit or via contact with vegetation, soil, bedding, etc. that is contaminated with the virus. The virus persists in the environment for many weeks on a carcass and just a small viral load is required to infect a rabbit. It can race through a rabbit population, killing up to 80%.
Fortunately, the experts said, the disease is "not a zoonosis — meaning it is not transmissible to humans." The only species affected are "lagomorphs — all rabbits, hares and pikas." In Virginia this would include eastern cottontails, marsh rabbits and Appalachian cottontails and perhaps a very few remnant snowshoe hares in our highest northwestern mountains.
Other animal species spread the virus when they move infected rabbit carcasses.
The DWR formed a working group, led by Kirchgessner, more than a year ago to address the disease. The group provided information to rabbit field trial clubs and many rabbit Facebook sites.
A broader fact sheet highlights the threat for both rabbit hunters and rabbit owners.
The agency's small game committee proposed the new and changed regulations being considered this spring. The aim is to limit the movement of live-caught wild rabbits to the county of capture; allow only fully dressed carcasses of rabbits killed out of state to enter Virginia, with nonedible remains disposed of in the state where harvested, following that state's guidance; and requiring proper disposal of all nonedible parts of rabbits harvested in Virginia.
This means buried two feet deep, or incinerated, or double-bagged and disposed of at a permitted landfill.
Rabbits do not capture the big game interest of deer or wild turkeys. Still, protecting small game species is critical to our Virginia outdoors experiences. I know I love the opportunities I get to join in fun beagle and rabbit adventures.
Importantly, this disease does not discriminate between domestic and wild rabbits. People raising domestic rabbits need to learn how to minimize chances of this virus spreading in Virginia.
Puckett and Kirchgessner urge hunters and domestic rabbit enthusiasts to do what they can to prevent the introduction of this disease into Virginia. Their working group collaborated with the Virginia Department of Agriculture and Consumer Services to develop factsheets for rabbit breeders, rabbit fairs and shows, and pet rabbit owners.
A risk reduction and response plan is in the final stages of preparation, Puckett said. The plan will provide DWR a framework to minimize the risk of introduction of RHDV2 into Virginia, confirm RHDV2 in wild rabbit populations soon after its introduction, and minimize the geographic spread and reduce rate of transmission of RHDV2 post-introduction.
Succinctly, releasing domestic rabbits into the wild is illegal and dangerous to wild populations. Don't do it! Don't move rabbits outside of their county of capture. Finally, stay vigilant for finding groups of rabbits (more than three) dead in a small area over a short period of time. Report findings to the nearest DWR regional office or to the Wildlife Helpline at 855-571-9003.
For more wide-ranging outdoors coverage, including photos, video, wildlife cooking and more, see Ken Perrotte's weblog at outdoorsrambler.com.