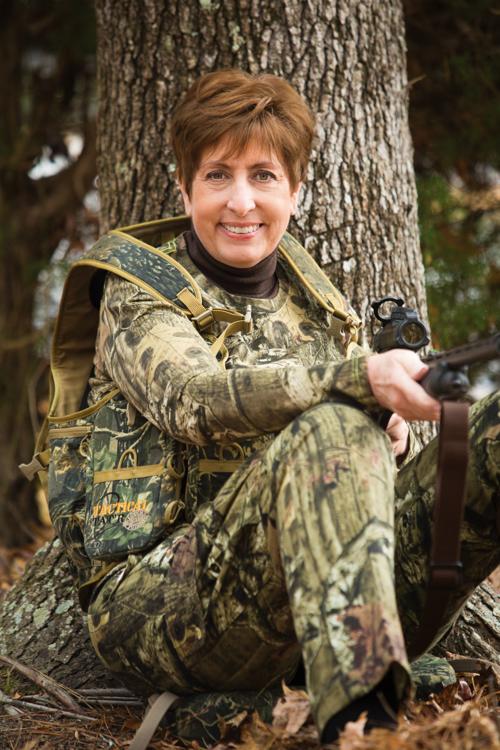 Diversifying the face of the outdoors when it comes to conservation was the thrust of a keynote speech delivered last week by Rebecca Humphries, the National Wild Turkey Federation's chief executive officer, to the annual conference of the Association of Great Lakes Outdoor Writers.
Humphries told the assembled outdoors media and hunting and fishing industry partners gathered in Gaylord, Michigan: "For us to be more sustainable, we have to be more diverse."
Humphries is a longtime conservation leader who capped her 32 years of service with Michigan's Department of Natural Resources by serving as its director for seven years.
Before joining NWTF, she was Ducks Unlimited's director of operations in the Great Lakes/Atlantic Region.
Humphries highlighted some of America's most iconic conservationists: Teddy Roosevelt, John Muir, Aldo Leopold and Gifford Pinchot.
Overlooked, though, in the greater conservation story are other icons, women such as Sarah Platt-Decker, Leila Pinchot, Mira Lloyd Dodd, Lydia Phillips and others who energized movements to protect animal and bird species from overharvest and to restore America's natural resources and forests.
"Man, the maker, had left it to woman, the money saver, to preserve the resources — and placed women squarely in the conservation movement," Humphries said before outlining the dawn of "The General Federation of Women's Clubs," founded in 1890 with chapters in every state.
"They selected women knowledgeable on forestry issues in each state to lead forestry committees. These committees led efforts to reduce paper waste, pick up trash and beautify communities by planting trees and shrubs. These groups had enormous impacts on both state and national conservation efforts," Humphries said.
In the late 1800s and early 1900s, women were at the vanguard across state and federal efforts to protect watersheds, establish forest reserves and even ban the practice of using ornamental bird feathers on fancy hats of the era.
"The first Audubon Societies were started in 1886 and grew to 30,000 members in six months," Humphries said, noting that women made up more than half the membership by 1915.
As new institutions, grounded in scientific endeavor, moved to the fore of natural resources management, women's roles in the greater conservation story were mostly silenced. Science was, after all, a male-dominated field.
"At the 1913 Conservation Congress, only one woman spoke, and she was from the Red Cross. Many of the early woman leaders were not invited to forums on conservation, and conservation grew into a male occupation and advocation," Humphries said.
Humphries graduated with a bachelor's of science degree in wildlife from Michigan State University. There were only four women in her class of 400. Surveys of university programs show women now comprise more than 50% of the graduates in fields such as fisheries, wildlife, zoology and forestry.
"Even when I was a kid, I was told to consider a different profession," Humphries said. "Luckily I had people in my life to encourage me to pursue natural resource conservation."
A week prior to her AGLOW address, she met with CEOs of several new conservation organizations, including Outdoor Afro, Hunters of Color, the Minority Outdoor Alliance and the Hispanic Access Foundation.
"During our time together, we had an opportunity to discuss their efforts to forge new entry points into the lifestyles of hunting, fishing and outdoor recreation for nonwhite Americans," Humphries said. "The landscape is changing and so are the people. If we are going to ensure that these resources endowed to all of us as Americans are conserved and managed, the face of the people who conserve and revere them needs to be more representative of what America looks like.
"We have to be inclusive of people of all races and backgrounds."
Humphries explained that her generation talked about recreational or sport hunting specifically to differentiate it from market hunting. Today, though, hunting for sport or recreation is not well supported among the public, she noted. Hunting for healthy, sustainable food, however, is well accepted.
"In fact, our American public now supports regulated hunting for food at a much higher rate than just 20 years ago," Humphries said.
Females continue to be the largest growth segment in both the hunting and angling worlds. Humphries applauds the evolution of the outdoor recreation industry away from the "shrink it and pink it" women's products of the recent past. She notes that several companies now make technical clothing and gear for women and are increasing their marketing to nonwhite hunters.
"While we have talked for well over a decade on the need to bring in a younger, more diverse population of hunters, many companies and organizations still cater almost exclusively to the older white male," Humphries said.
Nonwhite hunters account for only 4% of the hunting population, but their numbers are growing, she said, adding, "Learning about their heritage in conservation is extremely important to them."