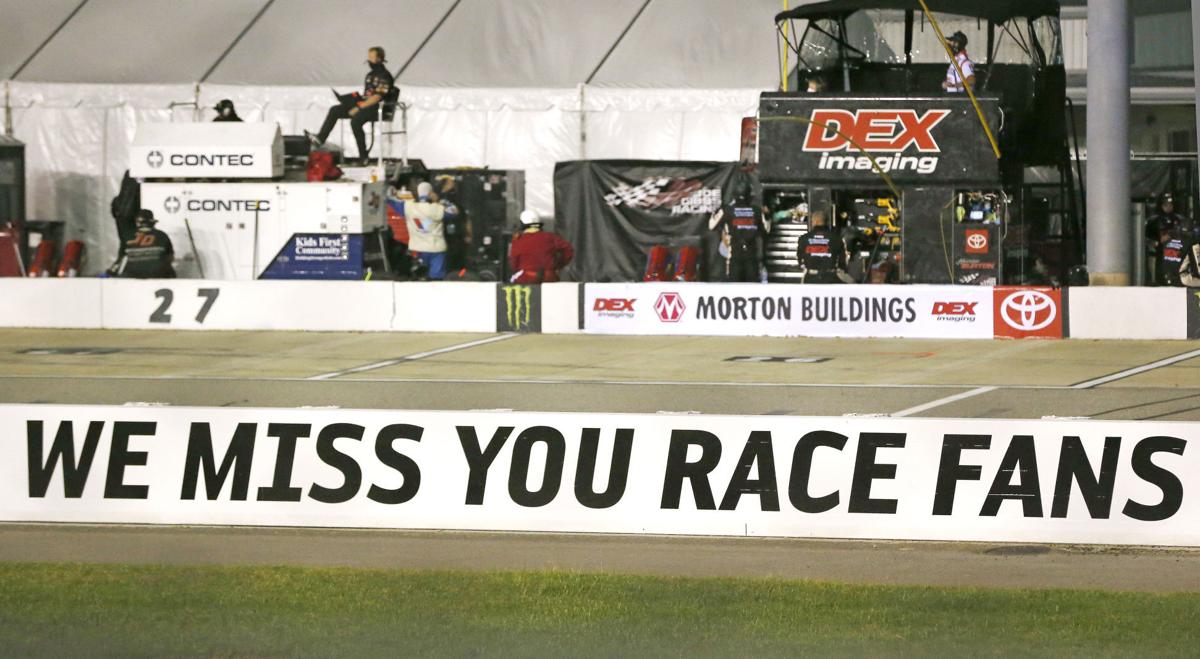 More than 30,000 fans witnessed Sunday's Daytona 500, America's largest sports gathering since the COVID-19 pandemic struck nearly a year ago. One week earlier, nearly 25,000 attended the Super Bowl in Tampa, Fla.
The NCAA announced Friday that it will seat up to 25% of capacity, with physical distancing, for all rounds of the Division I men's basketball tournament. The entire competition will be staged in Indiana, where health officials approved the NCAA plan.
Those marquee events are further signs of our crawl back toward normality.
Sports have been trending that way since fall. Major League Baseball allowed 10,000-plus spectators for the World Series, staged entirely in Texas. The College Football Playoff final last month in Miami Gardens, Fla., had nearly 15,000 in the stands.
Such crowds were dictated largely by percentage-of-capacity and distancing parameters established in cooperation with government and health officials, an approach business types representing Richmond's NASCAR track, minor league baseball franchise and United Soccer League club hope Gov. Ralph Northam will adopt for the state.
For outdoor venues such as Richmond Raceway, The Diamond and City Stadium, their request is reasonable. Experts can determine the most rational percentage — 10, 15, 25? — but the all-encompassing maximum of 250 people has outlived its usefulness.
Outdoor venues notwithstanding, the spikes also likely preclude larger crowds for the Colonial Athletic Association's delayed 2020 football season at Richmond, William & Mary and James Madison this February, March and April. The same applies to spring football scrimmages at Virginia Tech and Virginia.
The best hope for college football faithful is the 2021 season with its customary Labor Day weekend kickoff.
During last fall's college football season, I worked at four stadiums that allowed significant crowds: 18,735 at Clemson, 11,910 at Louisville, 9,940 at Miami and 5,240 for the ACC championship game in Charlotte, N.C. None of those contests, indeed no college football game, was found to have been a super-spreader event for COVID-19.
Small groups of families/friends sat together, properly distanced from similar clusters. Masks were "required," but enforcement and compliance were spotty.
That failure/refusal to mask is concerning as we try to inch closer to the pandemic's end. Nationally, infections, hospitalizations and deaths are declining, while thousands are getting vaccinated daily, though not in the numbers many hoped.
The last thing anyone wants is a setback.
Northam is expected to address sports attendance guidelines in Virginia this week, opportune timing for NASCAR, the Double-A Richmond Flying Squirrels, Richmond Kickers and other sports enterprises.
The first of Richmond's two Cup races this year is April 18, eight days after Denny Hamlin, Chase Elliott and friends compete at Martinsville Speedway. The Flying Squirrels unveiled their 120-game schedule Thursday, 60 at home, with a May 4 opener. The USL also is planning to begin its season in early May.
"Venues of larger size can — and should — safely manage more attendees," Flying Squirrels CEO Todd Parnell wrote in a recent Times-Dispatch op-ed. "We take that responsibility very seriously as operators every single day that we open our doors to welcome members of our community. We have always done that. We will continue to do that."
Parnell, Kickers chairman Rob Ukrop and raceway president Dennis Bickmeier acknowledge that beyond community service, their motives include business preservation.
The 250-spectator maximum "threatens both our club's viability, as well as our core mission of strengthening community connections by curating a joyful, authentic soccer experience in RVA," Ukrop wrote, also in The Times-Dispatch.
COVID-19 ripples have shuttered businesses, crippled others and purged jobs. The virus has hospitalized millions, traumatized countless and killed nearly 500,000 Americans. And heaven only knows the impact on our children's mental health and intellectual growth.
Assisting public health and the economy can be a harrowing tightrope for authorities to walk, but walk it they must, with no textbook to consult.
Look, we miss sellout crowds. We miss the stadium shaking, the arena echoing and the athletes responding.
Part of us even pines for the accompanying traffic hassles, be they on Laburnum Avenue approaching Richmond Raceway or on the interstates headed to a college football game.
What need not wait are measured steps allowing more folks to attend the events they love.