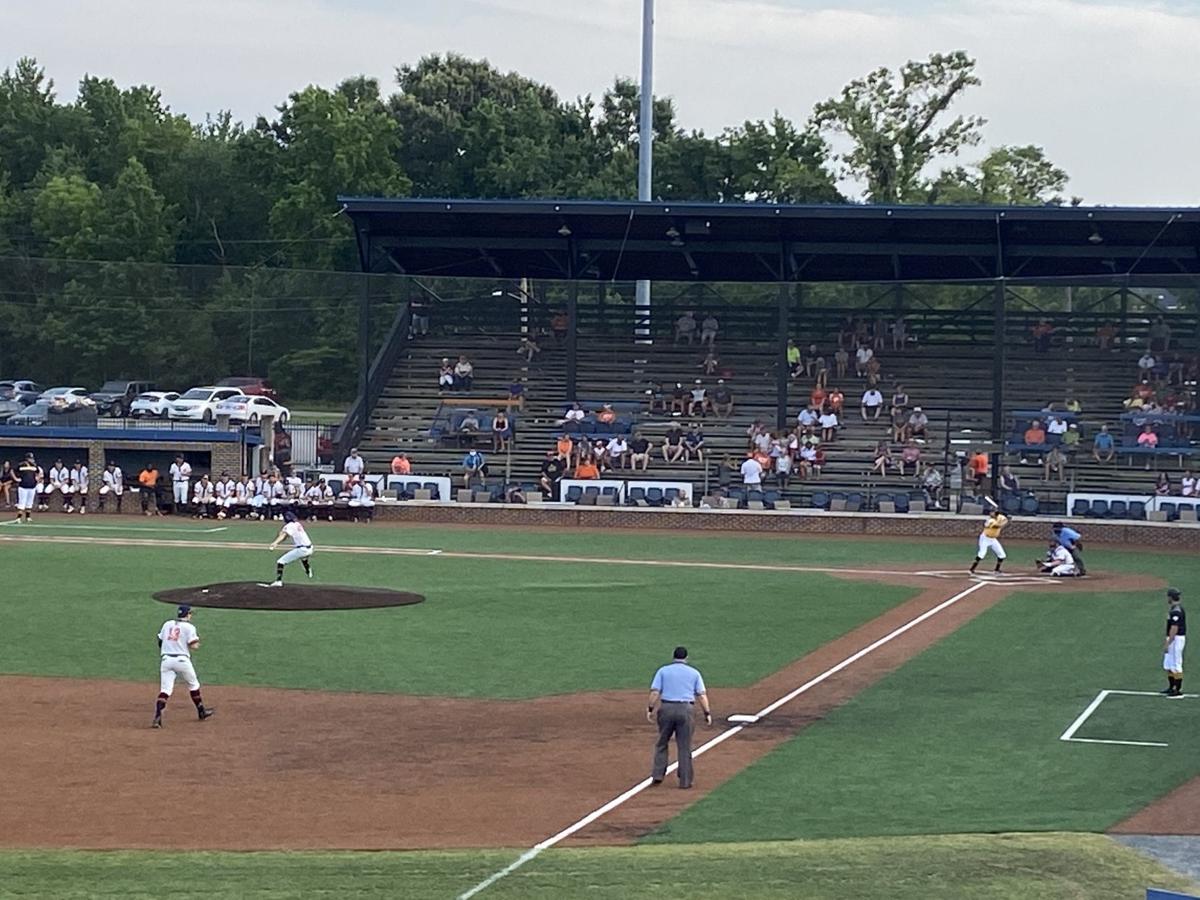 Kyle Battle was ticketed for professional baseball this summer, Nick Biddison for the renowned Cape Cod League.
Instead, both have returned for a second season with the Coastal Plain League's Peninsula Pilots. They couldn't be more grateful.
Playing the game they love? In front of more than 600 fans at Hampton's War Memorial Stadium? With much of the sports world still shuttered by the COVID-19 pandemic?
"We never thought that we would be told we can't play baseball," said Biddison, a rising junior at Virginia Tech and graduate of St. Christopher's School in Richmond. "What we had imagined is the time we stop playing baseball is going to be because our bodies tell us to stop. … We're a small percentage of college athletes playing right now, a very small percentage."
Indeed, a month after college baseball shut down in mid-March, the Cape Cod League and others canceled their summer seasons. Two weeks later, Major League Baseball shortened its annual June draft from 40 to five rounds, crushing the hopes of prospects such as Battle, a Glen Allen High graduate and Old Dominion senior.
But thanks to the NCAA granting an extra year of eligibility to spring athletes, and the CPL staging a half-season, Battle is playing outfield for the Pilots and preparing for a sequel at ODU.
"Without the NCAA granting that extra year of eligibility, I don't know if I'd still be playing baseball," Battle said. "Maybe I'd try and go play independent ball because the draft and free agency didn't work out this year, unfortunately."
Sunday night marked the Pilots' third of 28 CPL games this summer, their second at home. Attendance was 662, shy of the 900-plus capacity dictated by state reopening guidelines, and far below a normal season's 2,000 average.
Masked team staffers administer temperature checks at the gate, and online ticketing provides a database that would assist any contact tracing needed. Masks are required for entry, but once inside, most Sunday removed them.
Families and friends, no more than 10, are permitted to sit together, with those groups separated by at least 6 feet. Concessions, plus the traditional postgame meal for both teams, are limited to packaged food.
Restrooms are marked for social distancing, though I declined to venture inside for a compliance check.
Ranging from infants to seniors, Sunday's crowd was lively. Longtime fans reunited in the bleachers or stood along the left-field line, the latter vantage point adjacent to the beer window.
"I think we're off to a good start in that regard," Peninsula coach Hank Morgan said of fan safety. "We're counting on the respect and courtesy of our neighbors. We need buy-in. This isn't something we can do ourselves."
Pilots players, coaches and staff, about 50 total, were tested for COVID-19. All were negative, and Morgan said everyone will be tested at least once more.
Players and coaches do not sit together on the team's chartered bus, and most wore masks for last week's 300-mile roundtrip to Wilson, N.C. Rather than the communal water cooler, there are bottles of water in the dugout, and a sign on the clubhouse door says no more than seven players and three coaches are permitted inside at a time.
But during batting practice Sunday, unmasked players congregated behind the cage as usual. And once the game starts, vigilant social distancing is impossible, even with the team scattered on the field, in the bullpen and in or near the dugout.
"It's definitely different," said Biddison, Sunday's designated hitter. "Amongst us, once when we're kind of together, we try to do what we can, but it's pretty hard. … But people are very conscious about when they leave here because Hank has explained that you don't want to be the one that gets the whole CPL canceled. … I don't want to be that dude."
Morgan credited his father, team owner Henry Morgan, and CPL officials for summoning the patience to stage even an abbreviated season, with only seven of the expected 15 teams. Pandemic developments scrapped many of their plans, optimism ruling one moment, pessimism the next.
One reality hovered over every deliberation: Everyone was going to lose money.
"So this year is more about an investment into the culture, into the game and into the kids," Morgan said.
Once baseball was deemed feasible, the most pressing hurdle was securing host families for out-of-town players. That's rarely an issue, but given our global health concerns, some reliable hosts opted out.
Similarly, Biddison was not comfortable living for a month with strangers, so he is bunking with family friends in Virginia Beach and commuting 40 minutes each way to the ballpark.
Still, with a retention rate that Morgan estimates at 65%, enough housing was available.
"It's been one of those times in the country where Americans want to step up and help each other," Morgan said, "and we've felt that."
The Pilots (0-3) dropped Sunday's game to the Tobs 4-3. Biddison and Battle each contributed a hit, while Virginia Tech's Kevin Madden and Gavin Cross combined for all three Peninsula RBIs — Madden's seventh-inning solo home run was the team's first of the season.
'Twas a marked improvement from the 19-0 and 20-8 setbacks the Pilots endured from Wilson to open the summer.
Sunday's lone casualty occurred in the press box, where play-by-play man David Cunningham, a rising senior in Virginia Tech's Sports Media and Analytics program, dinged his right wrist trying to catch a foul ball in the bottom of the third inning.
"I knew there was a reason I played soccer," Cunningham texted Monday morning.
True to the evening's spirit of appreciation, Cunningham played hurt and continued the broadcast, the imprint of the seams visible on his wrist.
"It's been a reset, I think, for a lot of guys," Morgan said. "Where does this game fit into the big picture? A lot of people are realizing it's really important to them. So, the gratitude's been off the charts. …
"It [was] really difficult seeing [39] runs scored against us in two nights, and in a normal time I probably would have had a coronary by now. But it's not hard to remember that it's a hell of a lot better getting beat than not playing."
And for Battle, curbing his social life and spending much of the time inside his Norfolk apartment is well worth the inconvenience. The discipline keeps him and others safe, and affords him the opportunity to play baseball.
"It's a little strange, just because of all the precautions we have to take," Battle said. "But honestly, when we're out on the field, I don't feel any different. We're still just playing the game we love."