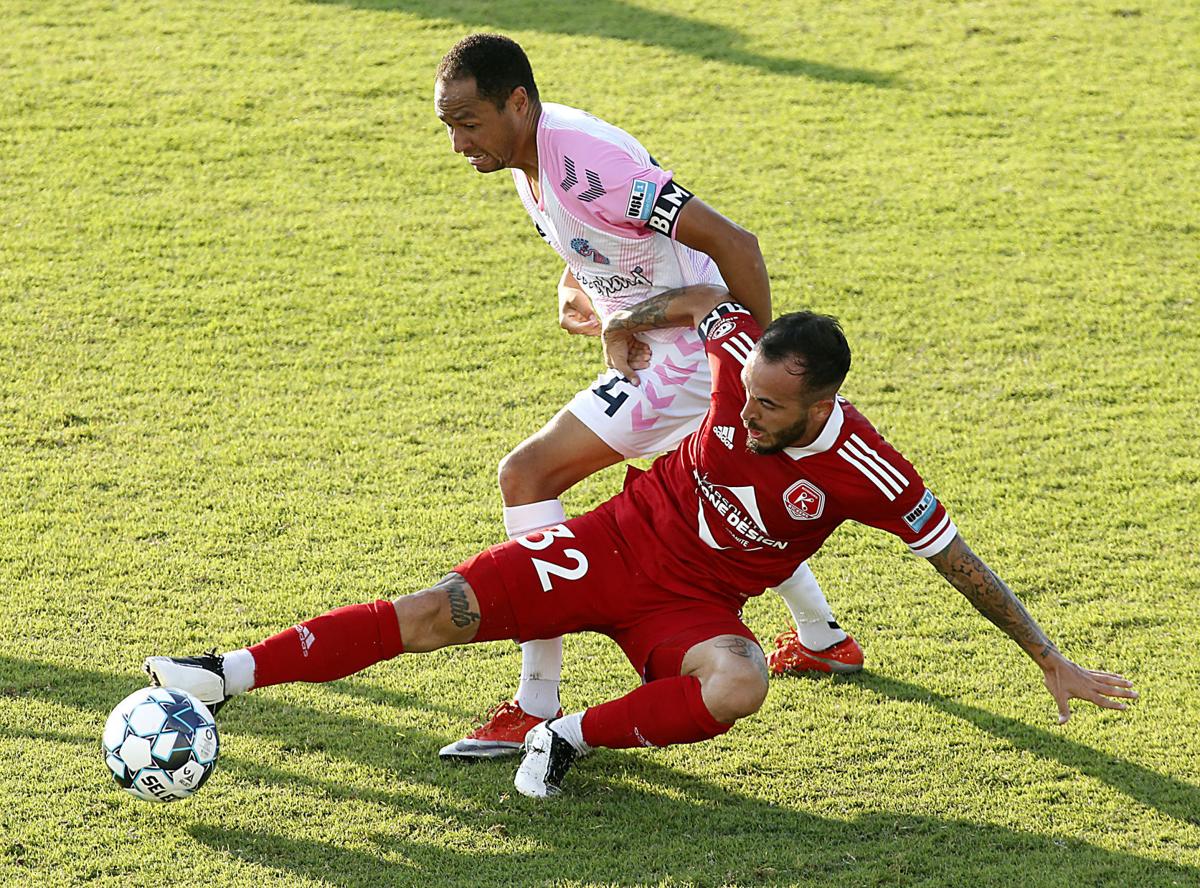 First year Kickers coach Darren Sawatzky is already developing valuable relationships in the Richmond community.
He said he's made quick friends with Flying Squirrels vice president and COO Todd "Parney" Parnell and VCU athletics director Ed McLaughlin. And ahead of the club's second home match of the young season Saturday against FC Tucson, Sawatzky hopes those relationships linking Richmond's major sporting institutions can continue to flourish.
"They're awesome people, super supportive and we're supportive of them," Sawatzky said. "We hope that they can get on the field as soon as possible, but until then, we want all the Squirrels fans here, we want all the people from VCU here. And we'll do the same for them. It's community based."
Sawatzky, who will face his former team Saturday in visiting Tucson (1-2), wants his current club to be more than a soccer team — he wants it to be a "unifier." And amid the ongoing pandemic, the importance of that role has perhaps never been more evident.
Because of the pandemic, the Kickers (1-1-1) are the only active major college or professional sports team in Richmond. Last Saturday, City Stadium hosted its first game of the delayed season, and 822 fans watched the Kickers earn Sawatzky his first win at the helm, 1-0 over Forward Madison FC.
"We want the community to be a part of this. We're not just a soccer team, we're a unifier of people in all walks of life," Sawatzky said. "To have that diverse group of people come and cheer us on, I mean, all of us have been sitting on our couches for five months. So that opportunity and that life that they bring us is just massive."
Defender Ian Antley, who notched his first professional assist in the win over Madison, said the limited number of fans in attendance Saturday were key in spurring the Kickers to a hard-fought win in their home opener.
After Antley found Argentinian native Emiliano Terzaghi for the opening goal early on, Richmond had to absorb some pressure from the visitors to grind out the victory.
"It was an absolute game changer, the fans at City are absolutely unbelievable. The Red Army, they're fantastic," Antley said. "My first time getting to play in front of them, I thought they brought great energy, a great atmosphere in the stadium. We definitely felt that late in the game."
As for Saturday's opponent, Sawatzky said there will be some friendly trash talk with his buddies at his former club. He's close with former assistant and now Tucson coach John Galas, a Spanish-influenced tactician whose team will get its outside backs involved in the attack and strive to control possession. Richmond sits at sixth in the league, two spots above eighth-place Tucson.
Keeping it clean: Richmond keeper Akira Fitzgerald has kept two consecutive clean sheets. Sawatzky said the 2019 USL League One goalkeeper of the year finalist is as good between the sticks as anyone in the league. Fitzgerald will look to make it three consecutive shutouts Saturday against Tucson, which has scored three goals in as many games this season, the same tally as Richmond.
A cultured attack: Terzaghi, a new signing this past offseason, has netted two of the Kickers' three goals thus far. Antley said he's developing a fruitful relationship with the vivacious forward. Sawatzky said the Argentinian, who is still learning English, has proved a major boon for the Kickers growing culture.
"Outside of soccer he's an insanely cool human being, he's very good for the younger players," Sawatzky said. "The culture that Emiliano brings is actually more important than his play, and his play speaks for itself."
(804) 649-6555
@ZachJoachim