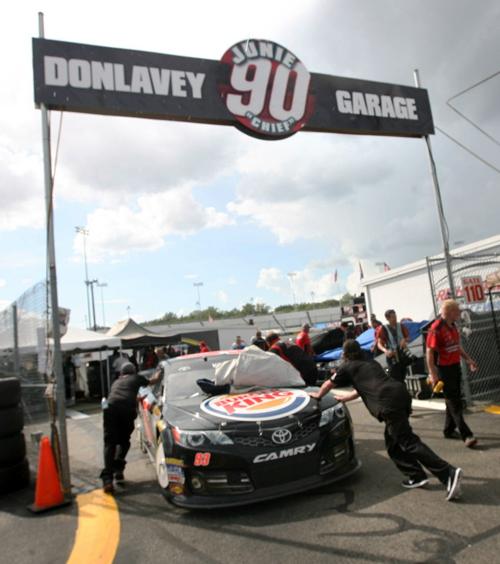 Donlavey's career honored at RIR
The legacy of Richmond native Junie Donlavey to NASCAR is being honored at Richmond International Raceway.
The Sprint Cup garage has been named the Junie Donlavey garage in honor of the owner who was a competitor at NASCAR's highest level for more than 50 years.
The track placed a sign over the entrance to the garage that says "Donlavey Garage" with the words separated by the number "90." That was the number on Donlavey's cars for almost all of his races.
Above the "90" is "Junie" and below it is "Chief".
Donlavey died June 9 at 90.
Circle Sport Racing has changed its Joe Falk-owned No. 33 Chevrolet to the No. 90 Chevrolet in memory of Donlavey. The names of the drivers who worked for Donlavey are on the hood of the car. David Stremme drives the car for Falk.
Ken Schrader, who began his career in NASCAR's top series with Donlavey, will lead a ceremonial pace lap before tonight's Federated Auto Parts 400. A video tribute to Donlavey will take place before the driver introductions and on the 90th lap.
Nationwide set to become Earnhardt's main sponsor
Dale Earnhardt Jr. has been insured by Nationwide since he got his driver's license and has been part of the company's national advertising since 2009. The "genuine relationship," he said, should make Nationwide's announcement Friday that it is taking over primary sponsorship for his team for the next three seasons "real comfortable and easy."
Nationwide already had a 12-race deal with Hendrick Motorsports to be on Earnhardt's No. 88 car and increased it to 21 races, including the Daytona 500. Earnhardt is debuting Nationwide's logo on his car this weekend at RIR.
"That Nationwide has already elected to grow the sponsorship sends a clear message about the opportunities they see and how well our teams are working together," said Rick Hendrick, owner of Hendrick Motorsports. "It's quickly become a strong relationship, and we're committed to building on that foundation and delivering results in every facet of the program."
The sponsorship prompted a question about when Earnhardt wrecked his personal truck. Earnhardt said he traded in a "hideous" truck his father bought him after he graduated high school for a truck he liked better.
"I had it for about three months and I flipped it on Christmas morning driving to Memaw's for a family reunion," he said. "There was a little snow off the road, but not on the road.
"I had gotten a Walkman CD player from my sister with a tape adapter. I was messing with that and drove it off the road and hit a driveway culvert and just flipped it over like six or seven times. It totaled the truck."
Earnhardt said he "got some good insurance on it and got me another truck."
"I don't think anything survived," he said. "Luckily I didn't get hurt."
"Keep your eyes on the road," he added. "That's all I can tell you."
Dillon lacks victories but not consistency
Quick question: Who has driven the most laps on the Sprint Cup circuit this season?
A logical response would be Jeff Gordon or Matt Kenseth, Joey Logano or Earnhardt.
All have had excellent seasons and all are in the Chase for the Sprint Cup.
But the correct answer is Austin Dillon, a rookie who drives the No. 3 car for Richard Childress Racing.
Dillon has been on the track for 7,270 laps this season.
"I think that is very special for us," Dillon said. "I think that is a really cool stat. I would like to run further up front more often, but consistency is a good thing.
"I want to be competing for wins. We start at the back of the field and work our way up front. And due to mistakes other people make, we inherit positions and stay in the race and keep ourselves in the race."
Dillon's consistency hasn't paid particularly high dividends. He's 20th in the standings with 674 points and has one top five finish and three top 10s. He has, however, won two poles.
And he is Kyle Larson's chief competition for rookie-of-the-year honors.
Gordon, by the way, is second in laps run with 7,254.
Kahne's Chase spot big deal for Hendrick
Kasey Kahne's victory last Sunday in Atlanta meant all four cars in the Hendrick Motorsports garage are in the Chase. Kahne joined teammates Gordon, Earnhardt and Jimmie Johnson.
"There are many things that lead into my happiness for Kasey and his team and the fact they're in the Chase," Johnson said. "One is just as a friend. I know how hard Kasey has been working. I know it's not been the best situation at times over the course of the year. And going on a long winless streak hasn't been easy on him.
"I'm happy for him as a friend and for our organization. It's important that all our cars are winning, and it's expected that all of our cars are winning. I think we also expect all four cars to make the Chase. When I look at the Hendrick campus and what it does for our organization, it's massive for all the people working there.
"And then you get into the sponsor side. And if one of our cars wins it, the upside of that for Hendrick Motorsports is massive. There are cash incentives and sponsor implications and all of that. That we like trophies doesn't hurt, either."
Hamlin fulfills pledge to Children's Hospital
Mary Lou Hamlin of the Denny Hamlin Foundation presented a $50,000 check to the Children's Hospital of Richmond at VCU and the Cystic Fibrosis Foundation on Friday from proceeds from the Denny Hamlin Short Track Showdown.
The donation is the final installment of a $150,000 commitment made in 2012 to the Denny Hamlin Cystic Fibrosis Research Lab at the hospital.
Hamlin's charity race was held at South Boston Speedway for the first time in April, after being at RIR for three years from 2011-2013. The race started in 2008 at Southside Speedway, where Hamlin cut his teeth during his ascension to Sprint Cup.
Late model driver Matt Bowling of Ridgeway won the 2014 race. The showdown will return to South Boston in 2015.
Paul Woody, Tim Pearrell, Billy Fellin