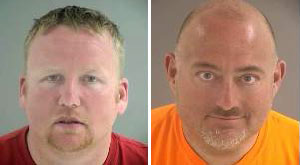 Two crew members for Richard Childress Racing were taken into custody and charged with assault after what Henrico County police described as a "physical altercation" in the infield area of Richmond International Raceway near the driver-owner lot after the ToyotaCare 250 Nationwide race Friday night.
Michael A. Scearce, 50, of Mount Ulla, N.C., was charged with two misdemeanor counts of assault, Henrico Police Lt. Linda Toney said in a news release. Thomas F. Costello, 35, of Kannapolis, N.C., was charged with one misdemeanor count of assault. The two were charged and released early today.
"One of the two adult male victims has a shoulder injury," Toney said.
The website for Richard Childress Racing lists Scearce and Costello as crew members for driver Brian Scott, whose team had a confrontation with that of rival Nelson Piquet Jr. on pit road.
The altercation began on the track between Scott and Piquet, who drives for Turner Scott Motorsports. Scott accused Piquet of ramming into him late in the race and doing more damage to his car, which already was damaged from a wreck with 50 laps left in the race.
After crossing the finish line, Piquet said, "A few laps from the end, the 2 (Scott) slid in front of me, I touched him, we both maybe spun, and I passed him. After the race, he door-banged me. He did the same thing to me in Martinsville, and I let that go. I'm not going to take any more from him."
After being "door-banged" Piquet used his car to bang Scott's left rear quarter panel, causing Scott's car to spin, and the two cars ended up facing each other.
Afterward, Scott approached Piquet, there was pushing and shoving and video of the clash shows Piquet kicking, or attempting to kick, Scott below the belt.
"Unfortunately we got caught up in that accident with 50 laps to go and we were trying to limp home to finish," Scott said. "Nelson ran us up into the wall and did way more damage to the car than what was already there.
"I went to talk to him, he pushed and shoved me and kicked me below the belt, which I thought was a chicken move. This isn't just a this race deal. He's got an issue with me from I don't know when. I've just had it."
The drivers were separated and walked away.
Later, Scearce and Costello were arrested on the assault charges. They were charged and released early Saturday morning.
A court date was not set.