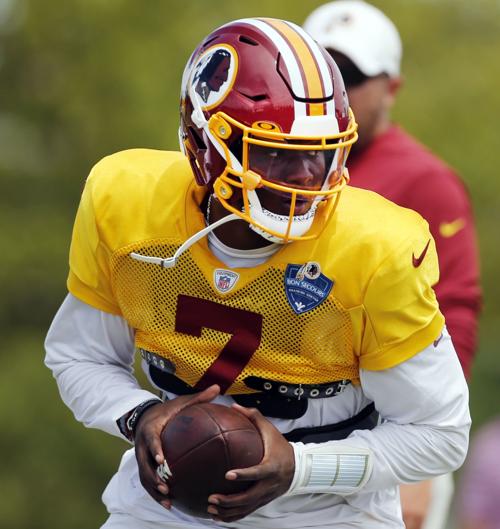 Halfway through a rookie season when he's taken hits on and off the field, Dwayne Haskins can take the first step toward changing that narrative on Sunday in Buffalo.
He'll get his first start of the season for the Washington Redskins, who have spent the past 10 days getting him ready for this moment.
Practices have featured a play clock, and he's expected to call the play, read the defense and be ready within the allotted time.
Teammates have encouraged him, and coaches have encouraged teammates to step up their game to get Haskins on track early.
With Washington 1-7 and having little to play for, how Haskins handles Sunday, and the rest of the season, will dictate how the Redskins approach the offseason and coaching search.
The rough start wasn't entirely his fault. Former coach Jay Gruden made it clear he didn't want Haskins before the draft, then showed little interest in playing him after it.
Gruden is out, now, and interim coach Bill Callahan has worked Haskins with the first-team offense for most of the past three weeks.
But other factors are within Haskins' control. He's been seen on the sidelines tuning out while the team's other quarterbacks, Case Keenum and Colt McCoy, are discussing defenses with position coach Tim Rattay.
In an unplanned appearance after Keenum's injury last week, Haskins looked lost at times at the line of scrimmage, as though he didn't know where to position players.
He said he's turned a corner, though.
"I think it's just a change in me," he said this week.
What caused the change? "Good question. A lot of stuff. I'm just excited to keep working."
Gruden's exit may play a role, but the rest is up to Haskins, and his teammates are encouraging him to step up and lead.
"I told Dwayne, man, just try to grasp it," left tackle Donald Penn said. "Try to get in your playbook. Don't be scared to be a leader and control. If you see something you don't like in the huddle, speak up. I said, 'Guys are going to respect that a lot more. Don't wait for one of us to do it.'"
At the same time, offensive coordinator Kevin O'Connell wants the burden shared, especially against a tough Bills defense.
"I've talked to some of our other leaders on the offense," he said. "Just to continue to be responsible for pushing the tempo in and out of the huddle, how fast we line up, how fast we can get personnel groupings in and out to allow Dwayne to focus on calling the play and then doing his job."
Callahan wouldn't commit to Haskins beyond this week, but the bye week follows, and then a home game against the beatable New York Jets, a soft landing spot for Haskins to make his home debut, provided he shows enough on Sunday to stay on that trajectory.
"I think we streamlined things that he can execute well and go out and perform," Callahan said.
1 Don't blink: The Redskins' last two games have been the two fastest games in the NFL this season. With the team committed to running the ball, there have been few clock stoppages.
2 Can Buffalo score: It's been treated as a given all week that Haskins will struggle against the Bills' defense, but it's fair to ask if Buffalo can produce any offense either. If the Redskins' pass rush produces against Josh Allen, this could be a low-scoring game.
3 Two legendary backs: Adrian Peterson and Frank Gore are winding down careers that will end with Hall of Fame inductions. Sunday marks the first time in NFL history both teams start a running back with 13,500 yards rushing. Gore (15,170 yards) needs 99 to tie Barry Sanders for third on the all-time list.
(804) 649-6546
@michaelpRTD