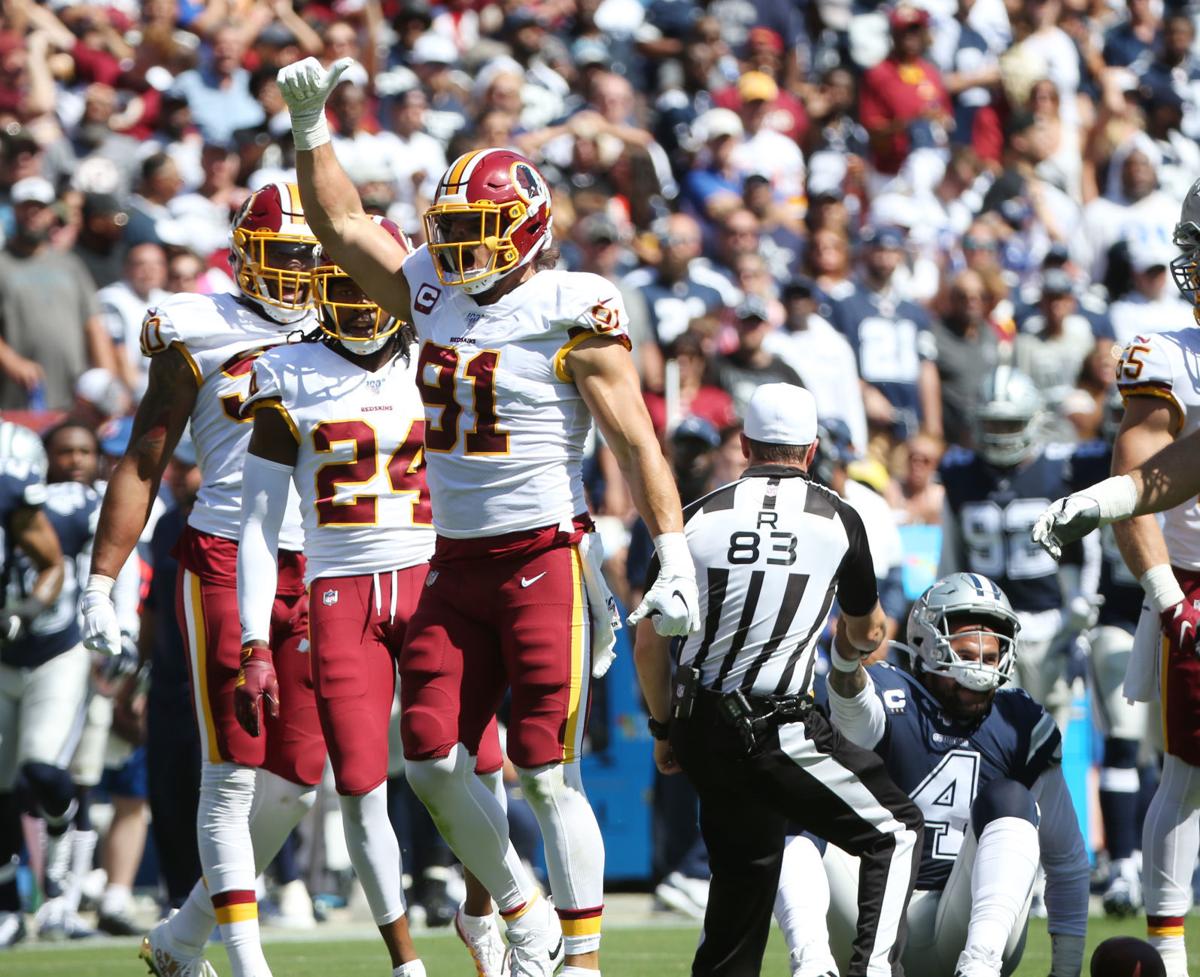 Ryan Kerrigan's gym in Northern Virginia was closed most of the spring, leaving him with few options to stay fit.
So the Washington Redskins linebacker got his wife to sit in the driver's seat of his car while he pushed it around a parking lot.
Kerrigan mentions this casually, as though everybody must be pushing cars around parking lots in these times.
"It sounds like a great feat, but it's not that heavy," he said with a shrug. "It's more of the distance that got me."
At one time, Kerrigan pushing a car around might have been the lead story of the day, when he was the star player in Washington. Now, he might not even be a starter.
That happened quickly, but it's something he understands.
"When you're, as a team, not having the success you want to ... fans and people look for new reasons to get excited," he said. "Fans should be excited about guys like Chase (Young). Hell, if I had the No. 2 pick I would have done the same thing."
The Redskins have arguably the best defensive line in football, with Young and Montez Sweat on the outside and Daron Payne and Jonathan Allen on the inside — all recent first-round picks.
Kerrigan belongs in the room — he's quietly been one of the NFL's most productive pass rushers the past nine years and will almost certainly retire as a member of the 100-sack club (he's at 90 right now; only 34 players have reached the century mark since the league began keeping the stat in 1982).
He's also not interested in forcing his way out, even though he could likely still be an every-down player in the NFL. He told his agent, and anybody else who would listen, in December that he wanted to stay in Washington for the rest of his career.
"Hopefully I'm here for the long haul," he reiterated. "I want to be here. They know where I stand, and I want to be here."
As for the changes on the team, he said he's not worried. He thinks he'll be just as productive in the team's new 4-3 defense as he was in the previous 3-4, and though he hasn't spent much time around new coach Ron Rivera, he likes what he's seen.
"We look real good on paper right now, but that will only get you so far," he said. "We have to go out there and prove it, go out there and work during training camp or whenever it is that we get together and make it happen."
Kerrigan also isn't worried about losing his edge. His production dropped off last year after three straight seasons of double-digit sacks, but then again, the whole team struggled in 2019.
"I know how I feel, I know what I can do," he said. "What I did last year was definitely not what I ever want to put on film again. I got away from some fundamental things that really prevented me from being productive like I usually am."
Now he's ready to get back to basics, alongside one of the team's most talented position groups, hopeful that his 10th season in Washington will be better than most of the ones that preceded it.
"You've got to go that extra mile in the NFL to be good," he said. "Whether that's studying more film or doing more treatment to make sure you're rested for practice the next day, you've got to do those little things. Hopefully everyone can really buy in and make that commitment and we can really make it happen this year."
(804) 649-6546
@michaelpRTD