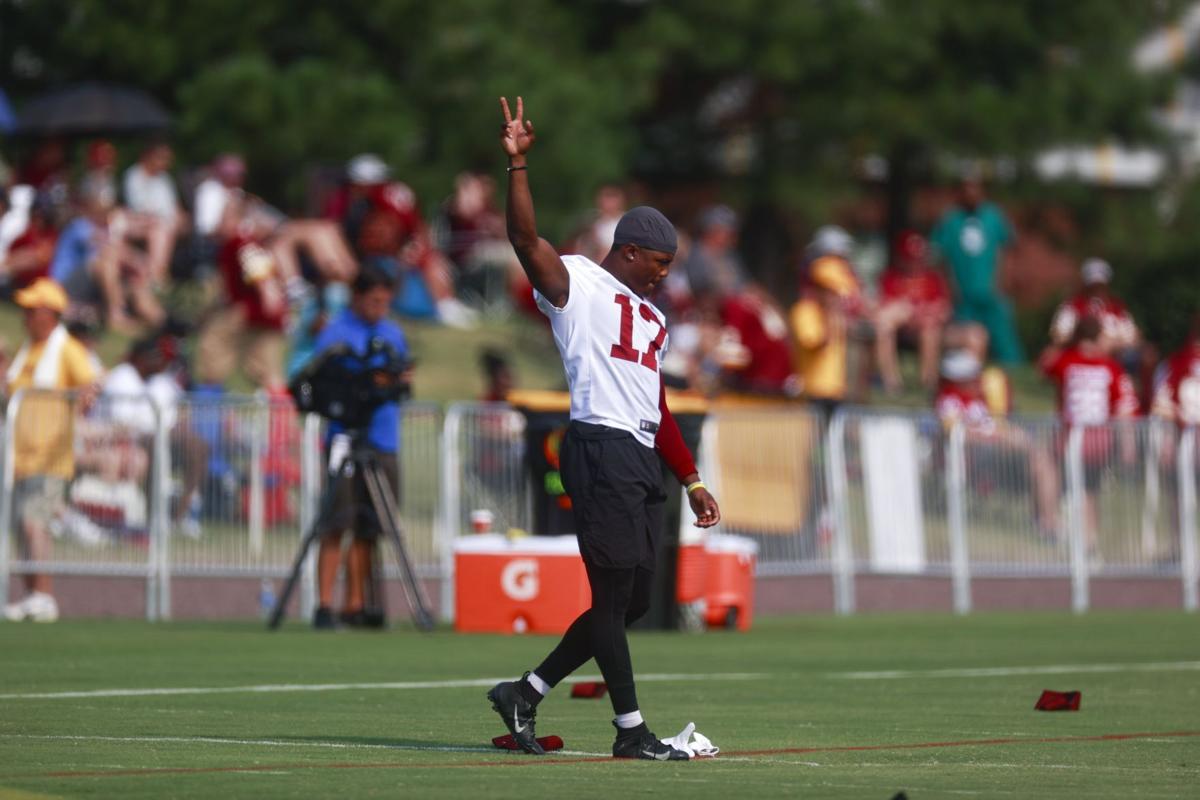 Watching great players battle other great players is always a treat, and fans at this year's Washington Football Team training camp have been able to see a world-class matchup each day.
Receiver Terry McLaurin has been matched up against free agent addition William Jackson III, the cornerback who was considered a rising star in Cincinnati.
The two have gone after each other non-stop during the first days of work in Richmond.
On Thursday, Jackson snagged an interception after McLaurin slipped (McLaurin objected to the contact), then later in the day, McLaurin pulled in a tough catch later and celebrated with emphatic clapping.
"Terry goes against some of the best," coach Ron Rivera said. "When you're competing against one of the best in practice, that's going to make you better."
The offensive line picture never fully comes into focus until the pads are on and the preseason games, but it's clear Washington is anxiously awaiting the return of Cornelius Lucas from the COVID list.
Charles Leno has stepped in and done a solid job at left tackle, and the interior three positions (Ereck Flowers, Chase Roullier, Brandon Scherff) are set with veteran experienced.
But with Lucas out, rookie Sam Cosmi has been given the right tackle spot, and it's clear the defensive linemen enjoy going up against him. That's not to say Cosmi won't learn, but it's a big leap from Big 12 competition to lining up against Chase Young.
Backing Cosmi up has been Saahdiq Charles, who hasn't received many opportunities with the first team.
Cosmi did make a nice fundamental play on Thursday, jumping on a loose ball immediately to ensure a fumble recovery.
Jimmy Moreland (JMU) seems to have an inside track at being the slot corner. His play in the preseason games will go a long way towards making or breaking that possibility — as well as whether Washington wants to get Benjamin St-Juste on the field right away, or stash him as a backup option behind Jackson and Kendall Fuller.
Battle in the trenches: Leno grabbed a big fistful of Montez Sweat's jersey on a running play. After the whistle blew, Sweat turned back to Leno and said, with a big smile, "That was some b, man." They shared a laugh.
Kyle Allen has looked really good on his ankle. Rivera said they're continuing to bring him along, but from a distance, it doesn't appear that he's struggling.
Play of the day: J.D. McKissic was outleaped by Cole Holcomb (Holcomb had about a foot on him in the air), but McKissic grabbed and wrestled the ball in on a pass from Ryan Fitzpatrick.
McKissic was one of the big surprises of last year's free agency class, and he's received a lot of action during the first two days. My hunch is he's playing the role of Curtis Samuel while Samuel continues to recover from a groin injury. Obviously McKissic can't replicate Samuel's explosiveness and speed, but he's more than holding his own and is at the very least a solid backup option.
Other play of the day: Kyle Allen found rookie wideout Dyami Brown for a long completion.
Lots of action for Adam Humphries. He's got a strong rapport with Fitzpatrick.
(804) 649-6546
Twitter: @michaelpRTD