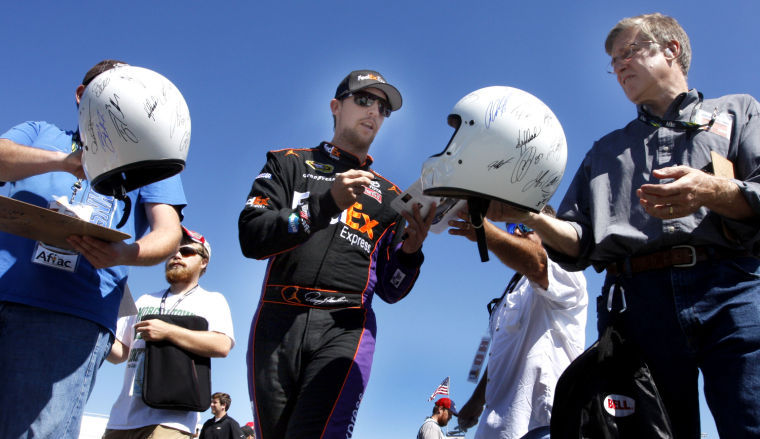 The sound of roaring engines returned to Richmond International Raceway on Friday as the Nationwide and Sprint Cup drivers prepared for the Virginia 529 College Savings Plan 250 and the Federated Auto Parts 400.
One driver not preparing at Richmond for Saturday's race was current Sprint Cup point leader Jimmie Johnson. Johnson was with his wife, Chandra, as the couple's second daughter was born in North Carolina at 2:02 a.m. on Friday.
The birth was announced on Johnson's Facebook page. Johnson later posted a picture on his Instagram account showing his three-year-old daughter Genevieve holding her new baby sister and announcing the child's name is Lydia Norriss Johnson.
Johnson's No. 48 Chevrolet SS was driven by Regan Smith in both practice sessions and qualifying. Smith posted the 11th quickest speed in the first practice, a 21.688 second run at 124.493 MPH.
Johnson will be back in the No. 48 car on Saturday and will start from the back of the field, due to not qualifying the car.
Johnson has three wins at RIR, five top-5s and eight top-10s.
Brad Keselowski posted the fastest time in the first practice in his No. 2 Ford Fusion, a 21.246 run at 127.083 MPH.
Keselowski, the defending Sprint Cup champion, is one of the drivers in need of a win to be eligible for the race for the wild card. He is currently 28 points outside of the top 10.