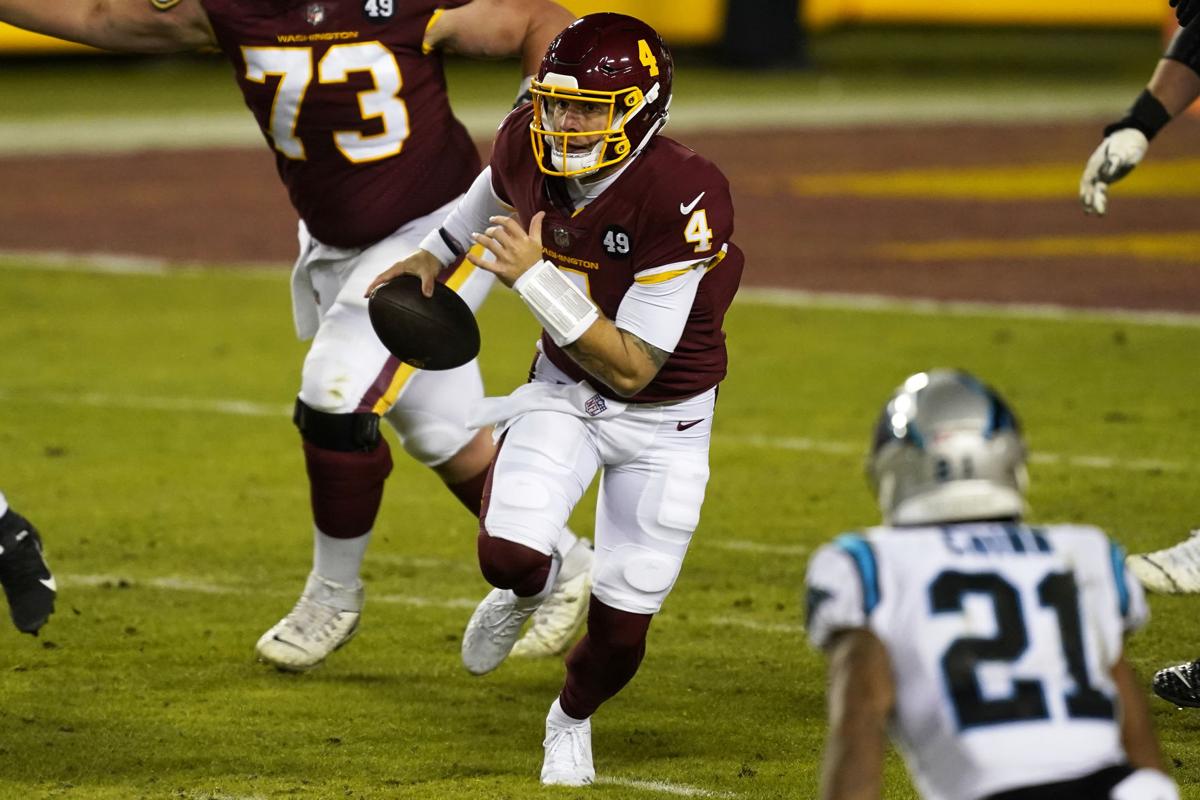 ASHBURN — In a season of tough choices, Saturday might present the most difficult one yet for Washington coach Ron Rivera.
He'll have to decide how long to stick with starting quarterback Alex Smith, who brought the team to this point but is clearly hobbled by an injured right calf.
Rivera is already planting the seeds of change. On Sunday in Philadelphia, he had backup Taylor Heinicke stay warm by throwing passes during commercial breaks.
While Smith was hurting Washington's offense in the second half, the Eagles gave Rivera the gift of not having to make the decision by sabotaging themselves.
It's unlikely Tom Brady and the Buccaneers will offer a similar opportunity.
Rivera said Tuesday he would consider a quarterback rotation, which would allow Smith to play portions of the game. It's an unorthodox arrangement, but it might be the only way to give Smith what he so desperately wants — a playoff start just two years after what appeared to be a career-ending leg injury.
At Thursday's practice, Heinicke took the majority of the snaps. Smith is officially listed as questionable to play.
Former NFL coach Tony Dungy will announce Saturday's game on NBC. He empathized with the decision Rivera has ahead of him.
"You're going to give him every opportunity, even if he's not 100%. If he can win the game, you want to let him do that," Dungy said. "The question becomes, how effective is he going to be? That's always a difficult call.
"But I can tell you any head coach is going to give his starting quarterback, his ace, every opportunity. He's going to bend over backwards to make that happen. It's only going to be a situation where you say, no, Alex really is going to struggle if we put him in."
In that moment, Rivera will have to decide if he wants to be Joe Gibbs or Mike Shanahan.
Near the end of the 1987 Washington season, Gibbs benched starting quarterback Jay Schroeder, who had led the team to a playoff berth.
At the time, Gibbs said he felt Schroeder, who had an injured shoulder, wasn't capable of leading Washington to the Super Bowl. Backup Doug Williams was, and the rest is NFL history.
Shanahan famously kept Robert Griffin III on the field in a 2012 playoff game, long after it was clear Griffin had torn an ACL in his knee and was operating at a fraction of his ability.
No situation is identical — Williams and Kirk Cousins were far more capable passers than Heinicke. But in the end, each came down to whether the coach would choose loyalty to the player or give his team the best chance.
Rivera has shown a willingness to make those tough decisions during his first year in Washington.
He's also shown a loyalty to Smith, who is the only quarterback who has had any success this season. After a loss to Carolina, Rivera was asked why that is.
"I think the clarity in which he speaks to the guys, the way he puts his little emphasis on specific things when he's calling the play and the confidence and swagger he has as a veteran guy," the coach said. "He tells the guys when he calls the play, he'll say, 'Hey, look, you've got this. If you see that, run this.' He'll give guys a little something to help them. I think that really helps those guys as well."
One thing to watch will be turnovers. Smith's style has been a perfect match for this year's team, which can win games with a dominant defense.
Smith, a smart passer, has had his most success when he avoids throwing interceptions and makes short throws to running backs Antonio Gibson and J.D. McKissic to keep drives rolling.
Sunday against the Eagles, he was able to do that at times in the first half.
By the second half, it was clear he had lost his touch. He missed a handful of wide-open opportunities to throw the ball, and a third-quarter interception on a bad pass to McKissic could have been devastating for Washington.
Given the ball inside the red zone, Philly made the decision to pass up a game-tying field goal on fourth-and-4 and instead turned the ball back over.
That spared Rivera the decision in the moment. Against Tampa Bay, the decision point could arrive much sooner.
Rivera was asked if there was anything he could do to keep the pressure off Smith. That's when he first broached the idea of a rotation.
"Honestly, the thing that we have to be willing to do and what we really have to think about it whether or not to rotate him in and out with Taylor," Rivera said. "We have to look at it. There's nothing you can do about it, that's the truth of the matter. We're going to play a very aggressive defense this week. Obviously, it's something we most certainly have to look at."
Whether he pulls the trigger on a switch could end up being the biggest play of Saturday's game.
(804) 649-6546
Twitter: @michaelpRTD