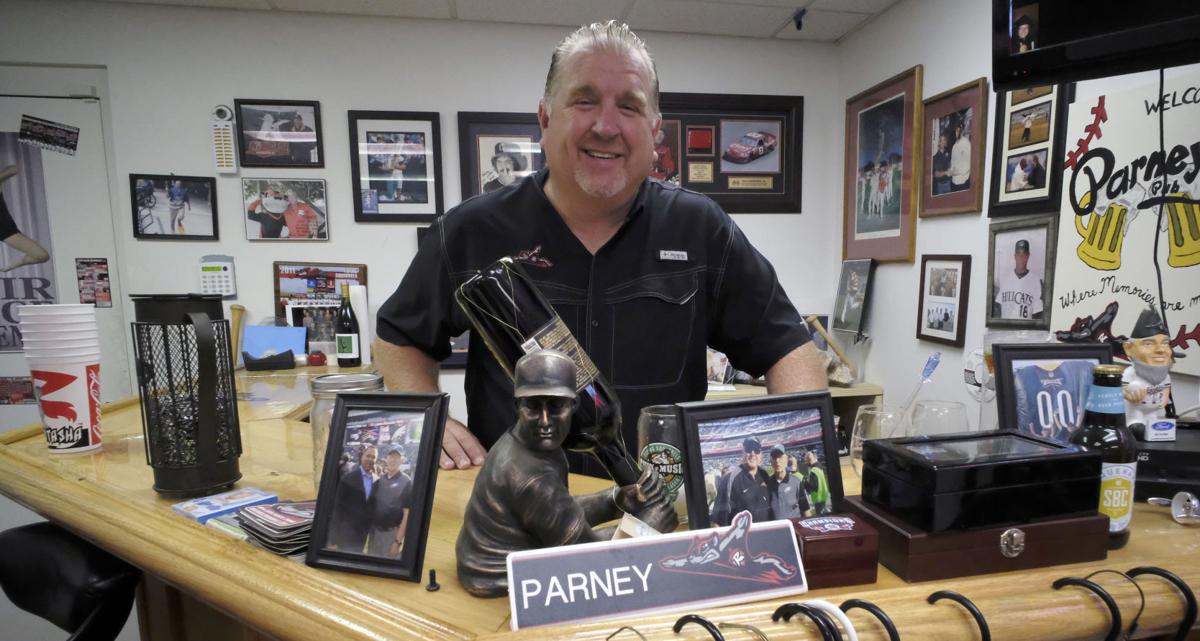 There were two funerals at Salem Memorial Ballpark, home of the Class A Salem Red Sox, during the pandemic. The 6,421-seat stadium offered social distancing for significant crowds that other venues in the area could not.
That team's general manager, Allen Lawrence, said when he entered the baseball industry two decades ago, he had no idea that his duties would one day include "part-time funeral director."
In Norfolk, the Triple-A Tides (Baltimore Orioles) don't open at Harbor Park until May 18, a fortuitous twist in the view of Joe Gregory, that franchise's general manager for 10 years. With the home schedule starting two weeks later than many teams, he'll be able to see how other minor league clubs handle in-game operations during a pandemic.
Gregory already knows the Tides won't be able to shoot T-shirts into the crowd, hold many of the most popular contests among fans on the field, or allow their mascots to roam through Harbor Park's seating areas because of COVID guidelines.
But Lawrence and Gregory both emphasized Tuesday night in the Virginia Sports Hall of Fame's roundtable discussion among state GMs that their overriding shared sensations as minor league baseball cranks up again after its absence in 2020 is joy mixed with relief.
The Salem Red Sox, the Norfolk Tides and the Double-A Richmond Flying Squirrels are small businesses that rely almost entirely on paying customers. That revenue stream has been dry since the conclusion of the 2019 season.
Office staffs were reduced, and owner/operators showed movies on their videoboards, held yoga classes in their outfields, and sold ballpark food via curbside pick up, among other things, to maintain connections with their communities and generate funds to keep the lights on.
With reduced stadium occupancy — 30% of capacity (2,943 at The Diamond) until May 15, then 50% throughout Virginia — the Flying Squirrels begin their season at home Tuesday against the Hartford Yard Goats. In his 33rd year in the business of minor league baseball, Squirrels CEO Todd Parnell said he hopes The Diamond becomes "a healing place" for fans easing their ways out of a pandemic.
In their own ways, GMs from around Virginia echoed that sentiment.
"We're all going to fall in love again in our communities. We're going to watch people fall in love again with their minor league baseball teams," said Parnell.
"Our ballpark is going to be the place that you see your friends for the first time. Our ballpark's going to be the place where your company gets together for the first time. Our ballpark's going to be the place where you just forget about what happened the last 14 months and have a good time."
It occurs most often in grocery stores, according to Parnell. Baseball fans approached him in recent weeks and said some form of, "Oh, you've got to get back to work now." Parnell assures the fans that he has indeed remained busy without games during the pandemic, maybe busier than usual.
"I've never worked so hard to lose so much money in my entire life," he said.
When The Diamond welcomes fans starting Tuesday, there will be many modifications. Between-innings amusement breaks will be designed to play on the videoboard.
"We've filmed probably 50 variations," said Parnell. "We built a little stage on the third-base side that's going to kind of be home base for our [entertainment]."
Players' time at the ballpark across minor league baseball will be limited. Clubhouses will no longer be day-long hangout spots for movies, analysis of on-field performance, meals and camaraderie.
Couches have been removed from Salem's clubhouse, according to Lawrence.
Some organizations may send home nonstarters to reduce the number of players simultaneously in the facility. Only players, coaches, umpires and groundskeepers will be allowed on the field.
Major League Baseball, which now runs the minors, sent each minor league GM a 100-page handbook detailing mandatory COVID protocols.
With health and safety in mind, teams will stay in one city for six consecutive days.
Parnell said he told Flying Squirrels manager Jose Alguacil, "Y'all are going to go into Altoona on a Tuesday and some of these guys are going to have a long-term relationship by the time you leave on Sunday."
There will be no Monday games in minor league baseball. That does not mean The Diamond will be dark on Mondays. Parnell indicated the Flying Squirrels are exploring the possibility of scheduling events at the stadium on some Mondays.
"Different" is the word Parnell keeps using to describe what the 2021 season will be. And then he emphasizes "different" doesn't equate to "unsatisfying" from the perspective of a GM or a fan.
"The pandemic has put us all in a huge timeout, and I think the things that we took for granted, or complained about, will not be taken for granted and will not be complained about anymore by any of us in this industry," said Parnell.
(804) 649-6233
@RTDjohnoconnor