LANDOVER, Md. — Washington Commanders president Jason Wright said he and the team will continue "business as usual" while owners Dan and Tanya Snyder pursue the potential sale of the NFL franchise.
Would-be buyers have been vetted, and a first round of bids have been taken, but Wright said he wants his employees to keep moving forward, something coach Ron Rivera has echoed.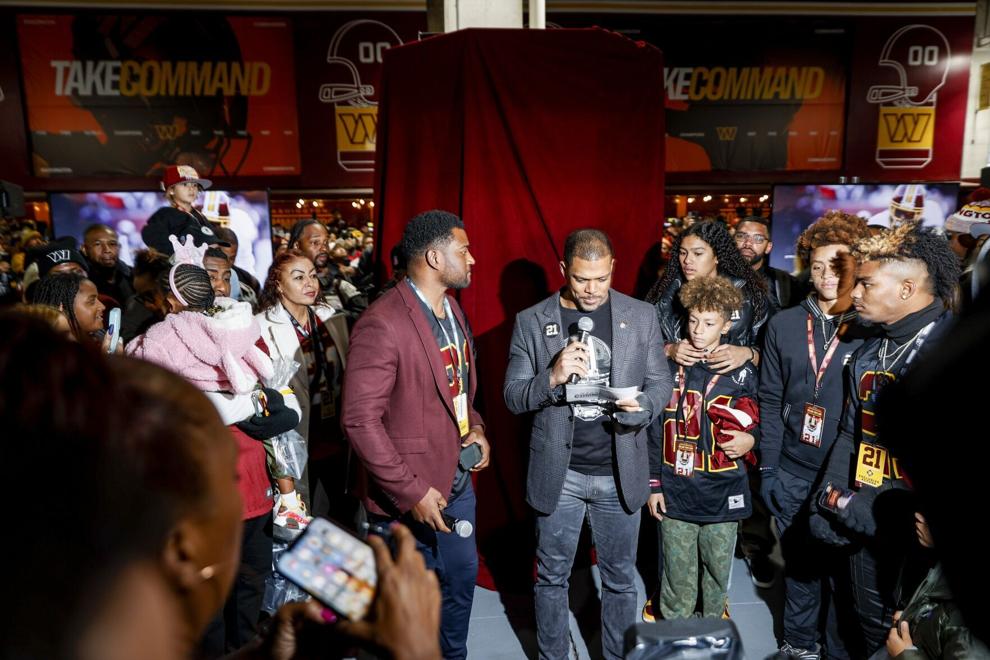 "I think for us, it's very simple," Wright said. "For me, for Ron, nothing changes. Build a healthy business, build a winning team, and that's all there is to do. There's literally nothing else to do.
"And in fact, the best thing we can do is continue to produce a healthy business, great football team, underpinned by a healthy culture that allows it all to sustain. That's the best thing we can do for stability, for focus and performance. It's very simple."
Bank of America is handling the potential sale, with the NFL vetting bidders. Reports indicated that a first round of bidding netted several offers over $6 billion for the team, which will also need an additional cash infusion of at least $1 billion for a new stadium project.
Notably, Amazon founder Jeff Bezos did not submit a bid, but Bezos also has not withdrawn from contention for the team.
Whoever owns the Commanders will also take control of the sportsbook, which opened on Friday and promises to provide another revenue stream for the team.
The NFL has embraced legal gambling after keeping it at arm's distance for many years.
Wright, a former player, said it's something that's necessary to stay relevant to younger audiences.
"Certainly, my views on it have changed over time," Wright said. "Because it's become sort of part and parcel of the culture of engaging sports, especially for younger folks and Gen Z. This is almost the primary way that people engage the game. And that changes the way you think about it.
"Some people don't have a favorite team anymore, they have favorite players, or they have favorite platforms on which they engage. And that changes the way that we think about the sport, the way we think about and create fan loyalty and avidity. I think it's fascinating, from an intellectual standpoint, but it brings more people to the table."
Wright said that as the team was studying its fans, it became clear gambling was an important space to be in.
"We saw that it was becoming central to the way that they engaged, and so, irrespective of your feelings on it, if that's the way your fans are going to participate, then you jump in, you try to shape it for good, you try to create a great experience, and that's what we've done," he said.
Wright added: "I'm happy that we can be a partner that sort of ushers it in, because I trust that we'll do it right."
Fanatics is planning a major rollout of sports betting in the coming months, including a mobile app, but Friday's opening at FedEx Field was the first time the company has officially taken a wager.
The restaurant and sportsbook is located next to the team's fan shop, and both will be open daily.
Michael Phillips (804) 649-6546
@michaelpRTD on Twitter