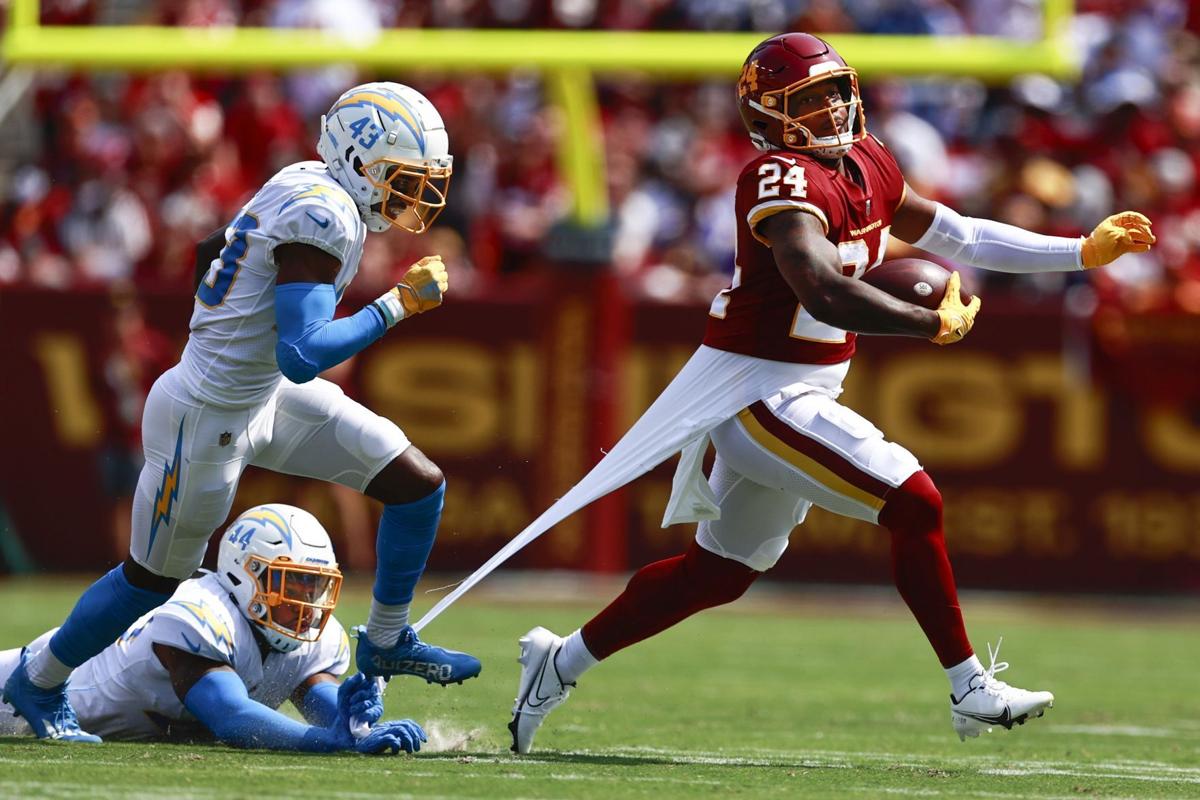 ASHBURN — Washington coach Ron Rivera was blunt when discussing his underperforming defense on Tuesday.
"I expect us to be better," he said, adding later: "I expect it to be fixed now."
There's good reason behind those expectations. According to NFL Next Gen Stats, star pass rushers Chase Young and Montez Sweat performed about at the NFL average last week, while the linebackers routinely allowed third-down completions in the middle of the field.
With a short turnaround before the Giants arrive, Washington held its only practice of the week on Tuesday, and there was plenty to work on.
"It was just something where every play, something wasn't right," Young said. "Coach put pressure on us [to improve], but we also know what we want, too. These few days we're just trying to get going, since we know what happened Week 1.
"Everybody knows what they have to do."
That work extends to the offense, where the newly rebuilt line didn't hold up for quarterback Ryan Fitzpatrick.
Rookie right tackle Sam Cosmi allowed pressure on Fitzpatrick early, then newly signed left tackle Charles Leno Jr. allowed the rush on the play that led to Fitzpatrick's injury.
"I just feel terrible," Leno said. "I tell them all the time, I want to protect my quarterback. And in that instance, I did not. So I felt really terrible.
"It's one of those times where you just have to sit back and reflect, but like in football, you've got to let that play go and play the rest of the plays."
The line may benefit from having Taylor Heinicke under center on Thursday, given that Heinicke is more mobile than Fitzpatrick, but Heinicke is also attempting to break one of the league's worst streaks — he's been injured in his only two NFL starts — and needs the line's help to get there.
It's business as usual, meanwhile, for wide receiver Terry McLaurin, who has caught passes from nine players since arriving in Washington (and it would have been 10, but he didn't catch a Fitzpatrick pass on Sunday).
"No excuses," McLaurin said. "In that situation where Taylor's coming in, hasn't got a lot of reps, he has to trust that I'm going to be where I need to be on that route, because of the rapport we've built.
"It's a unique situation that I'm in, and I've kind of got accustomed to it. ... Whatever quarterback's back there, they can trust that 17's going to get his job done, and they can rely on him."
The players said they view the short week as a positive in that it will allow them to get back to their winning ways against the Giants, so long as they take care of business.
Washington is a 4-point favorite, but Thursday night contests have been unpredictable, and if last week is any indication, there will be more than a smattering of blue in the stands at FedEx Field.
There's also the small matter of what's next — a road game with Buffalo, one of the teams that reached the conference title games last year.
"You don't want to go down 0-2 and then have to go to Buffalo and face a very difficult Buffalo team," Rivera said. "We have to go out and play to our abilities, play to what we're capable of, and really play smarter than we did last week.
"They understand that in this world, you only get so many opportunities, and you only get so many that you can let slip. After that, everything else is important."
(804) 649-6546
Twitter: @michaelpRTD