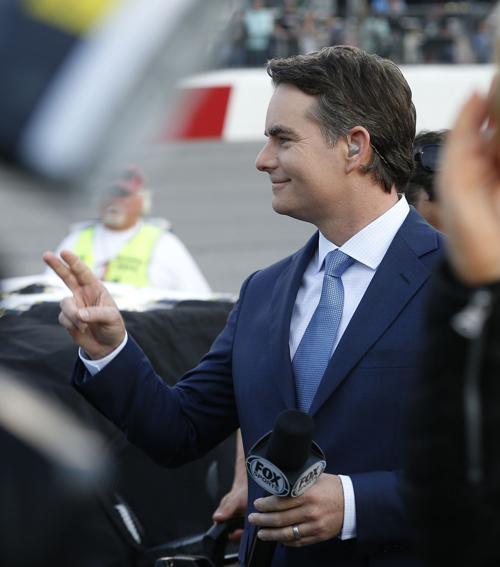 1 According to a report by Sports Business Journal, Jeff Gordon is weighing his options on returning to Fox Sports as a NASCAR analyst next season. According to Adam Stern's report, Gordon is also considering expanding his role with Hendrick Motorsports, an organization to which he's been tied since 1993. Fox's part of this season's broadcast schedule ends with this weekend's All-Star Race at Texas Motor Speedway. Gordon has served as a Fox analyst since 2016.
2 NASCAR announced it is altering its rules package at superspeedways to slow cars by 7-10 mph. The changes include a smaller tapered spacer — with the opening reduced from 57/64 inch to 53/64 inch — removal of the wicker from the spoiler and making a reinforced roll bar near the rear wheel well mandatory. The changes are in response to Joey Logano's rollover crash at Talladega Superspeedway in April, when his car skidded on its roof before sliding back to a stop on its wheels. Logano was uninjured, but he was very critical of the current rules package after the race.
3 Richmond Raceway is offering race fans another opportunity to take laps around the track on June 26. Track Laps for Charity will allow drivers with their own personal vehicles to take to the track for a $20 donation that Saturday from 11 a.m. to 2 p.m. All proceeds will benefit Richmond Raceway Cares and the American Cancer Society of Virginia. Fans must sign up in advance at RichmondRaceway.com/events/tracklapsforcharity, and drivers must be 18 years old. Also, motorcycles will not be permitted, and maximum speed is 55 mph.
4 This week's Virginia short-track spotlight: Even car owner Justin Johnson had no answer for CARS Late Model Tour rookie Kaden Honeycutt on Saturday night at Langley Speedway. Honeycutt passed the owner of his No. 4 from the outside pole on the opening lap and led every lap of the VisitHampton.com 125. "Our plan was to kick everybody's butt this weekend," Honeycut told Race22.com after his first tour victory. Other winners were Chris Roberts (Grand Stock), Ryan Huff (Super Truck) and Christian Keller (U-Car).
Also around the commonwealth:
NASCAR weekly points leader Peyton Sellers continued his run toward another national championship with two 60-lap Late Model victories Saturday at Dominion Raceway. Sellers topped Mason Bailey by nearly a second in the opener, then rolled through the field in the nightcap following an inversion for maximum national points. Other winners were Ryan Matthews (Virginia Racer), Chris Lamb (USAC Midget), Daniel Bentley (Mini Stock), Cameron Bolin (Legend), C.J. Terczak (Any Car) and Trey Williams (Bandolero).
Mike Looney opened Motor Mile Speedway's Late Model season with a pair of 60-lap victories Saturday. The 2019 track champion topped Kyle Dudley by 1.5 seconds in the opener, then needed less than 30 laps to move from seventh to first in the nightcap. Other winners were Peyton Howell (U-Car), Scott Howell (Super Street), Doodle Lang (Mod 4) and Daryn Cockram and Kyle Barnes (Sportsman doubleheader).
Justin Williams of Concord prevailed in an extended battle with Nick Love en route to a victory in the 35-lap Pro Late Model feature at Virginia Motor Speedway. Other winners were Davis Lipscombe (Sportsman), Chase Butler (Modified) and Brian Maxey (Limited Stock).
Richard Shupe Jr. claimed his first victory at Wythe Raceway since 2009 in the 25-lap Modified feature. Other winners were Will Hostetler (U-Car), David Peeples (Super Street) and Shawn King (Pro Mini).
Saturday's winners at Shenandoah Speedway included Jamie Hite (U-Car), Chris Lilly (Legend), Michael Rogers (Late Model), Brian Curby (Sportsman), Barry Dalton (Vintage Racer), Jacob Bradley (Bandolero) and Ben Ebeling (Super Cup doubleheader).
(804) 649-6837
Twitter: @cwilinric