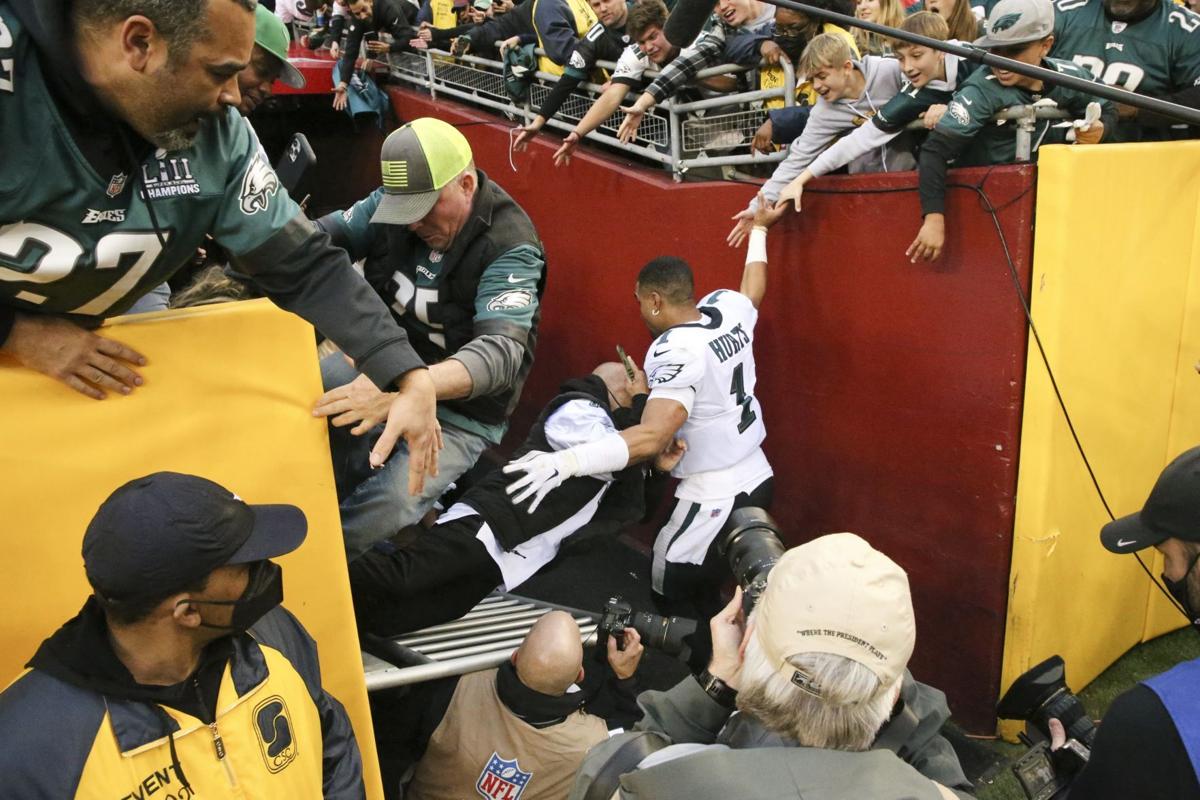 Plumbing leaks, malfunctioning smoke machines and now a faulty railing. It's been a long season at Washington's FedEx Field, which is only 25 years old.
The Washington Football Team's final home game of the year was Sunday, and after a 20-16 Philadelphia Eagles win, quarterback Jalen Hurts was leaving the field when a group of fans lunging to high-five him caused a railing to give way.
The fans fell about 6 feet to the field. Most popped up immediately — one Associated Press worker was injured in the collapse; his condition was not immediately available.
Hurts had not yet reached the tunnel, so he was not hit. He greeted the fans, then was escorted to the locker room by security.
"I'm just happy everybody's safe from it," the quarterback said. "It's crazy. it's crazy stuff right there. That was a real dangerous situation. I'm just so happy everybody bounced back from it — it seemed like it. Passionate Eagles fans. I love it."
The team released the following statement: "The Washington Football Team is aware of an incident in the North Field Tunnel following today's game. To our knowledge, everyone involved was offered on-site medical evaluation and left the stadium of their own accord. We're very glad no one appears to have been seriously injured. The safety of our fans and guests is of the utmost importance and we are looking into what occurred."
The collapse happened in an area that is supposed to be reserved for ADA compliance. It was not immediately clear why so many Eagles fans were allowed in the area.
Washington has been open about its desire to build a new stadium to replace FedEx Field when the lease ends in 2027, but team president Jason Wright has also said the team will work to improve the fan experience at FedEx, and the team has added art installations and renovated a large swath of seats, as well as improving the club-level experience.
There have been a number of setbacks this year, though. A water pipe burst, drenching fans. A fire sprinkler went off in a suite, creating a similar situation. And the smoke machine the team brought in to introduce the players produced too much smoke at the beginning of the year, blinding the players as they attempted to run onto the field.
Sunday's crowd, announced at 51,563, appeared to be a majority of Eagles fans, who watched their team reach the verge of a playoff spot with the victory.
(804) 649-6546
Twitter: @michaelpRTD