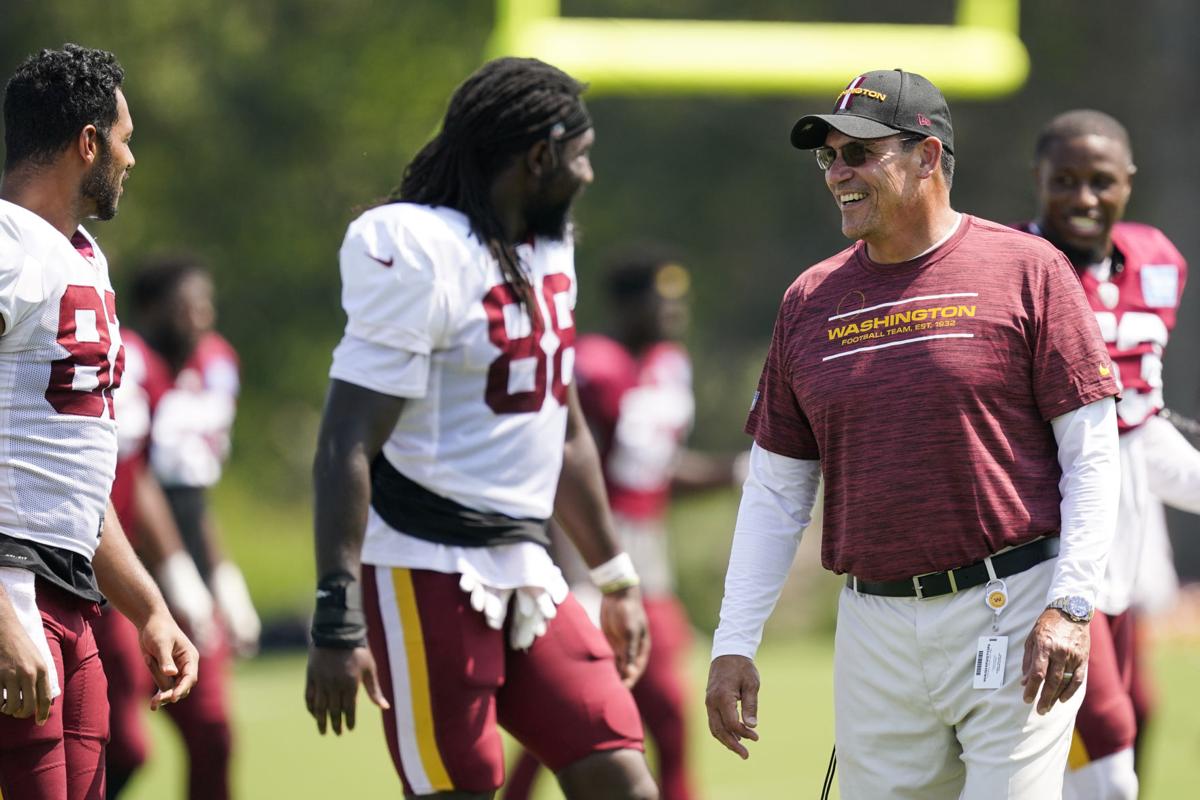 ASHBURN — The Los Angeles Chargers didn't play their starters a single snap in the preseason.
In Washington, practices tapered off ahead of the third preseason game, and the team has only worn pads a handful of times since.
Welcome to the new NFL, where keeping players healthy for a 17-game season is far more important than the kind of full-contact drills Bear Bryant would have run at his training camps.
"Our guys are ready," said offensive coordinator Scott Turner. "We've put a lot of work in over training camp and we want our guys to be fresh, and I think they will be."
Unlike the days where training camp was meant to get players in shape, in the modern NFL players are expected to arrive in shape, to make the most of the short time they have together.
"Approaching the opener with the right mix of conditioning and health and all the things that you need, yet being prepared and ready to come out sharp Week 1, I mean, that's what us coaches worry about and work on," defensive coordinator Jack Del Rio said.
The benefit for the players has been extra time to socialize and bond off the field.
The NFL mandated last Friday-Sunday be days away from the facility, to give teams a long holiday weekend. In Washington, the normal Wednesday-Friday practice schedule this week was also shortened by a day, with no practice scheduled for Friday.
Last Thursday night, the offensive line went on a trip to D.C. Prime steakhouse before the time off.
"For the most part, it was just food coming from right when we sat down until about the time we left," left tackle Charles Leno Jr. said. "I can't put a number on how many pounds it was, but just imagine a lot, you know."
He added that he chose not to eat all day to maximize the trip, a decision he would come to regret.
The defensive backs went to Ruth's Chris, a decision that drew light mocking from the linemen.
"They love spending that money," Leno joked. "I've never been around a DB unit that didn't spend that money."
Jackson, a cornerback who normally tries to avoid being burned, had his steak cooked the longest. He enjoys medium well.
Leno said he was a well-done guy until he started going to fancy restaurants, and was coached otherwise by a chef. Now he's a medium guy.
It's perhaps no surprise that offensive lineman Brandon Scherff, who hails from Iowa, enjoys his red.
"You've gotta get the steak rare, medium rare," he said. "Steak, corn and mashed potatoes. And they didn't have Busch Light. Or I would have had that."
Samuel heads to IR: Washington has placed receiver Curtis Samuel on injured reserve, meaning he will miss at least the first three games with a groin injury he first sustained in early June.
Washington coach Ron Rivera dismissed the thought that Samuel would need surgery, adding that it's "not even on the table."
(804) 649-6546
Twitter: @michaelpRTD