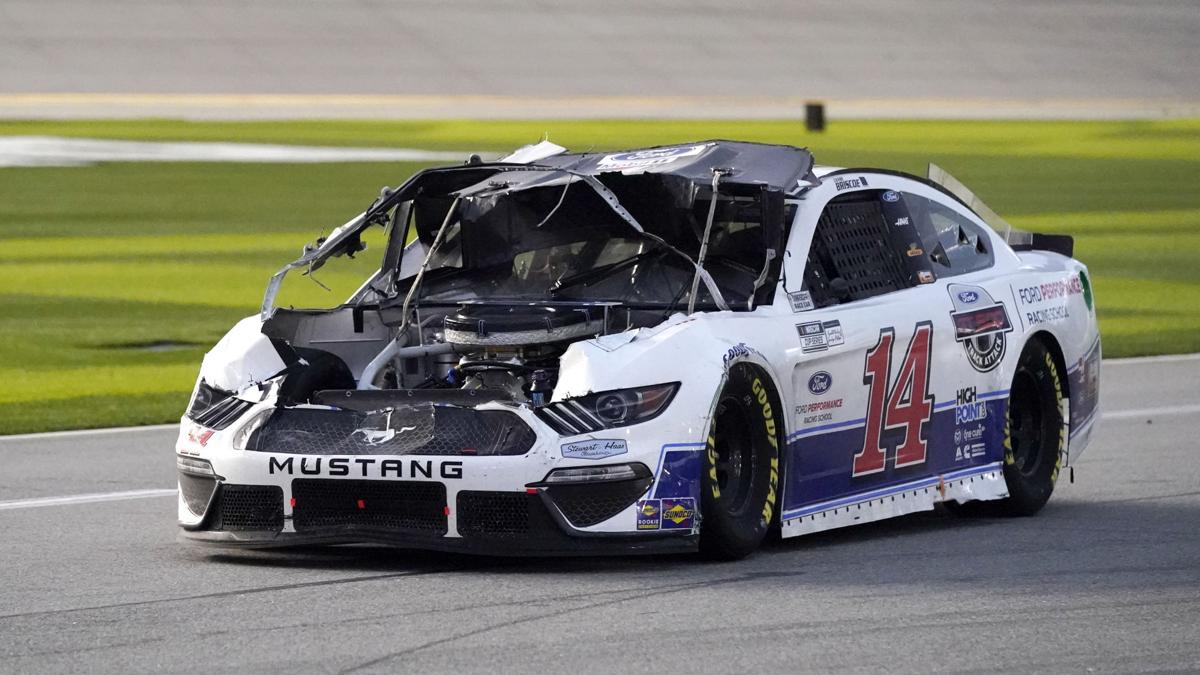 I was among those glad for the news that NASCAR was taking its Cup Series to more road courses in 2021. The premier series has seven road-racing stops this season, up from three last year.
But I did not anticipate races like Sunday's bumbling mess on the course that winds through the infield and incorporates much of the banked oval at Daytona International Speedway.
I have no problem with the 3.6-mile course itself, though it could use a little more width at places. Some road-course purists are snobs about speedway adaptations like Daytona's or Charlotte Motor Speedway's Roval. Condescend all you like — I've seen good racing on such courses.
And Christopher Bell, who drove his Joe Gibbs Racing Toyota to his first career win Sunday, earned the victory with a skillful, clean pass of Joey Logano's Team Penske Ford with just a couple of laps to go. No problem there, either.
I do, however, have a problem with NASCAR's quirky policy about caution flags for light rain during a road-course event.
The rule gives NASCAR the discretion to put the race under caution if rain — or sprinkles, or mist — moistens the track. Maybe even only part of the track, as was the case Sunday, when the yellow flag flew on Lap 57 of the 70-lap race.
The idea is to give all the teams the option of pitting to remove their dry-weather tires, "slicks," as they are called, and replace them with grooved rain tires — something NASCAR has for only its road-course events.
In a SiriusXM radio interview Monday, Scott Miller, NASCAR's vice president of competition, explained.
The decision to throw the flag, Miller said, was "a difficult call…. It was kind of raining hard in a couple of corners and not on the rest of the track at all."
He said NASCAR didn't want drivers going into a corner unaware of a wet racing surface on that part of the track.
"There was no way the spotters can know," Miller said. "There's no way anybody can really know that it's raining hard in those couple of corners except us with our turn spotters reporting back and our chase vehicles reporting back."
Is it that hard for teams to know? Can't they monitor NASCAR communications? Can't they monitor the TV and radio broadcasts, which were fully aware of the rain Sunday?
The teams and their drivers can decide for themselves if it's time to pit. In other forms of road racing, it's not uncommon for a multicar team to split the strategy. If the rain isn't yet too heavy, but seems likely to get worse, one car pits for rain tires, others keep going on slicks.
If the car on rain tires starts turning faster laps, the others will pit to change as well.
Rain-tire strategy is part of the intrigue of road racing. NASCAR needs to recognize that. A downpour is cause for a caution flag, even a red flag. The teams can handle a sprinkle.
Sunday, when NASCAR waved its yellow flag because it was "kind of raining hard" on part of the track, some drivers thought it was unnecessary. Kyle Busch, in radio contract with his crew, reckoned the flag was "for the show."
That is, it was a way to bunch the field, which had become too strung out for NASCAR's liking.
During the caution period, some teams pitted.
Guess what? None of them took on rain tires. They took on fresh slicks. The rain was inconsequential.
So, when the race resumed, a batch of cars at the front of the pack were on worn tires. They were slower. They were impediments. The drivers on fresh slicks were determined to use their advantage to get by those slower cars without delay.
The green flag waved and the lot of them charged into the early turns with all the craft and discipline of 9-year-olds in bumper cars.
Chase Elliott, who had dominated the race to that point, was among those who had pitted. He was in the thick of the crowd of faster cars. He was forced off the asphalt and into the grass but was able to save his Chevrolet with some brilliant driving.
Then Elliott took a hit from behind from Denny Hamlin, who himself had a car thumping his rear bumper. Elliott's Chevy spun out.
The best-case scenario after the caution had been the possibility of watching Elliott try to pass a dozen or so cars to win. The spinout put him so far back in the running order that all he could do was lumber on to finish 21st.
Lots of different things might have happened if NASCAR had not intervened with its caution flag. Elliott could have overdone it on his slicks and slid on the damp track.
If he had, his own skill or lack of skill would have made the difference.
Instead, NASCAR's call changed the tenor of the race. Though the teams decided whether or not to pit for fresh slicks, NASCAR's meddling was a critical factor in the way the race ended.
NASCAR officials have plenty of tough in-race calls to make. They don't need another reason for detractors to claim the sanctioning body manipulates race outcomes.
Cup Series drivers and teams can handle themselves on road courses. With six more such races to go in 2021, NASCAR should consider changing the way it responds to a little rain.
Randy Hallman, a veteran NASCAR writer, is retired from the Richmond Times-Dispatch. Email him at fullthrottlerh@gmail.com and follow him on Twitter
@RandyLHallman.