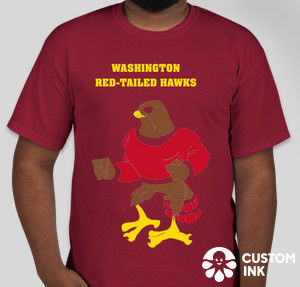 Martin McCaulay's "hobby" started in 2014.
When speculation began to swirl that the Washington Redskins might have to change their name, out of respect to the Native American community, he went on the United States Patent and Trademark Office website and applied for a trademark for the name "Washington Pigskins."
McCaulay, a 61-year-old actuary who lives in Alexandria, has picked up a number of other potential options. He's filed 44 claims related to potential Washington team names.
"It was, I thought, a fun hobby," he said. "And it turned out that I got really good at it."
He's not the only one. Across the country, people have staked their claims on everything from the traditional (Braves, Renegades) to the unlikely (Potomacs, Freedom Fighters, Radskins).
For a small community of speculators, trying to grab a trademark on the new Redskins name is like buying a lottery ticket — a minimal investment with a potential major payoff.
Unlike a regular lottery ticket, though, this one will likely require several trips to court for the owner of the winning name to cash in — if that's ever accomplished.
United States law requires that the holder of a trademark actually use the term in question.
McCaulay is aware of the provision, which is why he's spent thousands of dollars creating team merchandise to back up his claims.
In doing so, he said he's no ordinary trademark squatter, a term with negative connotation used in similar situations.
"A squatter reserves a name with no intention to use it," McCaulay said. "I went to the extreme of buying a lot of merchandise, making it my brand, and selling it."
He has a website, WashingtonAmericansFootball.com, where people can order merchandise for several of his teams — the Washington Founders, Monuments, Pandas, Veterans, Warriors and Red-Tailed Hawks.
Warriors has been mentioned as a potential favorite of Redskins owner Dan Snyder.
McCaulay said he used to "frequently" send letters to the Ashburn-based football team about his claims, but never received a response.
After six years invested in the pursuit, he said he sent a letter to the NFL last week offering his trademarks for free if it sped up the process of renaming.
"I don't want to be the one who is an obstacle," he said, noting that he's become aware of how the Redskins name could be offensive to members of the Native American community.
However, he said he failed to receive a response and that offer is now off the table.
Time is on the side of the people holding potential claims. What would normally be a multiyear process has been accelerated by the team, and coach Ron Rivera told the Washington Post last week he hopes a new identity can be in place before the 2020 season starts in September.
Facing the prospect of litigation, the team may find it easier to cut a check to make the problem go away, even if trademark experts agree it would ultimately prevail in a courtroom.
"I think they're going to be trademark bullies," McCaulay said. "I don't think they're going to cooperate."
As for the counterargument, that McCaulay clearly has no intention to field several football teams, he's ready with a comeback.
"I'm going to start a flag football league," he said, noting that those plans are on hold until 2021 due to the pandemic.
(804) 649-6546
@michaelpRTD