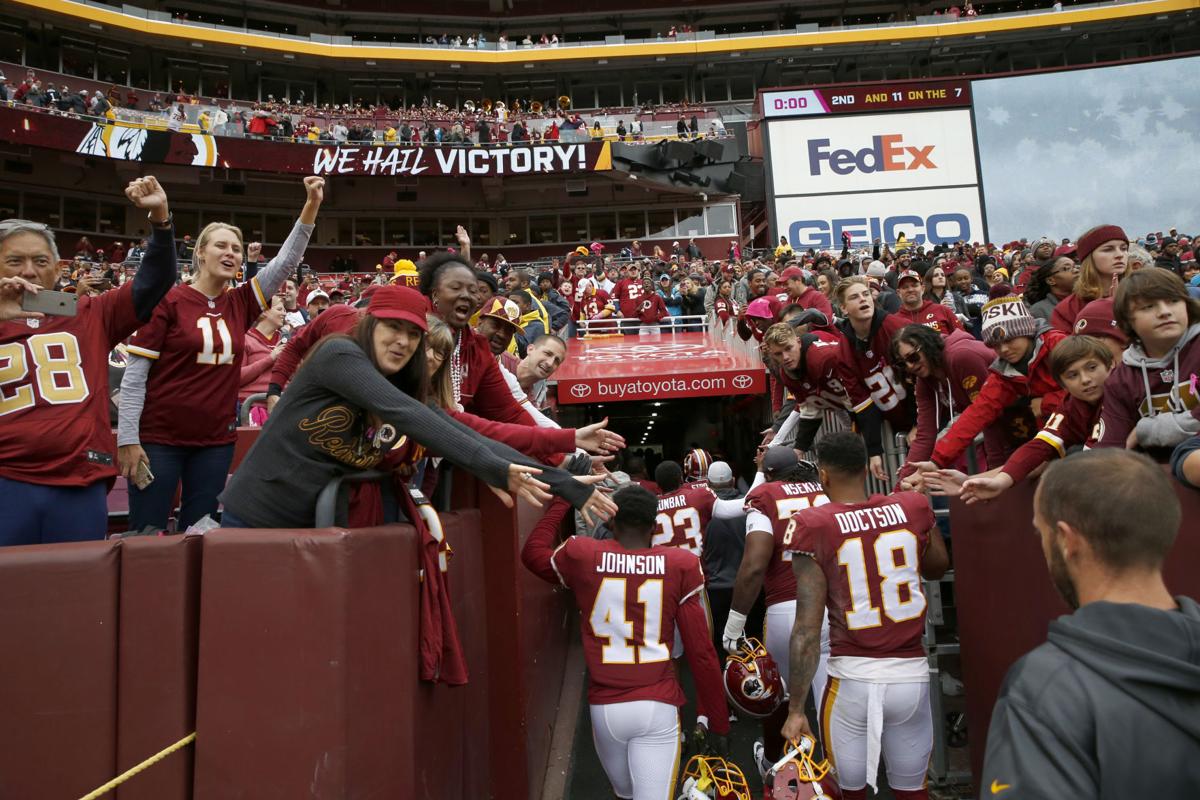 ASHBURN — Near the end of his term as governor, in 2017, Terry McAuliffe gave Washington Football Team owner Dan Snyder a state flag that had flown over the Capitol building in Richmond.
He said Snyder could keep it until he's ready to fly it over a new stadium built in Virginia.
Four years later, there is still jockeying to see which locality — Virginia, D.C. or Maryland — will get to house a palatial new stadium for the Football Team.
Politicians have come and gone during that time, but with a gubernatorial election looming in Virginia, McAuliffe may just get the chance to make good on his suggestion from four years ago.
Whether McAuliffe, a Democrat, or his top challenger, Republican Glenn Youngkin, is victorious, Snyder and the Football Team already are winners.
Both candidates are open to building the new stadium in Northern Virginia, which will ensure at least one additional bidder as the team seeks the best deal possible.
Snyder and top executives went on a fact-finding tour this spring, visiting stadiums across the country and even some in London.
The lease at FedEx Field runs out after the 2026 NFL season, and if the team wants a new stadium to be ready at that time, a decision should be arriving soon.
Fans have long preferred to build on the site of RFK Stadium in Washington, but political hurdles have continued to stand in the way of that option — the land is controlled by the Department of the Interior, and the federal government has shown little interest in turning it over to the city to potentially lease out as a stadium site.
Maryland continues to lobby for the current FedEx Field site, but with the state increasingly rooting for the Ravens and an estimated 65% of Washington ticket-holders living in Virginia, the site is inconvenient for the fan base. (Snyder did not build FedEx Field; his predecessor, Jack Kent Cooke, did that.)
McAuliffe said during his first term he would not offer any tax money for the construction of the stadium but was willing to help create the infrastructure around the stadium, including roads and mass transit options.
Youngkin also is from Northern Virginia and shares McAuliffe's pro-business and pro-development mentality.
Youngkin campaign spokesperson Macaulay Porter sent a statement to The Times-Dispatch in response to an inquiry on the topic: "Glenn welcomes the possibility of a new stadium in Virginia, but it's important to ensure that the necessary infrastructure and ability to accommodate additional traffic are addressed as part of any deal. Glenn wants to make Virginia the most attractive place in America for employers and jobs, but incentives for businesses must put Virginia taxpayers' best interests first."
Whichever locality the stadium ends up in, Snyder's ultimate financial benefit won't be from the football but from the surrounding development.
New stadium projects in Los Angeles and elsewhere have become 365-day-a-year destinations by offering shopping, hotels, event space and more.
It seems likely the new Washington project also will include some form of casino, whether that's just a sports book or a full-service operation.
The NFL currently prohibits on-site casinos and sportsbooks where games are being played, but the latest collective bargaining agreement with the players includes provisions on how the money would be divided if they were ever legalized.
(804) 649-6546
Twitter: @michaelpRTD