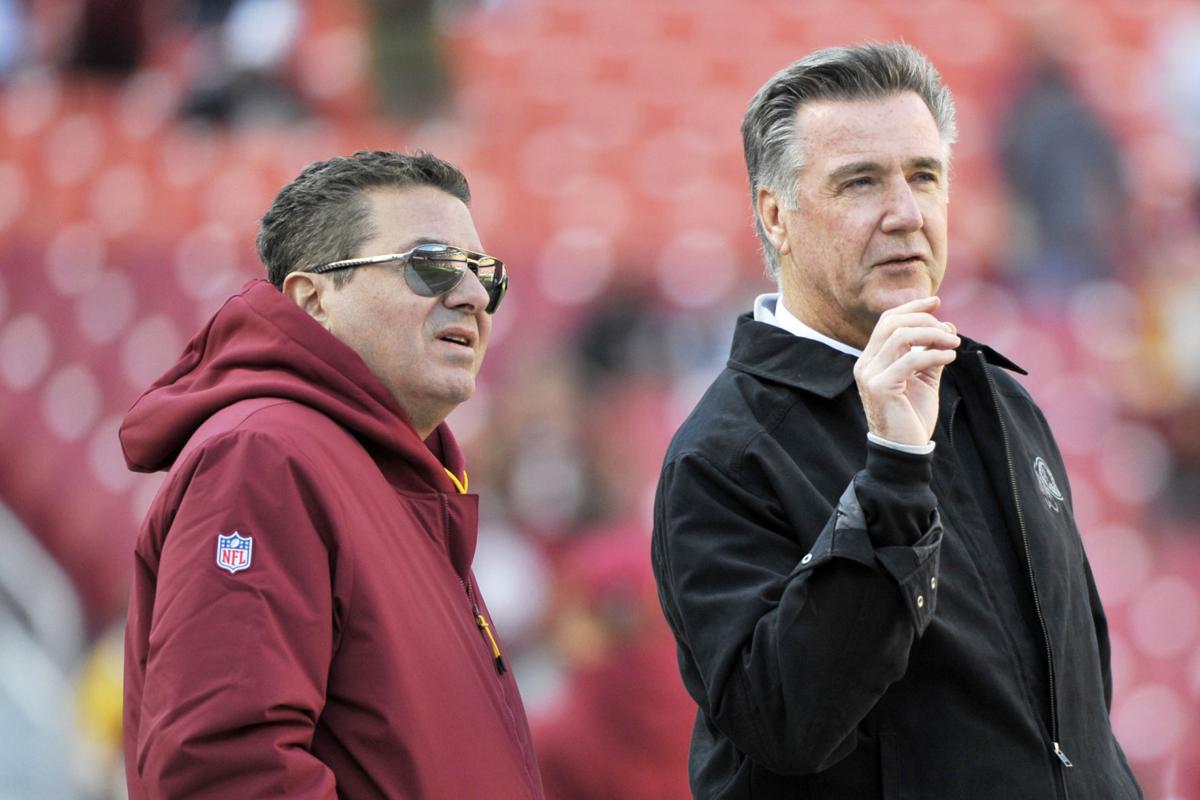 A number of prominent NFL analysts, as well as other stakeholders, called Tuesday for the league to release its findings from an investigation into the Washington Football Team.
On Monday night, Las Vegas Raiders coach Jon Gruden resigned after sexist, racist and homophobic emails he sent about a decade ago — while an ESPN analyst — were provided to the Wall Street Journal and the New York Times.
The emails had been obtained by the NFL as part of its investigation into pervasive sexual misconduct among executives in Washington.
According to the Times, one of the emails between Gruden and then-Washington team president Bruce Allen included topless photos of team cheerleaders.
The investigation was commissioned after a Washington Post report where dozens of women came forward to report being sexually harassed while with the team.
At the end of the investigation, the league announced a number of sanctions against Washington, but allowed owner Dan Snyder to retain control of the team.
The league said at the time it would not be releasing a written report, "due to the sensitivity of the allegations."
Monday's release of emails though, and the Journal's report that the NFL obtained 650,000 emails as part of its investigation, has raised fresh questions about what the league knows, and why it didn't share this information earlier.
Lawyers Lisa Banks and Debra Katz, who are representing 40 of the victims, called for transparency in an emailed statement.
"It is truly outrageous that ... the only person to be held accountable and lose their job is the coach of the Las Vegas Raiders," the statement said. "If the NFL felt it appropriate to release these offensive emails from Jon Gruden, which it obtained during its investigation into the Washington Football Team, it must also release the findings related to the actual target of that investigation."
The NFL Players Association said it also plans to request the gathered information in the coming days.
One of the emails included a racially insensitive description of the union's executive director, DeMaurice Smith.
NBC analyst Peter King echoed those requests, adding that Gruden was "vilified [justifiably], and fired" but Snyder was "hand-slapped, fined, [and kept his job]."
NFL Network analyst Mike Silver, who also does work for the Washington Football Team's website, was even harsher on the league.
"An owner/organization was investigated amid serious allegations, prompting said email discovery, and the 'verbal' report was buried. Who does business like this?" he wrote.
The results of the Wilkinson report were initially released on July 1, just ahead of the holiday weekend and a time when news consumption is low.
However, October is a peak time for the league, and the fact that Gruden's emails surfaced shows that the league has retained at least some of the materials from the investigation.
(804) 649-6546
Twitter: @michaelpRTD