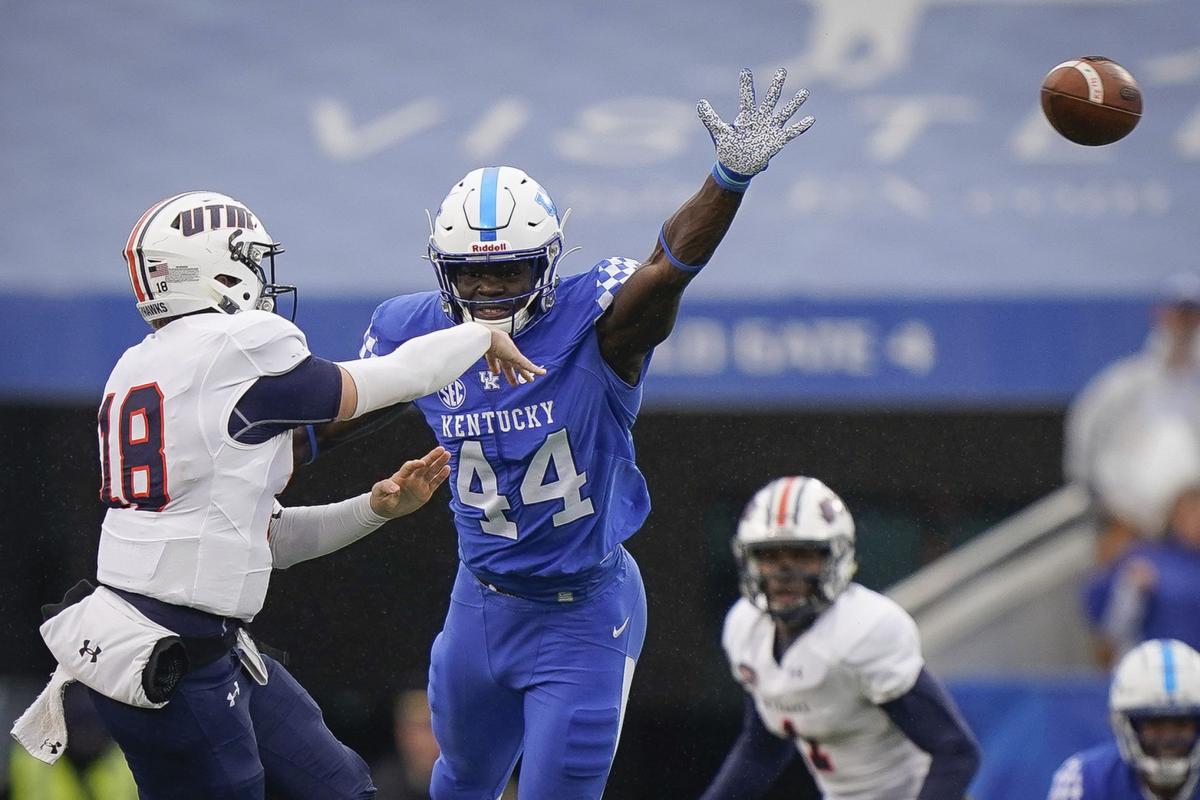 Ron Rivera demands a lot of his linebackers.
It's one of the few positions the Washington coach called out publicly during the 2020 season, chiding his unit for failing to know their responsibilities, particularly against the run game.
On Thursday night, Rivera decided to use his first-round pick to upgrade at the position.
Washington took Kentucky's Jamin Davis at No. 19, taking a player who may have risen up draft boards faster than anybody else in the past four months. (His first name is pronounced JAY-min.)
Washington used its second-round selection on Friday to take Texas tackle Samuel Cosmi.
Davis, a junior, started the season as Kentucky's backup and has started just 10 games in his college career. After ascending to the starting role and putting up big numbers, he opted out of the Wildcats' bowl game and went straight to draft prep — still an unknown quantity even among those who make the draft their full-time work.
From there he rocketed up draft boards with a freakish combination of size, speed, strength and smarts.
At 6-foot-3, 235 pounds, Davis has the size, but at his pro day he also showed off his vertical leap (42 inches), his 40-yard dash (4.41 seconds) and his versatility.
"I learned from my mom, always take a bet on myself and never let anybody try to discourage me," he said, describing his selection as "an unreal feeling and a dream come true. But I'm ready to get to work."
He may have found the perfect landing spot in Washington.
Rivera was an NFL linebacker himself, as was defensive coordinator Jack Del Rio, and Rivera's defenses have historically been anchored by big-name, big-talent players like Luke Kuechly and Thomas Davis.
"The thing that struck me was how bright he is," Rivera said of Davis. "I think that translates well into what we do and how we play."
Kentucky isn't known as a football powerhouse, but the school has produced NFL talent at the linebacker position, most notably Bud Dupree. And Rivera believes the best is yet to come for Davis.
"He hasn't come close to his ceiling," the coach said.
Kentucky coach Mark Stoops said that "when we found him, he was the size of a wide receiver. Now he's put on 40 pounds without an ounce of fat."
Most of Rivera's coach's post-selection comments were about Davis' character, as the coach continues to work to transform the culture in Ashburn.
Davis was born in Honolulu to military parents, and Rivera said during his time with Davis, the linebacker was often talking about things the team did, instead of his own accomplishments.
"I think we're getting a solid fit in what we're trying to create in terms of the culture," Rivera said. "We talk about having sustainable, winning culture, this is what you want to plug in."
Rivera is hopeful Davis can solve the problems that plagued the unit last year, and in the process make the team's potent defensive line even better.
Part of that is getting a player who knows where he needs to be.
"When you watch him on tape, you see that he understands what they did," Rivera said. "We do emphasize run fits as part of our defense, and understanding what your leverage is, to me, that's as much about playing team defense as anything else."
Cosmi adds to a theme of speedy players coach Ron Rivera has brought on over the past year, and left tackle was a position of need for the team since moving on from Trent Williams.
Cosmi started the first eight games in 2020 before opting out of the remainder of the season. He was the seventh offensive lineman taken in the second round. After Williams held out the 2019 season amid a dispute with the previous regime, Washington traded him to San Francisco at last year's draft and attempted to draft his successor in LSU's Saahdiq Charles. Injuries limited the fourth-round pick to one game during his rookie season, with veteran Cornelius Lucas starting the majority of the year at left tackle.
The 6-foot-6, 313-pound Cosmi could change that. He earned second-team all-Big 12 honors while starting all 13 games at left tackle for Texas in 2019 and even had a touchdown catch against West Virginia.
There was pre-draft chatter that Washington wanted to trade up in the first round, potentially to select quarterback Trey Lance, but Lance went off the board with the No. 3 selection, and Rivera said as the draft unfolded there was never any serious discussion about making a move.
"There were really only a couple guys we felt were worthy of us giving up a lot," Rivera said.
(804) 649-6546
Twitter: @michaelpRTD
The Associated Press
contributed to this report.