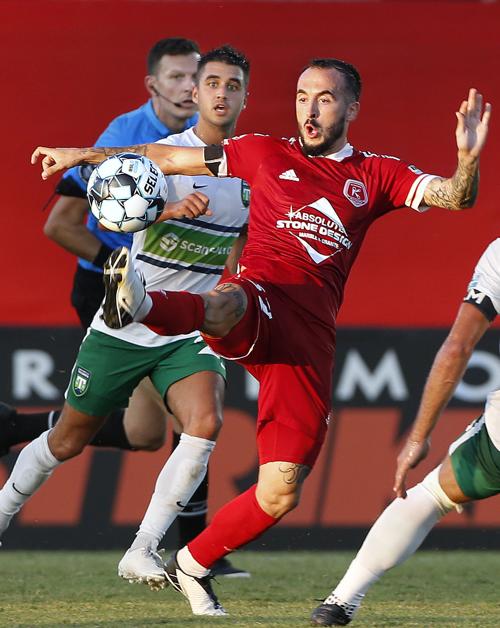 On the day that his hiring was announced last November, Richmond Kickers coach and sporting director Darren Sawatzky was direct about what he was after.
His new undertaking in Richmond would be about having a winner, he said. Speaking on his goals in his first year, Sawatzky said he wasn't going to beat around the bush: The Kickers would chase a trophy in 2020.
Fast-forward a year, and Sawatzky's team is in a position to do just that.
After finishing next to last in the USL League One standings last season, Sawatzky has Richmond (8-5-2) on the precipice of playing in the league final in his first year. It all comes down to Saturday's regular-season finale, which will begin at 6:30 p.m. at City Stadium against Chattanooga Red Wolves SC (5-5-4).
It's win and they're in, though there are a couple scenarios through which Richmond can grab a spot with a loss or draw.
Sawatzky reiterated Friday that he came to Richmond to win things. And, if things go as the Kickers would like, they're just two wins away from winning it all.
"I'm very happy for the players. I'm incredibly happy for [Kickers chairman] Rob Ukrop, who is the catalyst of this whole thing," Sawatzky said. "We're nowhere near where we want to be, in terms of the process of this thing. It takes time."
Still, Richmond's first league final appearance since 2010, when it fell to the Charleston Battery in the USL Second Division, is well within reach.
The Kickers are tied with Union Omaha (Neb.) for second place in the league standings at 26 points, but Richmond holds the tiebreaker after beating Omaha last month. So a Saturday victory would punch a ticket to face first-place Greenville (S.C.) Triumph SC in the league final on Oct. 30 (the league postseason consists of just a final this year, instead of a four-team playoff).
If Richmond loses, it can make the final with an Omaha loss to Fort Lauderdale SC and a North Texas SC loss or draw against South Georgia Tormenta FC. If the Kickers draw, they'll survive if Omaha draws or loses.
It seems Sawatzky's mentality has been valuable in getting to this point.
Sawatzky said losing is painful to him — "I can't stand it." The mentality, and the environment within which the Kickers operate, is predicated on winning — from Day 1, when Sawatzky spoke of chasing trophies.
Every day, every practice and every pass matters, Sawatzky said.
"My job is to try to help create that culture so that it perpetuates," Sawatzky said. "So that the guys want to do that all the time."
Then, within the roster, one of the new players Sawatzky and the Kickers brought in has made a particularly big splash: forward Emiliano Terzaghi. Terzaghi has scored 10 of Richmond's 21 goals this season and is the league's leading goal scorer.
But Terzaghi suffered an ankle injury in the first half of the Kickers' game against South Georgia on Oct. 17. He didn't play in the team's 3-1 win at last-place Orlando City B Wednesday.
Sawatzky said Friday that Terzaghi is day-to-day, but he added, "I think you'll probably see him bouncing around [Saturday]."
Chattanooga, Saturday's opponent, is a team Richmond fell to 2-1 on the road on Sept. 12. Terzaghi scored the lone Kickers goal.
Greg Hurst, a Chattanooga forward, has seven goals this season, which is tied for second in the league behind Terzaghi.
"The matchups in this game will be key. How people handle their duels," Sawatzky said. "And hopefully we come on the right side of that."
The competitive fire that Sawtazky brings to the Kickers goes all the way back to when he started playing the game himself. As a kid, if he didn't make it to a final and win it, he was devastated.
Sawatzky remembered how, when he was 10 years old, he would get up at 5 a.m. and lay his uniform out — "That's what it meant to me."
For Sawatzky, it means so much still. And he and the Kickers have a meaningful opportunity ahead Saturday.
"Anything less than a final and trophies is not where we want to be," Sawatzky said. "The expectation of the Richmond Kickers is to win things. And make our community proud. And we're going to do everything we can [Saturday] to do that."
(804) 649-6442
Twitter: @wayneeppsjr