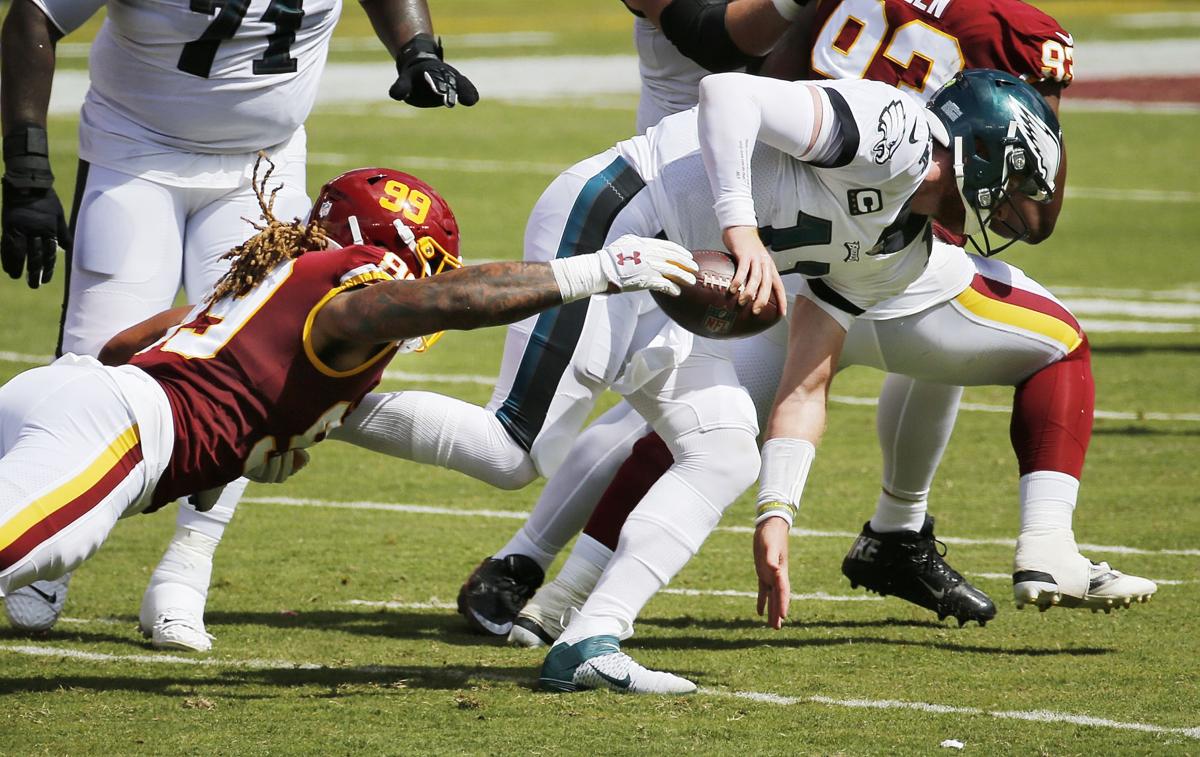 ASHBURN — Arizona quarterback Kyler Murray is quick on his feet and tough to tackle.
Football, though, is a team sport, and Murray didn't get a lot of help in 2019 — he was sacked a league-high 48 times.
Washington's defensive line already has proved itself, sacking Eagles quarterback Carson Wentz eight times on Sunday. Now it will get a tougher test, going against Murray, who worked this offseason to better escape the perils Chase Young, Montez Sweat and Ryan Kerrigan want him to experience.
Part of the reason the Cardinals are 1-0 was Murray's willingness to take rushing lanes when they emerged — the quarterback had 13 carries for 91 yards, and had exceeded 100 yards before the kneel-down plays. That kept the San Francisco pass rush in check.
"He's such an elusive guy; he gives me anxiety," Washington coach Ron Rivera said. "What you want to do is keep a guy like that in the pocket.
"One of the things that we've looked at is his ability to scramble and create downfield. You've got to keep that young man contained. You've got to keep him hemmed up. You cannot allow him to get outside the pocket."
Murray finished the game having been sacked just twice, improving on his two games against San Francisco last year, when he was sacked a combined seven times.
One thing Rivera will stress is keeping a defensive rotation.
Among Young, Sweat and Kerrigan, only two are on the field at a time, meaning the group can challenge Murray late in the game, when he might be wearing down but they're still fresh.
"When you turn on that tape, it definitely gives you anxiety watching them harass Carson," Arizona coach Kliff Kingsbury said. "They had them behind the chains the entire game; third-and-20s, third-and-17, third-and-25. ... That front seven is as good as anybody in the league."
So that's anxiety for both Rivera and Kingsbury, though their nervousness will benefit home viewers, who will get to enjoy one of the week's most intriguing games of chess.
"It's definitely difficult, I would say, with a guy like that," Young said. "With a shorter guy, he'll be harder to see, harder to tackle, and he's real good in space. So it'll be a challenge, but I feel like the entire defense is up for it."
Young is a trendy early pick to be the defensive rookie of the year, an award Murray won on the offensive side last year.
Part of Murray's success was that, even though he was sacked 48 times, he may have eluded just as many.
"I would say he has that kind of special awareness that some of those greats have," Kingsbury said, citing Russell Wilson and Pat Mahomes. "They can just feel the rush and they get out and avoid the big hits. Those guys, they don't have to be looking at it. They can feel it coming and they make a play. It's a unique talent that some of those players have. He definitely has it."
Young and Kerrigan have "it" as well, though for Washington to be successful, the team will need production out of its linebackers and cornerbacks — the Eagles' receiving corps was beat up, but the Cardinals have two world-class weapons in DeAndre Hopkins and Larry Fitzgerald.
Washington receiver Steven Sims, who doubles as the punt returner, said he learned something watching the pass rush against Philly.
He said Wednesday: "I know now I'm going to have to go back there and catch a lot of punts this year."
(804) 649-6546
Twitter: @michaelpRTD