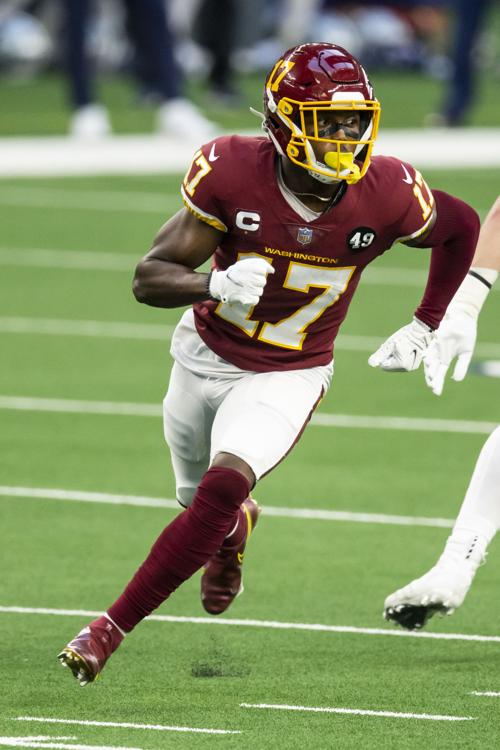 Watching D.K. Metcalf make the most famous play of this NFL season, chasing down Budda Baker on "Sunday Night Football," Washington receiver Terry McLaurin sent Metcalf a text expressing how impressed he was.
Thursday, it was McLaurin's turn.
Even a 41-16 blowout can turn on a single play, and it was McLaurin who provided it, chasing down Cowboys linebacker Jaylon Smith and preventing Dallas from tying the game late in the third quarter.
"It gave us a chance," Washington coach Ron Rivera said.
"I was like, 'Oh my God, he caught him!'" running back Antonio Gibson said. "He saved us big time."
"You can't quit on the play," McLaurin said, in his typical understated style.
It's likely McLaurin could walk onto a GRTC bus tomorrow and go unrecognized. At 6-foot-0, 210 pounds, with a youthful face, the first impression he leaves isn't "star NFL player."
But make no mistake, he is one.
Every team has players who are fan favorites. Jerseys get sold, and billboards are made to sell season tickets. But over the past two decades, Washington's best players have mostly been local celebrities.
Ryan Kerrigan, Jason Campbell, DeAngelo Hall, Clinton Portis and Chris Cooley were all big names locally, but none registered more than a blip on the national stage.
Since Dan Snyder bought the team in 1999, Washington hasn't had a single player named first-team All-Pro, the only NFL franchise to whiff over that time period.
To reach that level of fame takes big plays in big games. Thursday, on the Thanksgiving stage, McLaurin and defensive lineman Chase Young proved the national spotlight isn't too bright for them.
In the decades of Washington football, it was only the second time they've logged a Thanksgiving victory in Dallas. The other was in 2012, with Robert Griffin III, a player who would have been a national star if his career hadn't gone sideways.
That's always possible with McLaurin and Young — after all, Snyder is still the owner — but they showed on Thursday they have the ability to be in the national conversation for years to come.
McLaurin, by the way, is the NFL leader in receiving yards this year, despite now having caught passes from six different players in his 1½ pro seasons (Case Keenum, Dwayne Haskins, Colt McCoy, Kyle Allen, Alex Smith and now Logan Thomas).
He was a unanimous choice to be named a captain when the honor when Landon Collins got injured, necessitating a replacement.
"I feel like everybody knows what type of guy Terry is now," Young said. "High character. He's going to give it everything he has every time he steps on the field."
Everything was what it took to run down Smith.
Washington was up 20-13 in the third quarter, and possessed the momentum but only a tenuous lead.
Smith drove Washington from its own goal line to midfield, but in attempting to throw it to an open McLaurin, was knocked backward and threw an interception. McLaurin was about 12 yards from the scene.
"I was in range, and I thought, 'I can run him down,'" McLaurin said. Cowboys linebacker Leighton Vander Esch "got in my way, but he didn't get enough of me.
"When you are a fast guy and you have a chance to run a guy down, you've got to take advantage of that opportunity."
The play had echoes of Metcalf's similar tackle of Baker, to save the Seahawks from giving up 7 points to the Cardinals earlier this year.
Like that game, the burden then fell to the defense to hold. Dallas started on the Washington 4-yard line, but ultimately settled for a field goal.
"When we ran out there, we said, 'They don't get in,'" safety Jeremy Reaves said. "This is a big momentum point in the game."
After failing to score the touchdown, the Cowboys attempted their ill-fated fake punt on their next possession, and Washington was off to the races.
"When you have a guy that you can expect or anticipate that type of play or effort, that says a lot about who he is, as a football player and a young man," Rivera said. "The first thing I said was, 'Thanks for giving us a chance.'"
McLaurin has given Washington more than just a chance at victory. He's the rarest of players in the Snyder era: He's got a chance to be a national star.
(804) 649-6546
Twitter: @michaelpRTD