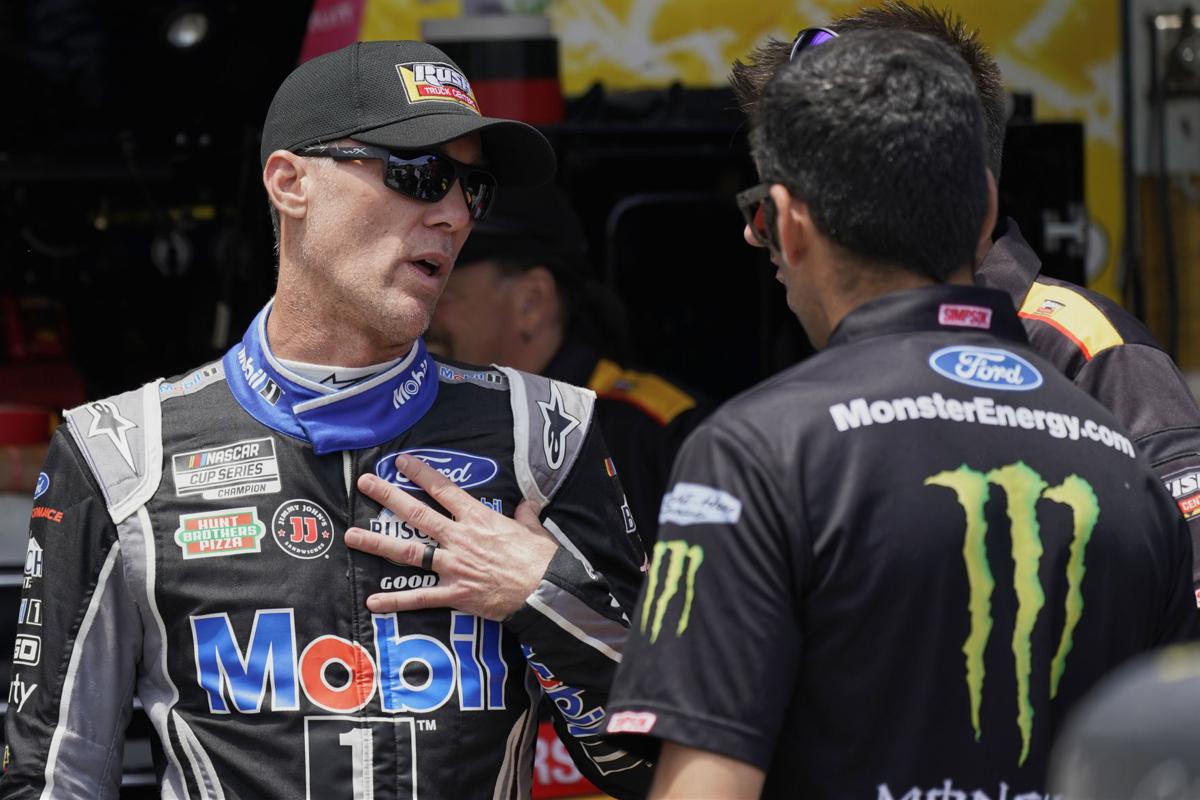 By this time last year, Kevin Harvick had won six of the 22 races in NASCAR's elite Cup Series. He was on his way to nine victories for the 36-race season — the first time a driver had won that many since Carl Edwards won nine in 2008.
This year, things have been far different. So far in 2021, Harvick is zero for 22. And he's not running up front as much. Last year, at this point in the season Harvick had led 918 laps. This go-round, he has led just 105.
He has managed just half a dozen top-fives. In his most recent race, this past Sunday's event at New Hampshire Motor Speedway, he led a season-best 66 laps, but only managed a sixth-place finish.
Harvick hasn't changed teams. He hasn't been injured. He has the same crew chief. Yet he has gone from dominating the series in 2020 to being an afterthought in 2021 — the object of charitable where'd-he-finish-this-week queries at the end of races.
How does that happen? Let Harvick answer.
"It's NASCAR, right?" he said. "About the time you think you have it figured out, you're behind."
Harvick's assessment came during an interview with the Times-Dispatch before the New Hampshire race.
He said NASCAR's offseason car-specification changes, tinkering with aerodynamics and horsepower, were tough for Ford, the make he drives for the Stewart-Haas Racing team.
"Some of the changes over the winter that NASCAR made affected us worse," Harvick said, "and I think the Chevrolets got better."
Slight changes to the Chevy front end also improved that make's aerodynamic downforce profile, he said, "So, we got sort of a double whammy as we came into the year. We've been scrambling ever since.
"That's really the way it goes sometimes," Harvick said. "Every year is not going to be perfect. Every week is not going to be perfect. The crazy part is that we're coming off one of the best years that we've ever had, and everybody's thinking, 'Oh, how is that even possible?' But, as you see, it is.
"We have to race a little bit differently," he said. "We have to think a little bit differently than what we did a year ago…. I think we've done a fairly good job getting the finishes we've actually had."
There is another element at work here. In a typical Cup Series starting field of 36-40 cars, there may be more teams capable of winning than at any other time in series history.
Even a slight step backward can mean a team is passed by a dozen hungry rivals.
Three super teams — Team Penske Fords, Hendrick Motorsports Chevrolets and Joe Gibbs Racing Toyotas — account for 11 spots on the starting grid, all of them cars with strong drivers.
A second tier of teams — the Chevrolets of Chip Ganassi Racing and Richard Childress Racing Chevrolets, and the Fords of Stewart-Hass Racing and Roush Fenway Racing — put eight more reasonably capable cars with reasonably capable drivers on the grid.
If you were doubting that second tier, last Sunday's race erased that doubt. Aric Almirola won in his Stewart-Haas Ford, and he won in impressive style. He ran well throughout, took the lead in the late going and kept Christopher Bell's Gibbs Toyota at bay as darkness deepened and NASCAR trimmed eight laps off the advertised race length.
Harvick, also in a Stewart-Haas Ford, was having his best race in a couple of months and finished sixth, looking up at four Fords and a Toyota.
Almirola was the season's 13th different winner. That means 13 of NASCAR's 16 playoff spots have been claimed. The 26-race regular-season champ gets an automatic slot, whether or not that driver wins. Denny Hamlin, points leader so far, has yet to win in 2021.
If there are no other new winners, that could leave just two positions available for winless drivers. Harvick has enough of a points cushion to make him very likely to get one of those spots. But he wants to win one of the next four races and nail the playoff spot. And he'll almost certainly need a playoff win or two to stay in contention for the championship.
Harvick is 45, among the oldest of the current Cup Series crop. He may have reached a stage many veteran drivers seem to attain — too smart to win. An older driver's wisdom can diminish the willingness to take the kinds of risks sometimes necessary for victory.
Asked if he sometimes sees daring young drivers as reckless idiots, Harvick laughed.
"I just watch them wreck," he said. "That's usually what happens. On some of the restarts, I just watch them go by me and I'm like, 'Wonder where he's going?' We have a lot of great young drivers that are still learning their way, and I think it takes a lot longer than it used to.
"I have no problem stuffing it in there when I need to stuff it in there," Harvick said of his own on-track daring, "but, you know, stuffing it in there for 20th is not really worth tearing the car up — so there's a time and a place to stuff it in there."
NASCAR's Cup Series has reached a two-week break — stepping aside while NBC uses all its network platforms for the Olympics. The stock car racing tour cranks back up Aug. 8 at the Watkins Glen, N.Y., road course.
With four races left in the regular season, then the 10-race playoffs with elimination rounds that whittle the championship-eligible field to four drivers in the season finale, Harvick might want to take that two-week hiatus to think things over.
Maybe the time has come to stuff it in there.
Randy Hallman, a veteran NASCAR writer, is retired from the Richmond Times-Dispatch. Email him at fullthrottlerh@gmail.com and follow him on Twitter @RandyLHallman.