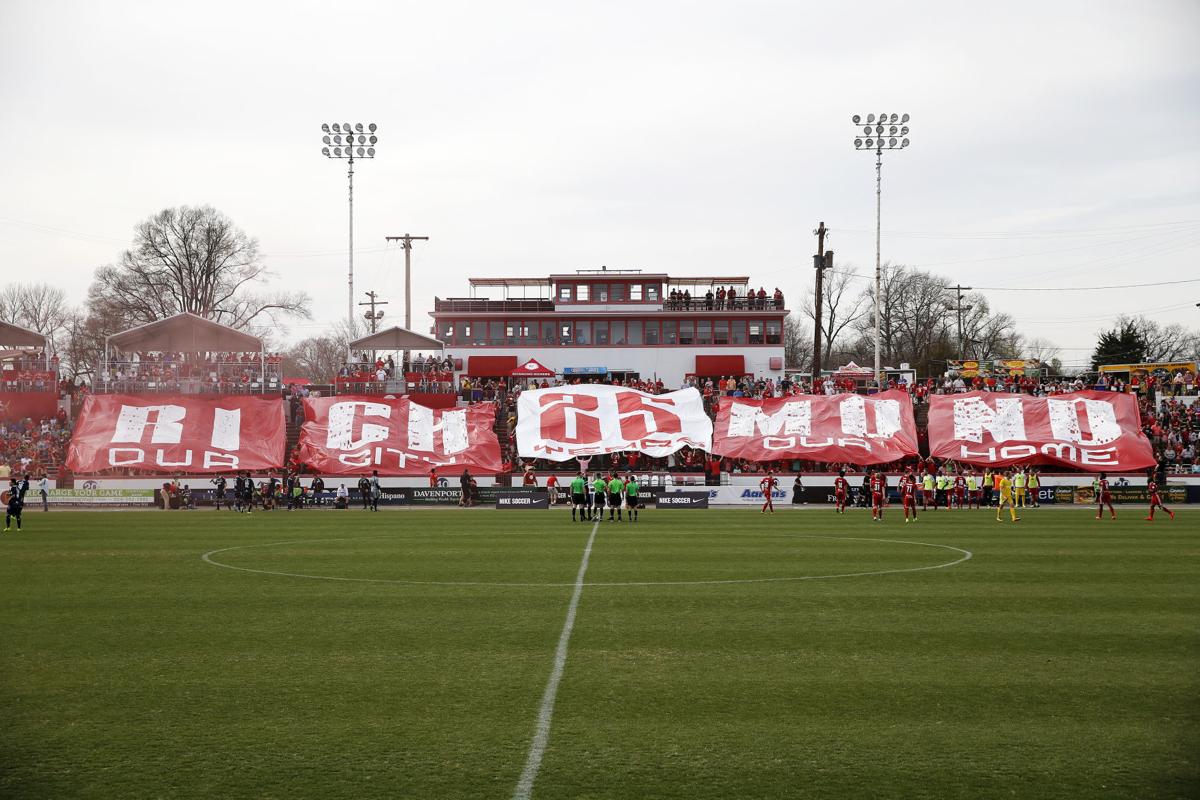 In the ever-evolving climate dictated by the coronavirus, what was due to be the first professional sporting event in Richmond with fans in attendance since the pandemic took hold has been postponed.
The Richmond Kickers — which play in USL League One, a third-division professional circuit — were scheduled to play their home opener at City Stadium on Saturday night, against Fort Lauderdale CF. But the club announced early Friday afternoon that the game has been postponed to a date to be determined due to an abundance of caution after a member of the Fort Lauderdale CF organization tested positive for COVID-19.
It's the second Kickers match to suffer such a fate since USL League One began its season earlier this month, more than three and a half months late. Richmond's season opener, scheduled to be played on July 18 at South Georgia Tormenta FC, was postponed following a positive COVID-19 test from a member of the Tormenta FC organization.
That game wound up being rescheduled to this past Tuesday, a 0-0 draw. The Kickers' de facto season opener came at Greenville (S.C.) Triumph SC on July 25, a 3-2 loss.
According to the USL League One's return-to-play protocols, players and other "covered persons" within each organization — up to 40 total — must be tested for COVID-19 at least once a week.
"The individuals testing positive for COVID-19 will be isolated from the rest of the group," Ryan Madden, USL's vice president of communications and public relations said in early July. "There will be contact tracing. People will be put into quarantine. Additional tests will be made available to those who maybe have been in close contact to the person who tested positive. And then, as things go forward, the club and the league will continue to communicate."
The Kickers, under Virginia's Phase Three guidelines, were preparing to allow a maximum of 1,000 fans into 9,000-seat City Stadium starting with their opener against Fort Lauderdale CF. Under the team's COVID-19 readiness plan, general admission seating would be limited to 75 people per section, with face coverings required.
The club is also planning to operate with cashless transactions only, from parking to merchandise sales. Tickets will be digital, too.
City Stadium itself has undergone multiple improvements ahead of this season, including new stadium lights, the addition of fiber internet, an updated sound system and updated irrigation system, and the hiding of power lines and wiring to improve sight lines from the concourse.
But, the public unveiling will have to wait for now. The Kickers' next scheduled match is at home against Forward Madison (Wis.) FC on Aug. 8.
(804) 649-6442
@wayneeppsjr