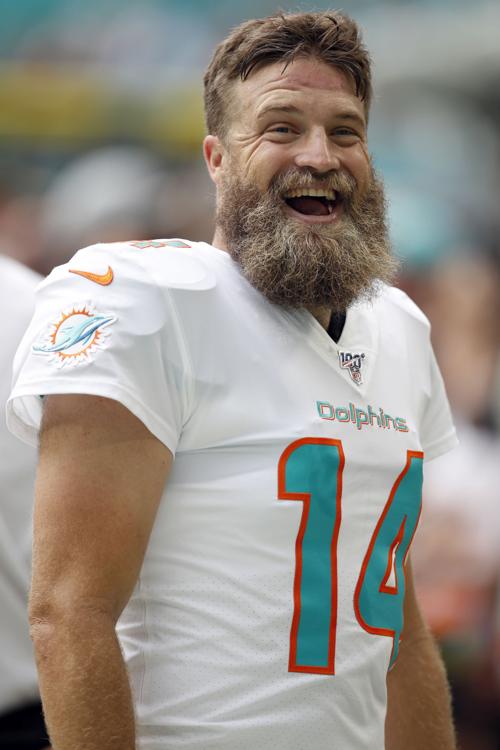 Ryan Fitzpatrick has the same first-day jitters as anybody else. He just happens to have them more often.
Fitzpatrick drove into his ninth NFL facility on Thursday, to sign a contract with the Washington Football Team and crack jokes about his famous beard.
"Is the guard going to recognize me? Is he not?" he asked of his first-day fears. "Is he gonna think I'm Conor McGregor? Is he going to think I'm one of the 'Duck Dynasty' guys? Is he going to let me in?"
Fitzpatrick's introductory press conference also touched on his seven children — now on his ninth team, everybody in the family can wear a different jersey on game day.
He noted, though, that former Chargers and Colts QB Phillip Rivers has him beat.
"He just kept having them!" Fitzpatrick exclaimed.
"When he got to nine, I sent him a text and said, 'I'm never going to catch you if you keep having them.'"
Those kids are a part of Fitzpatrick's motivation as he embarks on yet another NFL adventure at age 38.
He said he's thrilled they'll be able to appreciate seeing him play, and added that he thinks, as crazy as it sounds, his best football might still be ahead of him.
"In Year 17, this was the most sought-after I've been," he said of the free agency process.
And on a Washington team that will showcase blazing speed at the skill positions, he promised not to be a hindrance to offensive fireworks.
"I'm going to give my guys chances," he said. "I am not a guy that is going to sit there and be afraid to throw the ball down the field. I'm going to try to make the right plays, but if I've got a chance and I believe in my guy one-on-one I'm going to give him a chance.
"And I think guys like playing with me because of that."
He left Miami with rave reviews from players for that reason, and said he sees some similarities in the franchises — that last year under Ron Rivera, Washington was attempting to build a culture where success was expected, instead of a surprise.
As for any hard feelings from the teams that let him go, Fitzpatrick said he learned long ago not to dwell on that.
""It's me. That's part of my story," he said. "Part of my story is skipping around to different teams and just trying to instill belief and just show that passion to these guys.
"And in Miami, it was getting some guys that maybe didn't believe in themselves before to believe in themselves, to believe that they're good players.
"Every time I go to a new place, it's just a new opportunity. It's just a new adventure, a new journey for me and I kind of get to reinvent myself every year on a new deal and I have to prove myself again."
As for facing those teams, he made a joke about the NFL adage that players are at their best when they face old teams that released them.
"Every week is a revenge game for me," he said. "Because I've played on every dang team."
(804) 649-6546
Twitter: @michaelpRTD